Writer: Leah Williams / Artist: Lucas Werneck / Marvel Comics
The pre-pandemic revival of X-Men comics has spawned a wild amount of new books featuring dozens and dozens of mutants we all ride for and debate over. Many of these X-Books have been great, but if I'm keeping it a hunnit, a few have been a trash since Hickman stepped away from his role as HXIC. Leah Williams did not let Trial of Magneto fall into that category. This comic is a gentle reminder of the danger any omega level mutant poses when misguided or grief stricken. Magneto sits in the middle of that unfortunate Venn Diagram, facing off against the masses he called neighbor days ago.
Spot-On Characterization
It's one thing to write an enjoyable comic book, but it's a complete other thing to get your characters right. Learning how to write in a specific voice is hard for any writer, but to do that with 10-15 beloved heroes who have years, decades, or more than half a century of history is quite impressive. Here are my Leah Williams highlights from Trial of Magneto #2.
Captain America: Not even starting off with a mutant because she did such a phenomenal job with the soldier with a heart of gold. First off, how in the hell have we not gotten a Cyclops and Captain America team up book yet? The respect these two show each other in such a simple offering of an island tour was just the most cordial nerdy shit you could ask for. The Ma'am line. So Cap. The response to Pietro throwing the shadiest vemon while grieving – so dam classy. I found it fitting he was the one to speak up when it could've become a nasty war of words.
Iron Man: While I kind of hated Tony in this issue, I know it's because Williams wrote the truest, slimiest borderline creep version of Tony with his compliments. The man is impulsive, impatient, and downright annoying. I'm happy to never see him back on Krakoan land after this visit.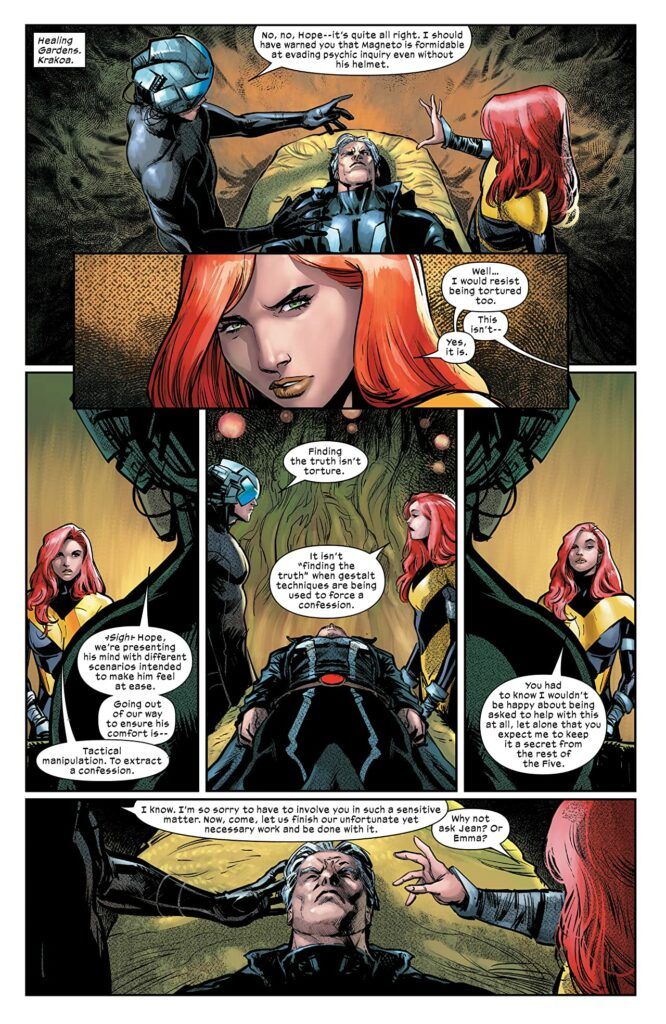 Emma Frost: Her command of the cuckoos is just legendary. The way they follow her lead in dismissing Stark brought a tear to my eye. Emma's air of superiority in the face of a groveling billionaire caveman was inspiring. She truly is a showstopper.
Professor X: Illuminati Charles is back!! While he is depicted as the most respectable mutant leader, we all know Xavier will stop at nothing to maintain the control and power his kind has amassed in this Krakoan era. I love the exchange he and Hope have on the ethics of their…mental probing torture of Magneto. Like Beast in X-Force, certain situations really bring the worst out of some of our faves.
I really dig the art of this book, although there's work do be done in a few areas. Still can't wait to see more from Lucas Werneck in the future. The Avengers came to get the body of their fallen teammate, but they received something very different instead. The end of Trial of Magneto #2 left off on quite the cliffhanger, so it should be cool to see how they tie all these Wanda threads together.
8.5 First Degree Murder "Confessions" out of 10
Enjoying The Trial of Magneto? Check out BNP's other reviews here.
Want to get Black Nerd Problems updates sent directly to you? Sign up here! Follow us on Twitter, Facebook, Youtube, and Instagram!