You know, sometimes there are absolutely fantastic movies that, for whatever reason, just don't receive the love they deserve. Maybe the studio didn't believe in it so it wasn't advertised well, or the audience at the time just wasn't feeling it but then it becomes a cult hit later on. One of my favorite animated movies as a kid, and even to this day, unfortunately suffered from this circumstance. But it was, and still is, such a great movie that I stan it 'til this day. As a fellow BNP contributor once put it, "What happened to all those animal actors that DIDN'T get hired for Fantasia?" Let's hop in the way-back machine for this retro review of 1997's animated classic, Cat's Don't Dance.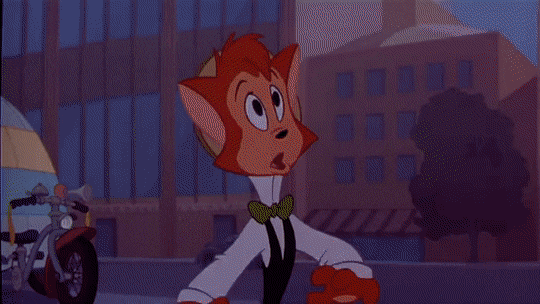 Imagine if Bugs Bunny was hired to make a Disney movie in the 90s and that's this movie in a nut shell. Taking place in 1939, Cat's Don't Dance is about small town tabby cat Danny (Scott Bakula) with dreams of making it in Hollywood. He ultimately crosses paths with the child star powerhouse, Darla Dimple (Ashley Peldon). Out to get his big break, Danny meets a colorful cast of animals including the sarcastic and disenchanted white cat Sawyer (Jasmine Guy), plucky penguin Pudge (Matthew Herried), the chipper Tiny Hippopotamus (Kathy Najimy), the wise piano playing elephant Woolie the Mammoth (John Rhys-Davies), sassy rude fish Fances Albacore (Betty Lou Gerson), the always grumpy and elderly Cranston Goat (Hal Holbrook) and the timid T.W. Turtle (Don Knotts).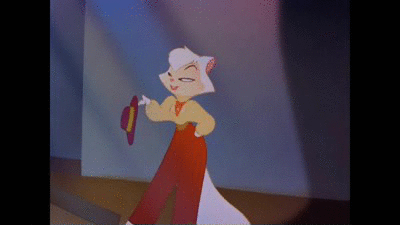 I took the time to name all of the main cast because this is a weird hodgepodge of, at the time, old-school heavy hitters and newer actors in their prime which works exceedingly well in this style of film. The actors really capture the zany antics and caring, quiet moments of the characters. The Tex Avery style always keeps something fun on screen, from big set pieces to character gags to the running joke of the ever changing size and speed of the impossibly gargantuan Max, Darla Dimple's bodyguard/butler. The song and dance numbers are great. They honestly hold up today, with music by Randy Newman and choreography by Gene Kelly. And who knew Scott Bakula, Mr. Quantum Leap himself, had them pipes!? For Sawyer, they brought in Natalie Cole to provide her singing voice and it slides in effortlessly. I love the two songs she's featured in.
What I like about this movie is that it can be seen as an allegory for people of color trying to break into old Hollywood. The animals are stuck in their roles, never given anything outside of scrap roles no matter what their actual talent. The struggle of not being treated fairly and not wanting to give up on their dreams is well balanced with still being a heartwarming fun kids movie. If there was one thing I could point to as a detractor it would be that, taking place in 1939, there are a lot of references to old Hollywood that will go over the heads of most, if not all, kids and younger adults. Hell, when this movie came out I only knew some of the references from old Looney Toons cartoons. But that's not even a detractor, just a part of the cartoon styles of the 90s. Seeing as that's all I can point to, says something about how enjoyable this movie is.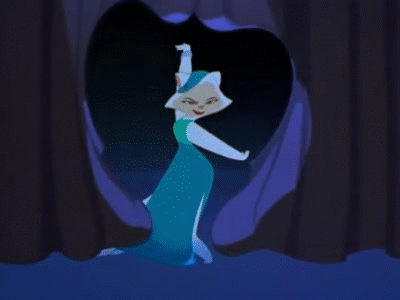 Want to get Black Nerd Problems updates sent directly to you? Sign up here.
Follow us on Twitter, Facebook and Instagram.