While I cannot recall exactly what age, I know I was in my middle school years when I first read The Skin I'm In. I remember being dissatisfied with the required books for my English class and found a copy of Sharon G. Flake's book in my library. My memory is fuzzy on all the events that happen in the book, but I do mostly remember this was a tale about a black girl who was too Black, too poor, and seemingly too unlovable for the world she existed in.
I do always remember this book helped put a word to an issue that I was learning about but fully didn't connect all the dots about: colorism. I was especially protective over this book, because it was a Black woman writing about a Black girl and those were the stories I wanted to read about. The Coretta Scott King/John Steptoe Award for New Talent winner has now been reissued with a striking new cover and a foreword by New York Times best-selling author Jason Reynolds and is now available for more readers to enjoy, which makes me happy as more Black girls are able to read this one.
"No Almond Joy-colored girls like me. No gum smacking, wisecracking girls from my side of town."
Maleeka Madison knows her lot in life. She anticipates that the kids will sing that awful jingle they came up with that bashes her for her dark, Black skin. She knows her mom works so hard but doesn't make enough money to where she can wear less home-made and hand-me-down clothing that adds to the teasing. She knows that her quiet disposition and studious nature is a boom to her academic career as a student, but it makes her a target as a teacher's pet and a loser. She knows that she has to dull her senses in order to dull the pain of being who she is in order to survive each day she leaves home and goes to school–she does enough most days. She survives.
And then one day a new teacher, Miss Saunders, arrives. She is a confident, sassy, well to do woman who rubs everyone the wrong way and leads an engaging class that makes everyone think. Her downfall according to our middle school-aged protagonist is the imperfection marring her face: a startling white patch on her face. Maleeka ponders again and again how this woman lives so confidently in the skin she's in knowing folks have torn down others for less.
"Then I end up the same paragraph with Akeelma saying she's scared that maybe people will always think she's ugly. But I'm really talking about myself."
The joy in rereading this book is following along with Maleeka as she slowly gains the courage to not only stand up for herself, but for others and ultimately for what's right. With each chapter, she keeps hitting that ceiling of what little love and self-esteem she has for herself, yet before the book is over she has a showdown with the one who treats her the worse and the one who seeks to keep her down. Getting to the end of the book where she chooses not to be apathetic and stand up and do something is refreshing and makes for a great emotional arc where she's had enough and wants more for herself. What is equally enjoyable is reading about Maleeka finding her voice in another way: in her writing. It is her writing that also saves her–at first, it is a creative and therapeutic outlet and it evolves into a connection to a beloved family member who passed on and later to what helps her win a writing contest that she never dreamed of winning.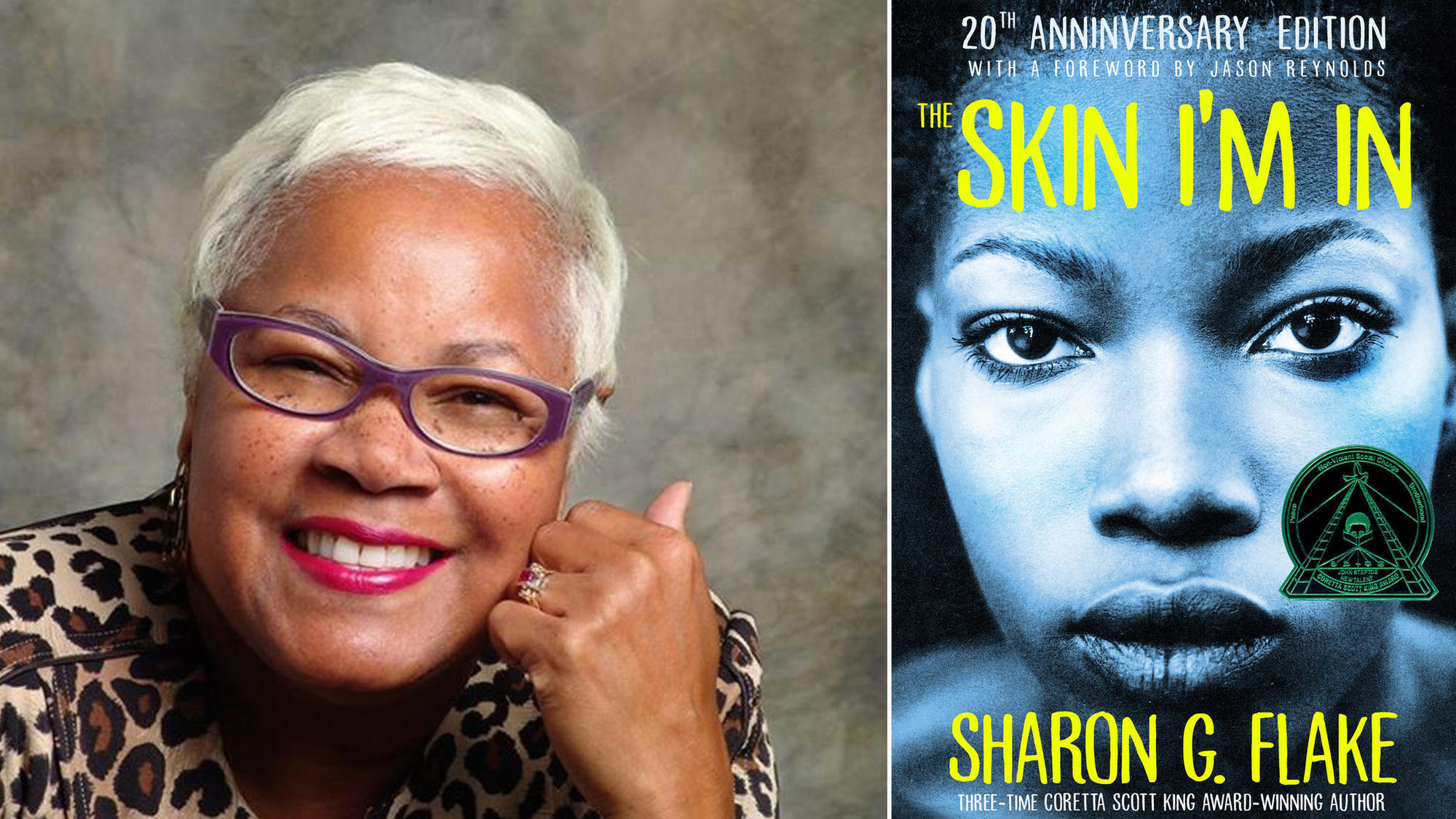 I thought long and hard about Miss Saunders, Maleeka's new teacher, the woman who was a catalyst in helping bring the change in her life. It made me take a trip down memory lane and think back on all the teachers that brought such change in my life growing up: of the Black women who were educating and nurturing not just me but several children along the way. Lordt, how important it is for children, specifically little Black girls, to have somebody, at least one person in their corner as their champion. Black girls need someone to believe in them as they live in a world that can be as cruel to them as the day is long.
Like I stated before, I read this book in middle school, the same age Maleeka was in, and it truly is that awkward time where puberty is starting to rear its head and all I wanted to do was grow up and have some semblance of being beautiful and enough and cool enough to where mean-spirited words of other kids didn't hurt me. The book is still easily accessible, and you'll drop into the story after a few pages. I should note that there are a few intense moments throughout the book. One in particular is when Maleeka experiences a violent case of street harassment that is a bit scary that is every bit of a #YouOkSis moment.
Of course what is not lost to me is that this is the tale of a Black girl–a darker skinned Black girl whose skin is a joke and a mocking offense time and time again. From the schoolyard songs made up to embarrass her outside the classroom to how she's handled and viewed by other teachers and faculty at school who see her as worthless and dangerous, even. It wasn't lost on me years ago when I first read it, and it after my reread it pierces my heart with the clarity that author Flake makes it known in a book for children.
I know girls of color, especially Black girls, are at risk for sex trafficking more than others.(Cyntoia Brown is a name that you should know regarding this.) I know that Black girls are criminalized early on in schools system so when they get older and are victims of incidents that go viral, it's nearly harder to get the media to write of them with compassion and not a leery eye.
"Call me by my name! I hear Akeelma say, and I scream it out too."
The Skin I'm In is very much the same book about colorism, self-love, and self-worth that it was twenty years ago, and it is still as relevant as it is for today's world. I saw this tweet with the author with fellow authors Jason Reynolds and Andrea Davis Pinkney (who was Flake's editor for The Skin I'm In!). Jason is embracing the two women as they hold copies of their books about Black people. It is such a sweet image to behold–Black folks who write books about Black folks for children together, close as if it is a family photo. Perhaps that is but one part of the legacy of Flake's novel and the craft of writing stories about Black children–you'll never go out of style. There will always be a place for you, and you'll be surrounded by those who also write and enjoy the worlds in which you make Blackness live in and be championed in.
I came across a tweet that is now from a private account recently in which a Twitter user tweeted a tweet from another user that read "how old were you when you came to the realization that your skin tone is beautiful?" with "5th grade, my school library had this book called The Skin I'm In." That's also the part of the legacy of Sharon G. Flake's debut novel that jump-started her writing career. It is a book that many people, especially Black women, have carried with them in some form into adulthood: a shining example of an offering about a Black girl finding hope, finding her way written by a Black woman.
A novel that has picked up several awards along the way including the Coretta Scott King/John Steptoe Award for New Talent, Publishers Weekly Author to Watch, New York Public Library Top Ten Book for the Teen Age, YALSA Best Books for Young Adult Readers, The Skin I'm In's re-release for its 20th anniversary makes for a relevant read, even today.
Read our site's other literature reviews here. Be sure to follow along with us on our bookstagram account on Instagram here.
See more of author Sharon G. Flake who in her own words: "I write about hope in hard places, about young people who encounter challenges but through perseverance, the help of good friends and the love of family and caring adults, learn just how wonderfully gifted, determined and capable they are" online at her website and on Twitter and Facebook.
Want to get Black Nerd Problems updates sent directly to you? Sign up here!
---
Follow us on Twitter, Facebook,Instagram, Tumblr, YouTube and Google+?