What is it in this world that some white women, excuse me – a majority of white women cannot get their own sh@#. Nah, nah, nah, nah, nah, nah… You have a problem that Black America has been suffering unspeakable travesties for centuries and still, today cannot have the pleasure of simply sitting in a Starbucks without getting arrested that you had to go ahead and be "inspired", and bite off of something else to make it your own. Sorry, that is not how the world works.
I am a woman, I am Black, I am also Latinx. I know the struggle is real out in these streets; fighting to get just a portion of what men get, not being safe in our own bodies or being told when and what to do with them. Being harassed, hollered at, taken advantage of, making less money but needing to be razor sharp, 10 million times smarter and look good, I get it. But just because Childish Gambino made a video that made you think, does not mean it is for you to make your own. It's its own thing; and if you were truly inspired, you would know the point is to MAKE YOUR OWN SH#$.
There is a lot going on in the world right now — scratch that, there has always been a lot going on in the world, and there is always noise to distract us. When Childish made his video, it was the spectacle of that noise. It was so precise, so layered, so involved in media, Black life, survival, and distraction that this world is predicated on. How easily forces can distract us when reality hurts, and how the world around us always tries to get us to look away. Don't worry about the man behind the curtain. You know what the "This is America: Women's Edit" video did? It proved the point of how privileged it is to act on one's distractions. You were distracted, felt "can't we all just remake this video as a vessel for all of our issues?" No, no we can't. Let it alone.
If you were really watching, you would have seen that this was not to be recreated or re-manufactured. The video is not a mold or a vessel for any other person's issue, not a format for any other person's message. Yet you could not help yourself but contribute to the noise. You said, "Pay no attention to the man behind the curtain because I'm a woman, hear me roar." The deafening silence around the issues Childish addresses in his video: that is America. This is America, where white women are offended too and you know what? They can use other people's narratives to tell their story as well.
I may sound upset, mad, over the top; but that is because you have not yet had everything stolen from you from the moment it was birthed. This isn't an 'us against them' situation, not a 'Black and white' situation: an oppressive mindset only allows us to view it as such, but everything is just as layered as Childish's video. I know a lot of 'down' white women. These women know the nuances of whiteness in a way that not only checks themselves but allows them to check the other white people who think they get it. They check the ones with the good intentions but are just too self-focused and self-interested. The white women who know that white tears are a dish better left dry.
Here is the message: If you feel inspired, it's because we are awesome, we are tortured, we are made up of things that cannot be recreated.
The next time you as a white woman feel the pressure of being a woman and the need to express this, do it with your own tools. I know it's hard because you have been using stolen mindsets for centuries, but you have the capability. "We are women, hear us roar" – don't roar like a lion, you're not a lion, be a white woman over there and make it your own masterpiece. There is no way you're gonna make a difference for women by copying a man, anyways.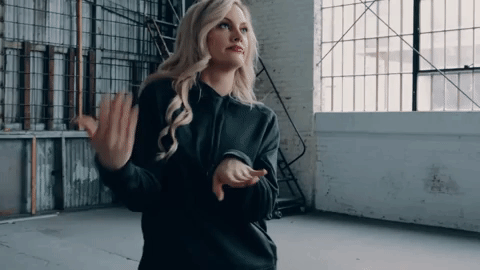 Want to get Black Nerd Problems updates sent directly to you? Sign up here!
Follow us on Twitter, Facebook,Instagram, Tumblr, YouTube and Google+.