A Night You'll Want to Relive Again And Again!
I just moved and the ride to and fro from my apartment to the closest movie theater is roughly fifteen minutes or so. My ride home was apparently just the right length to convince my Lyft driver to go buy a ticket to see The Night Is Short, Walk On Girl after he saw how animated I was reliving the experience of watching the film.
To say I loved this film is a severe understatement.
I love this film, and I count it as a superb send off as summer is ending and all the night time adventures that happened this season that are coming to a bright and beautiful end.
I originally saw a snippet of The Night Is Short, Walk On Girl a month ago after watching Fireworks, also distributed through Gkids and Fathom Events.
While I considered that film to be the beginning of summer for me, this one is the film to be apart of that bitter sweet end of summer. The snippet I watched last month with my fellow movie goers that stuck around after the credits had peals of laughter coming from our theater and people walking past asking what we had just watched. If it was a sign on what to expect, then it was accurate.
The shortest synopsis I could offer could be: one epic night in Kyoto.
A longer one could be: when a group of young adults go and paint the town red, everyone gets involved!
Perhaps the longer and more definitive synopsis could be: a night this city won't soon forget with an adventure that has confessions of love, drinking contests, plays, and everything in between.
This is the story of the titular girl known as "Otome," the sophomore known as "The Girl with Black Hair" who is out to have a good time on this very night. She is cheerful, eager to become apart of the adult world, and welcomed everywhere. She is full of youthful optimism: she punches out men who grope others in bars, wins drinking contests, helps redeem others in the eyes of society, and lends a helping hand to everyone who needs one. She is the epitome of the people in those great summer memories that you'll never forget.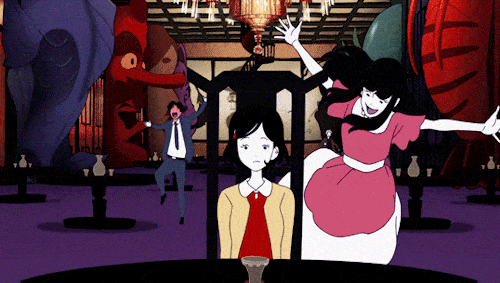 On the other hand, "Senpai" — a fellow student who, in an effort to win her heart, has been creating increasingly fantastic and contrived reasons to run into her. He is a panicky fellow who believes he isn't anyone remarkable. He gets duped, pushed around, falsely accused, and his pants stolen and messed on more than once. This night is a perpetual cycle of him trying to not be pathetic and trying to overcome all the obstacles in his path to being a better version of himself and maybe obtaining the affections of his heart's desire.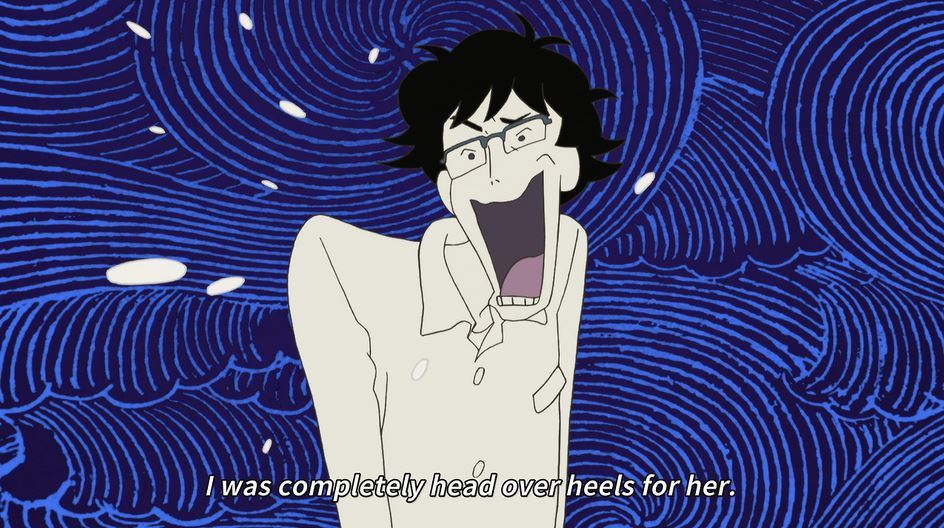 This offering proves to be hilarious–the humor effectively translating over to an audience outside of Japan in its original format–not dubbed and subtitled in Japanese. And the humor is meant for an adult audience, mind you but nothing too over the top. There's life lessons, there's mini history lessons on alcohol, there's a taste of Japanese pop culture, and so many laughs.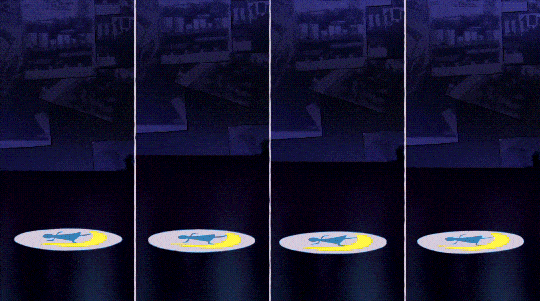 Perhaps the biggest character in this entire story that shines the biggest and brightest is the night. Yes, the night, the long night that all these crazy adventures and pit stops takes place on gets its own personification: It's the night that gives certain characters the courage to look for the persons they want to pledge their hearts to. It's the night that pushes people to be something more: to be apart of something bigger and create beautiful things. It's the night that moves folks to stay on task and do what they've been needing to get done yet also the very same night that whispers in your ear that chasing some childhood memory is worth it.
It's the night that ultimately brings together all these wonderful characters, some having names, some not. A true eclectic cast of all types of folks under the sun night sky in all stages of life who, before morning comes, will know that they're all connected to each other in some shape, form, or fashion and also…that we all need each other–or at least, everyone needs someone. No one must to do this crazy thing called life, alone.
Lovers, friends, neighbors, school club members, drinking buddies, so called villains, there are so many, many types of people we can be connected to and we see that demonstrated here in this wider narrative that manages to hit home just right in the feels.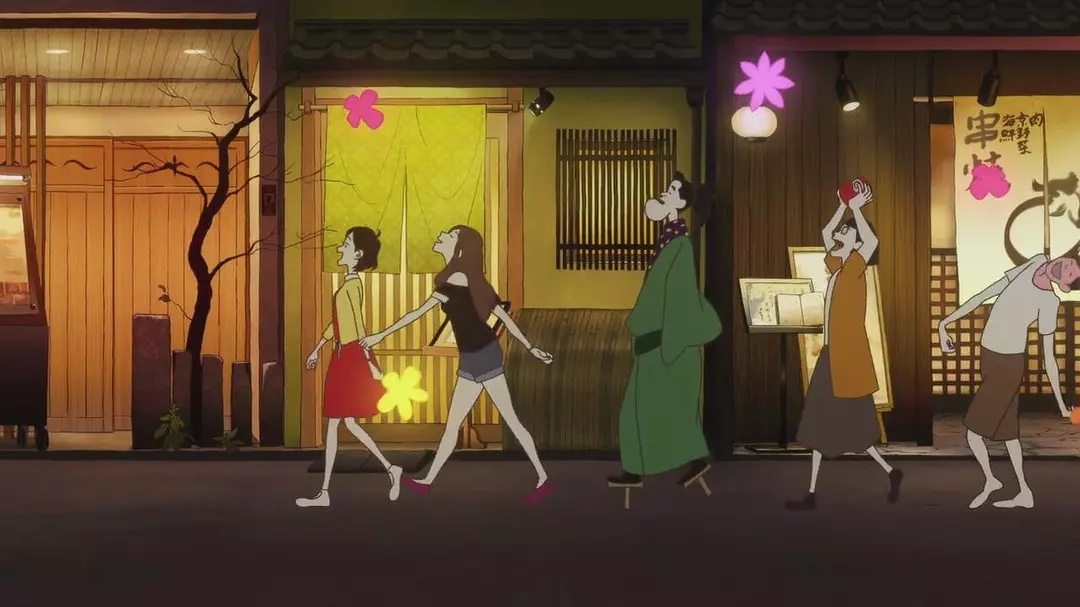 The animation, the art direction all leans to director Masaaki Yuasa (Mind Game, Lu Over the Wall, The Tatami Galaxy and Adventure Time's "Food Chain" episode, Devilman: Crybaby) for a taste of that wild, explosive, over the moon style of animation that audiences tend to associate with him from previous projects he directed and worked on in different job positions like storyboard artist.
Some sequences are trippy. Some parts of the film move at a pace so fast you'll feel you'll miss it if you blink too fast but everything is a bright, beautiful, and inventive–whether from someone's imagination or a walk down an aisle at a festival–as it needs to be. It can't be stressed enough just how top tier the animation is and how over the top it is because it compliments this story that's not quite a comedy, not quite a rom com and not quite a big party that just never wanted to end. Studio Science Saru certainly needs their props for this one as this is such a visual treat to behold.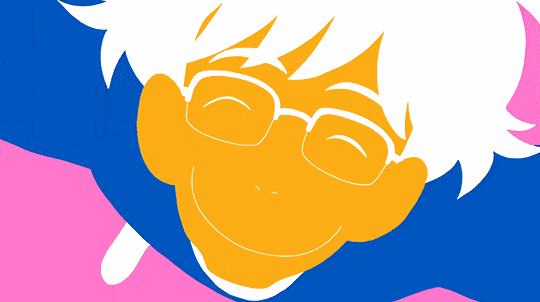 The Night Is Short, Walk on Girl is a film about love and hope.
It's a film about making mistakes and challenging yourself to run out of your comfort zone.
It is a film with reminders that you should have clean your room yet also a film about cherishing the highs and lows of youth.
The Night Is Short, Walk on Girl is one of the brightest stars in the sky of films this summer.
If you got to see it theaters in North America, then I know you appreciated the fun animated credits with the super catchy theme song and the after credits snippet of the interview by director Masaaki Yuasa.
The interview of him talking about the challenges of adapting the film from its original format, in this case a novel, was as interesting as it was insightful and the connections of this film to his previous work The Tatami Galaxy.
It's the little things, the little touches by Gkids and Fathom Events that make going out to the movies to see such gems they bring to us nowadays worth buying a ticket and certainly worth the viewing experience. If you haven't had the chance to see this one, be sure to see if a select theater near you is playing it and run, not walk, to watch it.
Thanks for all who came to the special theatrical event for Masaaki Yuasa's THE NIGHT IS SHORT, WALK ON GIRL. #NightisShort walks on in select theaters: https://t.co/ox3RK7huFQ #MasaakiYuasa pic.twitter.com/A1txZfEs8S

— GKIDS Films (@GKIDSfilms) August 23, 2018
Want to get Black Nerd Problems updates sent directly to you? Sign up here!
---
Follow us on Twitter, Facebook,Instagram, Tumblr, YouTube and Google+?