Gravity Falls is the X-Files of children cartoons, serving us inter-dimensional alien evil mystery as the characters dare to meddle with the unknown. Starring, Agent Molder aka Dipper, and Agent Scully aka Mabel, the show follows fraternal twins Dipper and Mabel Pines. They have been shipped to a small town in Oregon called Gravity Falls to spend the summer with their great uncle Stan. Gruncle Stan, as they call him, runs a novelty gift shop for paraphernalia of the unknown called, "The Mystery Shack." It is a bit dilapidated and Gruncle Stan is definitely scamming tourists to buy cheap trinkets he makes, feeding off of the towns rumored unexplained paranormal activity. Dipper similar to Molder, begins to realize the stranger things occurring in the town. He spends his time trying to convince his Gruncle and sister that weird things are going on. He says even his mosquito bites spell out Beware…
Although Dipper may be over zealous at times, he finds that he isn't wrong. He discovers a journal hidden in the creepy forest detailing all of the otherworldly creatures and happenings in Gravity Falls. We spend the next two seasons encountering these creatures, inter-dimensional beings, magical elements, time traveling and uncovering the mysteries of Gravity Falls, because THE TRUTH IS OUT THERE.
I figured this is a great show to just have fun and watch the voice acting of Kristen Schaal (voice of Mable). Mable is the outgoing sweater-loving kid looking for summer lovin'. She's fearless, hilarious, and doesn't believe Dipper's suspicions often making fun of them – even though Scully is so reserved, I feel like this is her if she was a 12 year old!
Dipper is the suspicious child trying to uncover the mysteries of the journal. He is self-conscious, a book nerd, smart beyond his years, and loves adventure. He believes in every bit of the paranormal and will stop at nothing to find the author of the journal and discover the mysteries of Gravity Falls.
Gruncle Stan is harsh cynical a swindler and a fraud with a heart of gold. He cares deeply for his family including his chosen family the Mystery Shack employees Soos and Wendy even though he doesn't outwardly admit it.
Wendy is the rugged gives no f#%ks but gives all the f#%ks at the same time. She's a teenager so… you can see how that makes sense.
Soos is the lovable resident handy man. He is loyal to the end, is down to fix anything and be that faithful number one. You find out – he's also Latinx! He lives with his grandmother who speaks Spanish and calls him mijo. So glad to see a Latinx character that is nerdy, funny, and awkward – not the spicy comic relief that shows so terribly love to do. Shout out to this voice actor and show creator Alex Hirsch, Soos' voice could be the best reason to watch the show.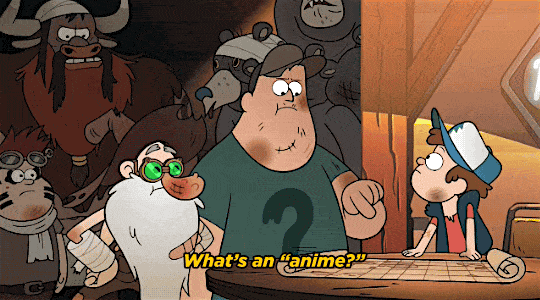 Besides the main cast you truly fall in love with everyone one of these characters from the back water bumpkin to the police partners Sheriff Blubs and Deputy Durland. I'm pretty sure the police couple is in love they are definitely husbands ? .
This is no ordinary Disney kids show – yes, it's Disney… Besides the obvious X-Files ode it also gives you that children's playful fun with a touch of adult terror. The first time I met evil inter-dimensional being Bill and he ripped the teeth out of a nearby deer and then put them back because he thought it was cool, I was like… welp I see where this show is going.
From Mable's boy-crazy phase leading her to date possible zombies, ghosts terrorizing corrupt rich families, and actual zombies this show is prime for a Halloween binge.
But BEWARN, the two seasons available on Hulu are just that, the show comes to an end. I, who is late to everything, did not know this. I'm watching the show and the final episodes of season two and I'm feeling like, wow this season finale is so finite! What's gonna happen in season three? Nothing. Season two aired in 2014 and the show has been over ever since. Be ready cuz my binge sadness is so real, make sure you have a rebound show cued up because you will want to watch these characters forever but that is not an option.
But don't fear! It's a phenomenal show that in the end does not leave you hanging the tie up all loose ends and you feel fulfilled. I'd re-watch that entire series "several timez."
Are you following Black Nerd Problems on Twitter, Facebook, Tumblr or Google+?