I'm not big into Karaoke although it seems although I feel like I should be. Jordan, my BNP Blerd-in-arms, is really 'bout that life but I fall onto a different spectrum. I've come to realize that for some reason I absolutely fuck with lip syncing, and I have no idea why. I just enjoy mouthing the words to songs and gettin' free with that shit. That's always been a thing for me since I was young. I can't tell you where this shit started with me but I just fuck with lip synching, man. Which is why I literally spent the entire Saturday afternoon catching up on Spike TV's Lip Sync Battle.
Lip Synch Battle is a show hosted by LL Cool J and Chrissy Teigen. Celebrities come on and battle each other in lip syncing, as seen on The Tonight Show Starring Jimmy Fallon which all started when Jim Krasinski introduced this idea to Fallon as a game he and his friends did. Krasinski then helped Fallon make it into a show. [Let's also note that this was already an event on Ru Paul's Drag Race and its popularity goes to show how the mainstream takes from gay culture.] You might be like what's so special 'bout celebs lip synching? Bruh, this shit is fucking serious. Here's the thing: to win a Lip Sync Battle, you gotta let go of any shame, pride, or self-doubt that may inhabit you. For 2 rounds you gotta go all the fuck out.
LSB got celebs out here doing choreography, paying homage in themes, and most importantly, straight up cosplaying as singers, divas, rappers… basically as other celebs. This shit is all in fun… but it gets so real. Randy Coture "The Natural" went against Comedian Gabriel "Fluffy" Iglesias. Randy was an MMA fight, his job was clockin' cats out of this dimension and he out here in short shorts doing a rendition of let's get physical. Shit just got real. you can't come into this arena with any Male Fragility or preconceived notions of male masculinity 'cause that shit will have you taking home an L.
There's levels to this shit too; there's fun like the Queen Latifah and Marlon Wayans match up. It's just fun to see this side of your fave celebs living their best lives being themselves, unapologetically. Watching Salt and Peppa, two pioneers in hip-hop get to express their love of pop music for the world to see. Anthony Anderson and Tracy Ellis Ross, the co-leads of Black-ish and two of the funniest people on TV going head to head with their outlandishness? I am here for ALL of that shit man. Especially LL Cool J's enthusiasm watching everyone perform because you can tell just how badly someone is getting bodied off of LL's reactions.
Now, I love watching people have fun, but I also love watching people compete to out do one another. Lip Sync Battle is a show about having fun and gettin' free, but then there are times when it's straight up war on stage. I'm talking muh fuckas that came and aren't leaving without that title around their waist. I seen things, man. I done seen cats go the distance on this show. Lemme color commentate for you some of the wars I saw fought on the stage that turned this shit into a acpella ufc match.
Dwayne "The Rock" Johnson vs Jimmy Fallon
The most electrifying man in Sports entertainment versus the MVP of Late Night. In what world could it be imagined that The Rock would square up against Jimmy Fallon in a fucking free for all on equal footing? I'll tell you where. Here at Lip Sync Battle. Fallon was talking ALL the shit to the rock and here's the thing, Fallon has his own segment for Lip Sync Battles on his show so he can back up that shit. We done seen him do it time after time. The Rock ain't scared tho, we got a guy that's faced off against the like of The Undertaker, CM Punk, and Stone Cold Steve Austin so pressure ain't going to fold The Rock.
Now if you told me ten years ago that The Rock would lip sync Taylor Swift's "Shake it Off" on national television one day, I'd probably sit in front of a TV waiting for that shit to happen. That shit is straight hilarious. The Rock was cool and collected with it but Jimmy Fallon came back with Harry Belafonte heater "Jump in The Line". When Fallon started a conga line in the audience you could hear the heartbreaking surprise in The Rock's voice sayin, "Arghhhhh he got it". Jimmy came in the second round with Madonna's Like a Prayer and fucking brought out a whole church choir? Listen I thought it was a wrap. I LOVE that song and if you bring out an all Black choir for that shit too? There's damn near no coming back from that. But The Rock survived with his rendition of "Stayin' Alive" with the John Travolta disco outfit, choreography, and everything which made Jimmy Fallon shout his respect like, "Oh shit, you real. You really 'bout this."
---
Jenna Dewan Tatum vs Channing Tatum
This shit was so lit man. This wasn't a battle; this was the definition of a fucking war. I ain't ever seen two soulmates battle like this outside of a round of Mario Kart. Jenna Dewan was not here to fuck around in the LEAST bit. Her 2nd round she came for the fade using Ginuwine's pony mashed up with Channing Tatum's Magic Mike routine? The sheer bravado yo! The utter "fuck you goin' do to me, b? NOTHIN!" of this performance tho. Jenna had the beater goin', brought Channing out for the lap dance too? Channing couldn't even keep a straight face through this merkin' man.
Channing had to come back hard and strong. Jenna took away his step up option. This was Delta Squad Red shit right here. Channing had to punch in the nuclear codes if he wanted to come out with a win, stay alive, or avoid that car ride back with Jenna talkin' bout how she whooped his ass the entire time. What you goin' do Channing? My mans and dem had to go Beyoncé cosplay on us with "Who Runs The World (Girls)". Oh and a visit from Queen Bee herself? Listen, when Beyonce comes out for your cosplay and doesn't say a damn word b? There's nothing more flames than that shit. I don't know what favor B Channing had to cash in on but it saved his ass to live and tell the tale.
---
Kathleen McPhree vs Jason Derulo

Ayo…this is the most disrespectful battle I done seen on here. I can't even lie, nor will I have to when I say Kathleen McPhree body bag'd Jason Derulo with his own shit. You don't hear me tho. I said Kathleen BODY(EEEEEEEEE) bagged this man with his own fucking song "Want To Want Me". I'm talkin' to the point that Jason Derulo might need to put himself in protective custody to avoid the roast man. Jason played the smooth sexy in round 1 with his rendition of "Pony" but Kathleen SUPER SMASHED BROS. his entire game plan when she out sexied his ass and out choreographed Derulo… I repeat, with his own shit!
Kathleen had the whole re-enactment character factor working for her, then the dancers poppin out, and then not only singing and performing her ass off on Derulo's song but paying homage to his video too! Bruh, don't you murder me with my own song and then rock me with my shit from my own video too man. Don't do that shit to me. Kathleen hit Jason with the fucking sit ups like he did in his video except way more innovative. Plus, when you look this shit up on the youtube it's got the NSFW next to it.
HOW DO YOU BODY SOMEBODY WITH THEIR OWN SHIT AND YOUR RENDITION – NOT THEIRS! – IS LABELED NOT SAFE FOR WORK SUN?! HOW THEY DO THAT THERE! Derulo tried to summon the essence of Rick James and Rick said nah I'm good. Derulo made it a hot song but Kathleen made it a one sided victory. I even paid for the song after watching that shit and bought it so at least take solace there Derulo.
---
John Krasinski vs Anna Kendrick
I have a constant battle with a friend over Pitch Perfect (Germany murdered the Bellas in part 2. Fight me) and now we can add Lip Sync Battle to that repertoire as well because John Krasinski bodied Anna Kendrick. I'll spot Anna with her One Direction cover ("Steal My Girl") in the first round and her attitude for her Lopez "Booty" cover but John Krasinski was underrated for this entire battle, Yo.
First off, he did N'Sync Bye Bye Bye with his own version of the marionette which was trill as fuck but then this guy fucking summoned Tina Turner's "Proud Mary." He came out in the suit and you're like oh he bout to do a smooth cover but once he said, we never did nothing nice and easy… then went into the rough section and busted out the fucking Tina Turner dress? BRUH! IT WAS A FUCKING WRAP! I'm talking game the fuck over. He wasn't heavy in the choreography but Krasinski made up for that shit with so much bravado and guile man. You goin' tell me he took an "L" on "Proud Mary"? ON PROUD MARY? HOMIE SHOWED THE LEGS TINA TURNER STYLE AND YOU GOIN TELL ME HE TOOK AN "L"? Fuck. Outta. Here. Jim didn't look at the camera with all that sass for this shit.
---
Joseph Gordon-Levit Vs Anthony Mackie
Yo, this was probably the smoothest loss on the list. Anthony Mackie came in into the second round with the good "2 Legit 2 Quit. A good attempt… but you facing off against Joseph Gordon Levitt! This is a horrible match up. This is not fair for Mackie in the least. Gordon is the overachiever for this shit. This dude goes the whole 9 yards and keeps running out the stadium like Forrest Gump. You're reading this like "oh you can't be that serious bout this". Dude, JGL
cosplayed as Janet Jackson
(no black face) with the make up and the hair pony tail for Rhythm Nation.
Now I say cosplayed, but what I actually mean is he untethered himself from all worldly desires, entered the void, then proceeded to cut the fuck out of the most intricate choreography on Lip Sync Battle. Lemme repeat Joseph Gordon Levitt murdered the Rhythm Nation choreography by fasting in the mountain tops for weeks and then hollowing his soul out just to embody a fraction of all that is vintage peak Janet Jackson, and I say a fraction because that is all any mere fucking mortal can handle of all that is Miss Jackson (not even goin' hide what it is off that reference).
---
Gina Rodriguez vs Willmer Valderrama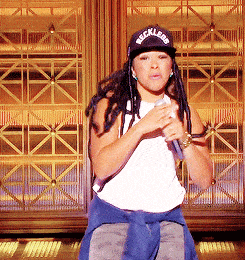 On everything I tumble, when I say this wasn't a battle. This wasn't a fucking war. This was a slaughter, yo. This was a fucking Valentine's day massacre man. I thought I was watching The Raid 2 or Ip Man fight choreography when Gina Rodriguez cosplayed as Lil' Wayne for her rendition of "A Milli". Oh. My. Gawd. Gina Rodriguez performed the best lip synch of a rap ever. Not only did she get the locs out for Wayne cosplay and the "platinum" fronts but for every bar she lip synched, she had an intricate movement. THERE WERE NO WASTED MOTIONS, MOVEMENTS, OR MANNERISMS FOR HER A MILLI PERFORMANCE AND IT WAS SO GUTTA GUTTA THAT CHRISSY CLUTHCED THE PEARLS AND SAID, "OH MY GAAAAAWD". Gina fuckin' combined her bomb ass acting with that shit then ran up on Wilmer and called him out his fucking name. BARS! BARS! ALL THE BARS! JAIL BARS! PULL UP BARS! MARS BARS! ICE CREAM BARS!
I don't wanna hear shit about Emma Watson's performance of DJ Khaled "All I Do is Win Lip Synch" on Fallon, I don't wanna hear any mentioning of Melissa MCCarthy's performance of Dmx's "X Gon Give It To Ya". I don't wanna hear it because they had their time and they were amazing but those performance are too short to box with the gawd that is Gina "My Strength Is In My Trill" Rodriguez. I know I'm making it seem one sided but… it really was, fam. Wilmer did Back Street Boy's "Everybody" (I FUCKING LOOOOOVE THAT SONG) as his 2nd round heater but muh fucking Gina Rodriguez, b. Jane The Virgin son, Muh fucking my strength is in my commitment to character was just to much when she came out with En Vogue's "Free your mind".
Wilmer tried to go vintage to save himself but Gina brought out the fucking '92 Cheval-Blanc on his ass. Look at her face during the performance yo. LOOK AT THIS WOMAN GIVING YOU ALL THE LIFE, ALL THE MACHISMO, BRAVADO, GAUL, GUILE, CHARISMA, JENESEQUA VIA LE PETITE MORT UPON US UNWORTHY SHEEP. Gina Rodriguez is the reason they should have a mercy rule on Lip Sync Battle now yo.
If I was in the audience I woulda threw the towel in for Wilmer. I give him credit for showing up cause somebody had to catch the fade and we found out Gina Rodriguez can give you a hell of a cesaer right and get you lookin' right for that pine box. Gina Rodriguez is a problem no one wants in a Lip Sync Battle. The Undisputed Champion of the game is here, bruh.
*Coming back to this article of the numerous things Gina Rodriguez did hurts so much (Fugee gate/ erasing Black women gate) We coulda had it all Gina! Come on man! I was rooting for you*
There it is, man. Guilty pleasure 1 of 22,958,395,025 is now out in the open. I fucks with Lip Sync Battles yo. Dont @ Me unless you tryin to see me on the mic homie.
Are you following Black Nerd Problems on Twitter, Facebook, Tumblr or Google+?