Writer: Jonathan Hickman /Artists: Pepe Larraz and Marte Gracia / Marvel
"If you can find it in you to survive — if you are worthy — then I will make you into something more than them. Something eternal."
-Apocalypse
I hope everyone is reading Hickman's accompanying book, Powers of X, because the meticulous, millennia length story about the history of mutants is being masterfully crafted and definitely makes us look at each and every page of House of X differently. It's so exciting to feel the X-Men returning to prominence in the comic book landscape, and this issue removes any doubt that that the top of the food chain is where they will land by the end of this 6 (12 really) book story. On the other side of things, Larraz and Garcia are at the top of their game and blessing readers with artwork that could make Banksy shed a tear at the aesthetic.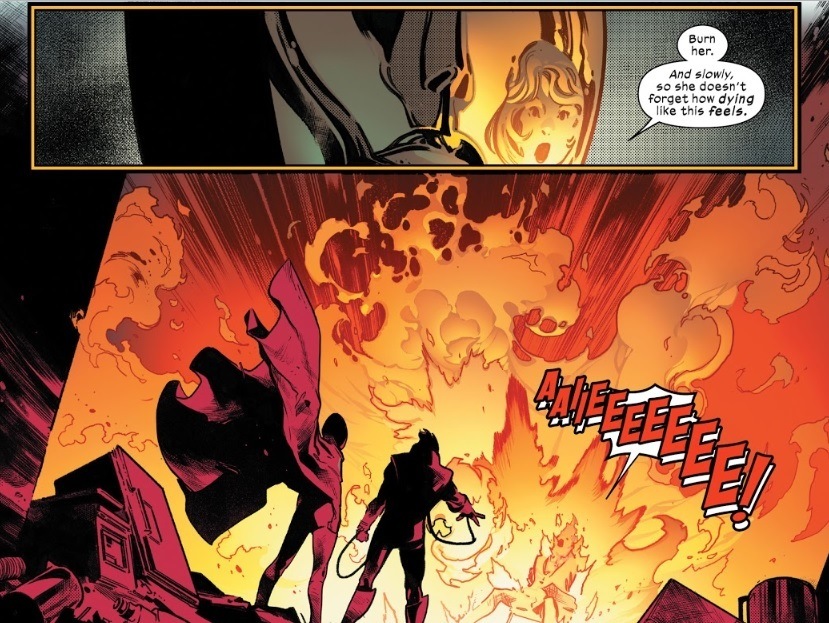 Ok, so in the first issue, we see young Charles Xavier meet a woman at the fair. That woman allows Charles to read her mind, and what he finds is exactly what sets us on our current course of radical decisions and ultimatums. We now know that woman was Moira Kinross MacTaggert. In the first pages of issue #2, we discover the ordinary events of Moira's first life. It's a cute human like, and it's not until Hickman jumps into the peculiar details of her subsequent lives of reincarnation and escalation that we grasp the weight of this new world where Moira is an established mutant with powers that shape the future of every living creature. Good gods almighty, when I tell you the intricacies of her lives are mind blowing, history re-writing and absolutely stunning to see, I make no exaggerations. This is arguably, the single most informative issue of X-Men. Period. It also stands to reason that nearly every single X-Men timeline is effectively brought to light and winked at in this 30-page book.
Hickman, I must commend your ambition. I must commend your dedication. I thought issue #1 was a doozy but it's not until you read this one right here that you understand the gravity of what he's doing. The ability to establish certain mutants and their powers in order to bring forth this monumental X-Tale is highly impressive, and I see nothing but Eisners on Eisners in the writer's future.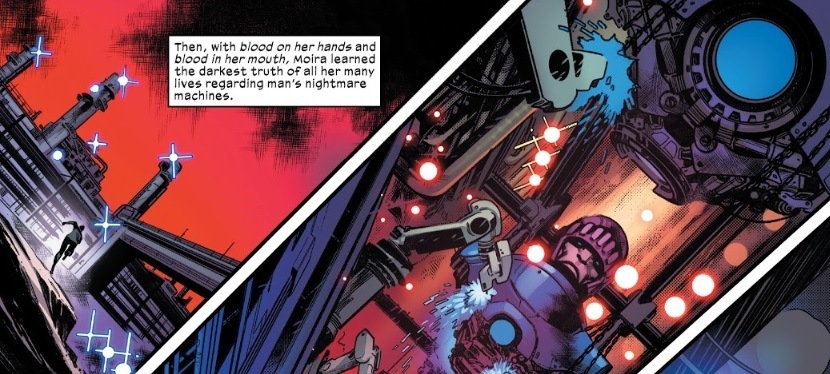 But before we jump ahead to next year, let's discuss the artistic tag team of the year (sorry Kris Anka and Matt Wilson), in Pepe Larraz and Marte Gracia. Most people read issue #1 and were completely content with the flames, but a select few took a gander at Hickman's Director's cut. Some wanted to see how his mind works and others were young comic writers gratefully accepting this guest lecture. The directions and details that he provides are so intricate that artists must either love or hate this guy. Luckily for us, Larraz and Gracia are relishing in every panel, because we are taken on a decades long tour of mutant excellence and every year's events are marvelously crafted. I could touch on so many, but there was one in particular that forced me to pick my jaw up off the floor. Without giving much away, I'll just say that seeing the most prominent heroes in the Marvel universe join forces to stop Magneto from causing complete and utter annihilation was as rewarding as any one page I've ever seen.
House of X #2 is just as good, if not better than its predecessor, which is wild to think. After establishing the idea of Krakoa, then giving away the endgame centuries in the future, Hickman manages to keep things as interesting as they've ever been. Like many comic book characters and teams before, X-Men canon has been shredded and re-established. The big difference here; everyone that has given their blood, sweat, and time to the storytelling of mutants previously, have been honored in the most respectful and creative way possible.
10 Meaningful Moira Lives out of 10
We know you're reading House of X/Powers of X. You can read our other reviews here.
Want to get Black Nerd Problems updates sent directly to you? Sign up here!
Follow us on Twitter, Facebook and Instagram!