At first glance, Bugsnax seems like an odd mix between The Muppets and Pokemon packaged together to pad out the PS5's launch line up with some shovelware. Run around, catch weird fruit creatures, rinse and repeat. However, much to my surprise, Bugsnax is a charming little game that's more about the character depth and the quirky story than the mechanics. Running around 6 to 10 hours long, it's short and sweet and the perfect little in between game to pace yourself between the AAA games. It's not the technical demonstration that Astro's Playroom is or the graphical showcase Marvel's Spider-Man: Miles Morales is, but it finds a nice niche that is worth playing.
You, as The Reporter, are invited by the illustrious adventurer Elizabert Megafig to explore the mysterious Snaktooth Island and learn about her new discovery, strange creatures called Bugsnax. These Bugsnax are creatures made of food that when you eat them, your body transforms and takes on the properties of said food. As you arrive, you are attacked by a mysterious creature and marooned. You find that Lizbert has gone missing and it's up to you to solve the mystery of her disappearance and unite the people of Snaxburg who are lost without her.
This, is a strange little game… but in a good way! You and the characters are Grumpuses; colorful, fur-covered creatures that look like Jim Henson Muppets. The characters themselves are quirky and peculiar yet endearing and their story is well told for a short 10-hour game, also surprisingly adult. At first glance, this game seems like it is geared towards a younger audience but the story itself is pretty mature. That's not to say there's cursing or a lot of blood or something like that. It's just the themes, relationships, and issues the characters are going through are mature in nature. I actually quite liked that the story was deeper than I would have guessed. I'm trying to give as little detail as I can give since I feel it really is best experienced cold.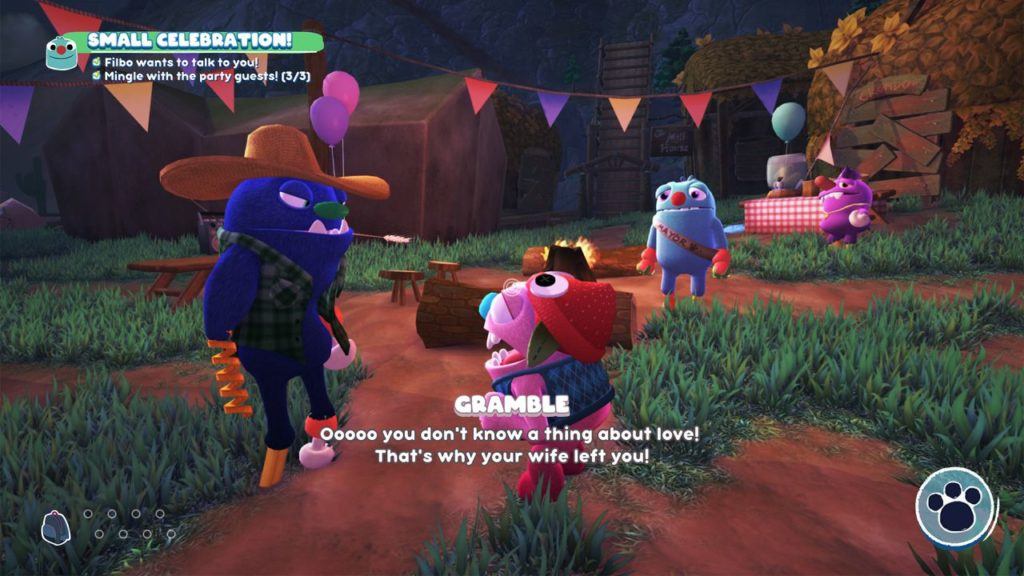 Gameplay
The gameplay is part Sims with a bit of a Pokémon Puzzle game; the inhabitants of Snaxburg left when Lizbert went missing and it's up to you to convince them to return. Many ask you for favors to convince them and most of those are feeding them Bugsnax and changing their appearance. This could get a little tedious if it wasn't for the personalities of the different characters. Wiggle is a soul singing one hit wonder singer who sings just about every line; while Gramble is a Bugsnax rancher who's morally opposed to eating the creatures. Everyone feels uniquely different and is masterfully portrayed and voice acted. Half the fun of this game is seeing different characters interact with each other and, in my opinion, is the strongest aspect of the game.
The other half is figuring out how to catch all the different creatures. Many are easy to capture; setting traps or forcing them out of their hiding spot, but it takes a little bit of thought to see what you can use in what combination to catch the little Bungers. It can get a little challenging to figure out exactly what you need to do. If you're thinking of getting this for a young child around 5 years old because the Grumples and little Strawberry creature look cute, you may want to rethink it. Yes, the Bugsnax designs are cute and goofy, but it's just not a child's game neither in gameplay nor story. But I think anyone 10 and up wouldn't have a problem. I think it's worth mentioning for any wondering parent.
Bugsnax is a fun and quirky little game that is definitely worth playing. Running at around 6 to 10 hours, it gets in and gets out without overstaying its welcome or padding out its time, which I really appreciated. It's proof that not every game needs to be a triple A 120-hour epic. With some fun puzzles, interesting characters, and in engaging story, Bugsnax is the perfect game to play in-between your giant games.
Want to get Black Nerd Problems updates sent directly to you? Sign up here!
Follow us on Twitter, Facebook and Instagram!