Magical Girl Guardians, Up For Round Two!
Here at Black Nerd Problems, we love us some magical girls, we also happen to love us some queer and diverse characters in our favorite mediums.
We have a fondness for creators who give us both and Mildred Louis is such a creator we love to see making moves. Lauren and I were quick to support the first Kickstarter campaign for Louis' first collected volume of her Agents of the Realm webcomic. Running since 2014, it made the 2018 Cartoonist Studio Prize Shortlist for best webcomic and remains a fave due to its creator's consistent work and detail that goes into the narrative each week.
Norah, Adele, Kendall, Paige, and Jordan are college freshmen at Silvermount University.
While they're trying to maintain passing grades and a consistent sleep schedule, they're given the daunting task of being magical guardians of their realm. Now the adventure continues in Volume 2 as we dive into the tension between their mentor Jade and her corrupted twin sister Ruby Blackwater.
For those unfamiliar this comic: this is a YA Urban Fantasy/Fantasy/LGBTAQ+ offering about some girls you'll come to love who find that if juggling school, a personal life, and saving the world wasn't hard enough, they find out that one of their teachers may be behind all the evil magic – and she has a twin sister in an alternate dimension who's trying to reach into Earth to stop her!
Agents of the Realm is a story geared towards being inclusive and providing young women of color a chance to see themselves as the heroes of their own story. With a heavy focus on friendship, it aims to remind people of the importance of surrounding yourself with positive influences – and the unrivaled strength that comes from that.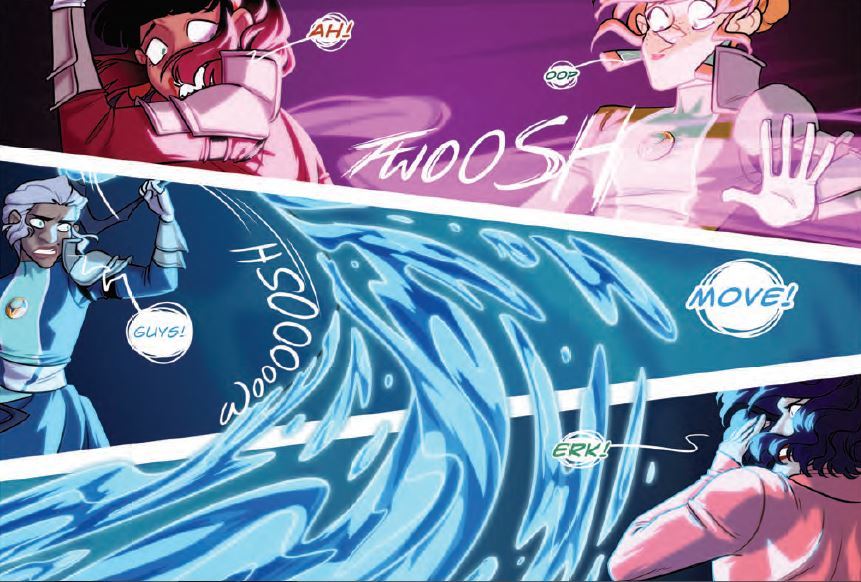 As an avid fan of Louis' work and also the struggles and adventures of Norah and the girls, I've been sitting, trying to pinpoint why Agents of The Realm speaks to me. Granted the magical girl genre will always have my heart, I know that it has always drawn me because of the focus of girls and female characters. Girls and women are the heroes, they save the day. They support their friends. They stumble and attempt to figure out love. They are the ones doing things and having agency. Quite simply: girls empower and inspire in these stories.
Norah, Adele, Kendal, Paige, and Jordan are young women who are characters influenced by the magical girl genre yet are creations that strike home with themes and lessons that hit a little closer as I am older. The girls are college students, they are figuring out of to navigate the world as adults, they are managing pressures and stresses that sound familiar to me and certainly so many others who call themselves readers.
I've come to see Agents of the Realm as a coming of age story with distinct themes of identity and figuring out your path. I want to see another volume collecting more of their story. I want to see more hilarity and awkward moments. I want to see more epic world building and more focus on the relationships and everything that matters. The Kickstarter campaign for the second volume of Agents of The Realm officially ends on August fifteen and Louis is only halfway to her funding goal–LET'S GET THIS ONE FUNDED, Y'ALL.
See more on the kickstarter here. Follow along with Louis on Twitter, her personal website.
Are you following Black Nerd Problems on Twitter, Facebook, Tumblr or Google+?