Last year, I really enjoyed all the writing I did in making those themed manga lists and now in the new year I want to start a new series on a single manga series (per entry) that I believe you should be reading.
I aim to write about manga series that are highly acclaimed, manga series that are finally getting anime adaptations, and hopefully manga that will move you the way that they have moved me.
Hopefully, this new series gives you all no holier-than-thou gatekeeping-preachy vibes and more of a friendly, introductory vibes. I also hoping this first entry, at its core, as major spoiler free, gives you reading this a good ideal of the series and why it is so loved and poured over. This is a manga series that I did not catch the very beginning of but quickly caught up and devoured it. My friends, you should be reading the brilliant Witch Hat Atelier.
---
Witch Hat Atelier
Story and Art by: Kamome Shirahama
Publisher: Kodansha
Available Formats: (Print/Digital)
Ongoing or Completed: Ongoing (10 volumes as of January 2023)
Localization Team: Stephen Kohler (Translator), Lys Blakeslee (Letterer), Ajani Oloye (Editing)
Kodansha edition cover design by Phil Balsman
What is this Manga About:

Witch Hat Atelier is the gorgeously illustrated, ongoing manga series "about a girl who longs for magic in her life and learns that, on the inside, she already is what she wishes she could be," as the publisher puts it. Coco is a curious and bright girl who lives on the edge of a little village with her mother who is a seamstress. She lives in a world colored and enhanced by magic: there are magic springs that are self-cleaning, carriages carried by flying Pegasuses, and even roads with individual cobblestones that light up when you walk up along them. Alas, Coco lives in a world where she can never be one who deals with magic as she was born without the magical aptitude needed for such feats. Witches are born, not taught. The world of witches and wizardry is a dream of hers that sadly cannot be realized…or can it?
One day a traveling witch by the name of Qifrey, who is a sort of rebel in the world of magic, visits the shop owned by Coco's mother. This chance encounter reveals an amazing secret when Coco spies upon him as he prepares his tools and charms to create a spell. With this new knowledge, Coco sets out to create her own magic and becomes a witch with one of the biggest targets on her back when her spell goes awry in a dangerous way. Witch Hat Atelier is a manga series that explores such themes including ambition, subverting tradition, and the discovery and joy of being able to live out your dreams. The manga's title refers to Coco's uniform when she leaves home to become a witch's apprentice and the place of learning she soon comes to live at, an atelier, to learn how to survive this brand-new world of spells and rules that are broken time and time again.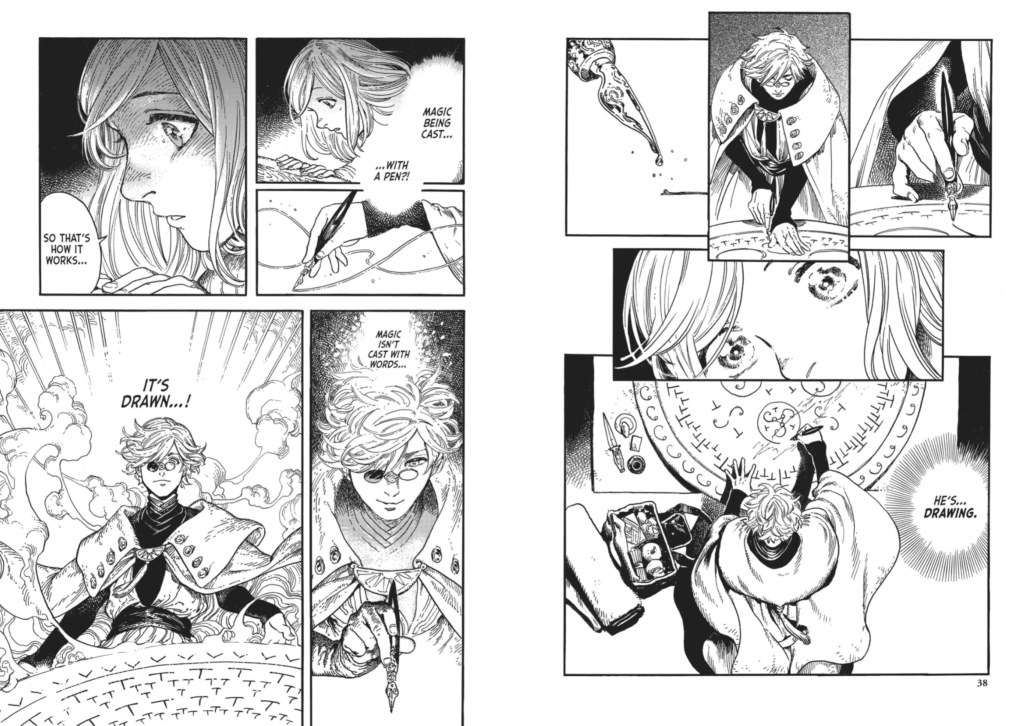 Who Made This Manga:
Kamome Shirahama is a Japanese freelance manga artist and illustrator. She is best known for her Witch Hat Atelier series which she began serialization in 2016. In the (non-manga) comics industry, she is perhaps best known for the variant covers and other illustrations for Marvel Comics, DC Comics, and more recently, different works in the Star Wars franchise.
Kamome Shirahama's earlier work as a manga artist includes a three-volume supernatural slice of life series titled, Eniale & Dewiela. She has a public twitter account here. In the short afterword of the first volume of the series, she wrote that this story was sparked by a comment by a friend who remarked that the process of bringing an illustration to life was a bit like magic.
Recommended for:
Fans of fantasy genre in manga
People who like their witchy content
Readers looking for recent manga series with children protagonists
Manga readers who want stunning, detailed artwork to compliment an engaging story
Can My Kid(s) Read the Source Material:
The manga is labeled as "TEEN PLUS." On the Viz website, Teen Plus "may be suitable for older teens and adults. Generally seen as an all ages manga, the first volume is labeled T for Teen for ages 10 and up for readers. As the series has progressed, some parts of the story have gotten darker in my opinion and the publisher now labels it as 16+. If you have a teen in the middle school and high school year age range, I deem Witch Hat Atelier appropriate for them, age-wise.
Where Can I Read it:
As reported by Anime News Network, Witch Hat Atelier has seen over 2 million copies published across 18 countries and is available to English speaking fans digitally via Amazon Kindle, BookWalker, comiXology, Apple Books, Google Play, Rakuten Kobo, Nook, and izneo, and also available in print, distributed by Penguin Random House.
Who are Some Important Characters I Should Know About:
Coco, our brave main character who has always wanted to be a dealer of magic. She's enthusiastic, ever curious, and fiercely loyal to those she calls family and friends. Following Qifrey to his atelier to become his apprentice, she soon discovers a world bigger than the one she's ever known. She's a lovable child who seeks to right a wrong she did in her pursuit of learning magic. She often surprises those around her with how she solves problems by thinking outside the box. Naturally seen as an outsider, she is an object of everything from fascination to ire by those in the magic world. Even those she's a step behind in learning the basics that her peers her age learned a while ago, her strong sense of determination is smiled upon and recognized by her teacher who does his best to protect her.
Qifrey, a Master Witch who is one of the most talented witches of his generation. Seen as rebellious for some views and practices he holds, he remains a great teacher for those apprentices under his wing. He notices Coco's talents like her concentration and steady hands when she cuts cloth for him during his initial visit to her mother's shop–great tools for any witch! He notices that Coco has a connection to someone he's been looking for for a very long time and that further endears him to bring her on as a new apprentice of his. Qifrey's desire to protect his students and to fully prepared them for the trials of becoming witches in their own right. It will be tested by his own desires for justice and reform in the world of witches.
Tetia, Richeh, and Agott, are Coco's peers and fellow witches in training at Qifrey's atelier. Tetia is a cheerful girl who loves to use magic to help others and receiving thanks means the world to her. One day, she wants to make a spell worth being remembered. She is the first "classmate" that Coco meets after she leaves home. Richeh is a quieter girl who later reveals that she has a very unique point of view about spells and the ones she wants to create. She doesn't speak very much but when she does, she is definitely worth listening to. Agott is the last girl at the atelier that Coco meets and let me tell you she isn't very welcoming to Coco the "(gifted) outsider." As a perfectionist, Agott is Qifrey's best student, but she could work on her people skills more. She's super abrasive to Coco and finds herself being amazed by her keen observation skills and optimism time and time again.
Why I Believe You SHOULD be Reading it:
Witch Hat Atelier is a manga that really resonates with the child within me. So often when we bring up children, it is about their lack of agency in the world and how they view a world that doesn't value them or their experiences. Coco and her peers are characters that speak to me as they are navigating a world with adults and rules that sometimes punishes their curiosity, their thirst for knowledge, and their desire to flip it on the head to change it for the better. Starting with Tetia, Richeh, and Agott, Coco slowly befriends each one. She slowly learns their backstories and how they have all been failed by the adults in their lives and pressured to fit molds of others that they aren't.
Witch Hat Atelier employs a narrative about discovery, finding joy, and understanding that you can think and work outside the box to complete the assignment, finish the course, and save a friend. The very first page of the first volume asks a set of short questions: "Is an athlete always an athlete even from birth? What about astronauts? or Pop stars? You can't know what you're going to be until you grow up, right? So…what about witches? Is it the same for them?" The world we live in, just like the world of magic, is not always set in stone or determined by birth right. Coco is a character to follow volume after volume because she embodies the spirit we all should seek to have in anything and everything we do: a steadfast, hopeful spirit ready to take on anything and everything.
One severely underrated narrative theme throughout Witch Hat Atelier is often in the role reversal of adults and children and their roles to each other. The child characters like Coco and her friends often end up surprising the adults around them in teaching them lessons about the world and things that can be done differently. With each volume, the world in this manga series grows bigger and more characters are added to the growing cast.
In the case of the child characters, Coco and friends find more children like themselves struggling with ideals of their own on how to improve the world–for those like them and those not touched by magic. This is key when reading along and seeing that, just like in real life, not every grownup can be trusted. The children have to use their wits to decipher which adults will exploit them and seek to dismiss them or support them as they grow. For Coco, this ongoing battle is uphill for her given her special status as an outsider.
I have (not so) jokingly recommended this manga series to those readers, parents, and educators on the grounds of "So your kid/you've read Harry Potter and/or your kid/you're wondering what ELSE there is for readers who like magic." For those who enjoy and recommend manga, this is the very first item on the list in my head. In 2020, The American Library Association's (ALA's) Young Adult Library Services Association (YALSA) released a list of Great Graphic Novels for Teens, and the Witch Hat Atelier manga (volumes 1-3) ranked in the Top Ten.
For their 2021 list, volumes 4-6 of the series made its way on there as well. And for the 2022 list, volume 7 of the series made an entry. This is a well-reviewed, well-awarded, and well-loved series that has gained an international following in a short time. Witch Hat Atelier won a 2020 Eisner Award, won the best manga category in 2020 for the Harvey Awards, is a manga Taisho (Manga Award) Winning Title, and was even voted one of the Top 10 manga of the year in 2018 by the Japanese manga industry as well as picking up awards internationally.
The artwork in Witch Hat Atelier has always been stunning and awe-inspiring to readers around the world. I also love the attention to detail in not just the artwork but in regards to the world building. It has always been intriguing to see how the mangaka worked out how magic can improve the lives of others through thoughtful contraptions like mobility devices, like this universe's version of wheelchairs. But improving the lives of those living with disabilities (a certain one that you learn more about in later volumes) is not at the forefront of the magic community. This comes as a surprise to Coco, who is new to this world and is for sure, something she wants to see changed.
It was announced last year that the manga is receiving an anime adaption! Lastly, one of the best manga podcasts (and one of my favorite) Mangasplaining covered the manga in an episode witch/magic themed that I would recommend listening to or checking out the transcript! Witch Hat Atelier is a charming, layered manga series on the cost of magic in our lives and how the joy of discovering and living out your dreams comes with responsibilities and obligations. It is loved by youth and adults alike and continues to be an engaging story championing those who want inclusion and clarity in the institutions that they belong to. I adore this series and believe you should be reading Witch Hat Atelier!
---
Love manga? So do we! Check out more manga reviews and related content here!
Want to get Black Nerd Problems updates sent directly to you? Sign up here! Follow us on Twitter, Facebook, Youtube, and Instagram!