I think in terms of conventions I was born with a silver (or at least, like silver plated) spoon in my mouth; every con I've been to has been pretty large in scale and incredibly impressive. When I lived in Richmond, Virginia, Otakon and Katsucon were two of the most accessible to me and therefore were the two I attended.
Since moving to Orlando, I've felt the tremors and sweats from Severe Con Withdrawal and decided I had to find something near me. The "something" nearest to me is Metrocon, a annual fandom convention in Tampa, Florida. Again, maybe I was spoiled by all of the nice, big cons I've been to but… damn, Metrocon was a disappointment.
Let's go back in time to the distant, long-gone days of July 21-24, 2016.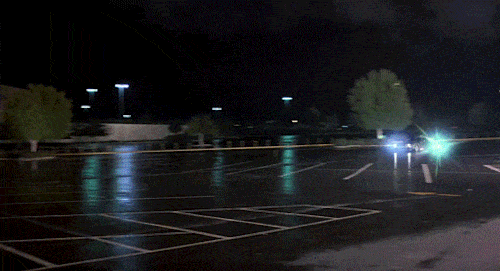 Thursday
This was the only day of the con that I got the whole day off for. When I got there, however, there weren't any panels or shows that stood out to me, so I checked out the Vendors Room. Other than the absence of a huge Crunchyroll centerpiece (which had seemed to me like a con staple), there wasn't anything that stood out to me as different from what I would see (or not see) at any other con; there was no shortage of video games, manga, and normally dressed con-goers casually holding life-sized body pillows like it's nothing (which…I mean, it's a nearly naked 15-year-old anime girl on a pillow you're going to be cuddling with all night, so, like, that's definitely something ).
While I wasn't particularly blown away by the Vendors Room itself, the cosplayers and costumes inside did definitely pull my gaze.
You might notice by flipping through my photos throughout this review (or by me mentioning it) that there wasn't really a whole lot of diversity at the con. I don't really know the demographics of Tampa, Florida but… I felt a little like Scarface that weekend.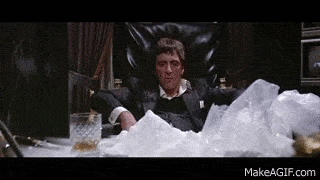 [divider type="space_thin"]
As I wandered through the Vendors Room, I kept hearing shouting as some people marched single file out of the Vendor's Room: "COME TO THE METRO STAR PARTY! IT'S IN ROOM (muffled room number)!" I, intrigued, fumbled with my con schedule to see if it was something I'd be into. I don't really go to a lot of shows at cons, but MetroCon had so many stunt shows that I figured I'd at least see a couple. With a great deal of help from the con's security and no help at all from the con volunteers, I found the room. Due to the very noticeable lack of bodies in the audience, I managed to secure a dope seat right up front near the action.
The Metro Star Party show was a weak mixed drink: half a shot of hilarity watered down with over half a glass of cringe, along with a couple dashes of cool cosplays and improv to try and trick me into thinking that maybe there was something more there. The script wasn't the worst, but it was clear which lines were improvised and which weren't, and, sadly (but unsurprisingly) the improvised lines were 100% funnier. Mario, Luigi, and their crew of assorted heroes (Samus, Star Fox, Rosalina, and Luma) fight against some villains I've never seen before to take control of the cargo of Captain Mario's starship. This wasn't a stunt show per se despite a couple of fight scenes. Overall, the show was palatable and there were enough redemptive moments to keep me from leaving partway through. There were some solid lines, some references I didn't understand, and some references that I did.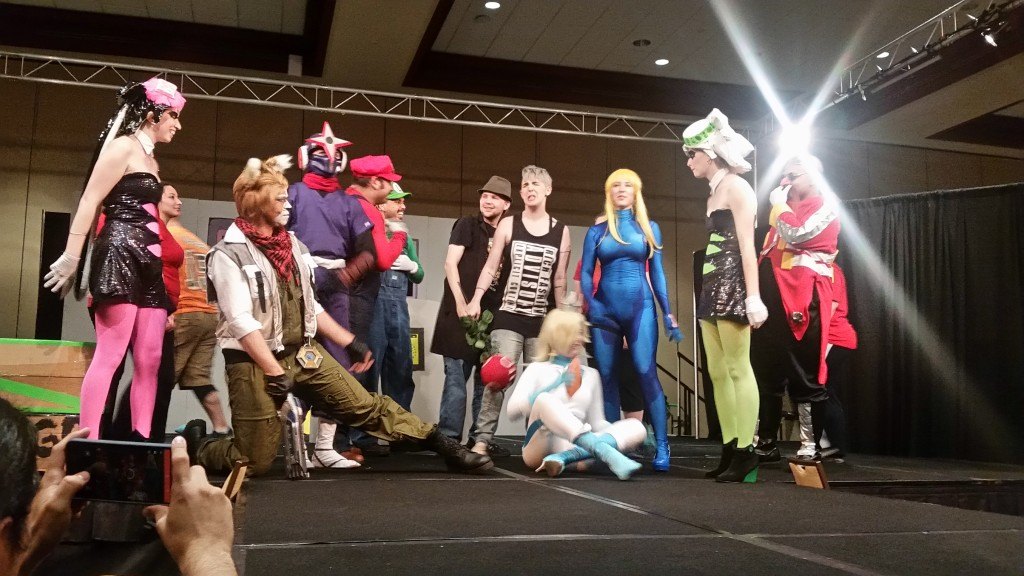 I was super hungry throughout the show, and I noticed a little set-up outside the Main Event room called Taste of Asia. The food was pretty bland for how expensive it was. The food everywhere at the con was expensive, and I learned that there was absolutely no nearby fast food! I don't really know how to survive a con without some $1 menu options around, which sucks but is ultimately not the con's fault. My wallet and I learned that if you plan to come to any con at the Tampa Convention Center, BYOFFB.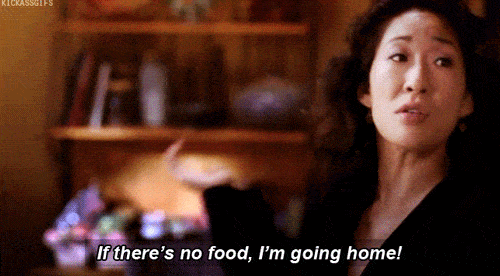 [divider type="space_thin"]
I fucking love the Borderlands games and DLC (aside from the shitty Pre-Sequel) and I am always down for Dungeons and Dragons, so when I saw a show called "Tiny Tina's Assault on D&D," I was 100% excited about it and was hardcore anticipating its awesomeness for the whole day.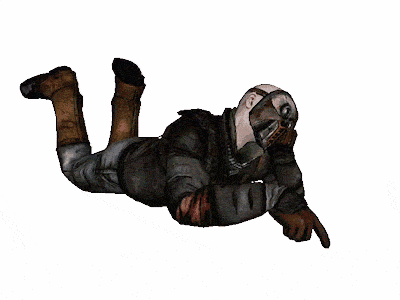 The premise: Tiny Tina and a couple of friends (Axton: The Commando; Gaige: The Mechromancer; Maya: The Siren) sit down for a game of Heroes vs. Villains D&D with Tina as a DM/participant in the game, and all the while the D&D action is being played out as a stunt show of sorts. I was again lucky enough to get a great seat for the show. Guess how I felt about the show? Goddamn disappointed, that's how. Most of the good stuff (music, title cards, some of the dialogue) was ripped straight from the games, so…that was kind of bullshit.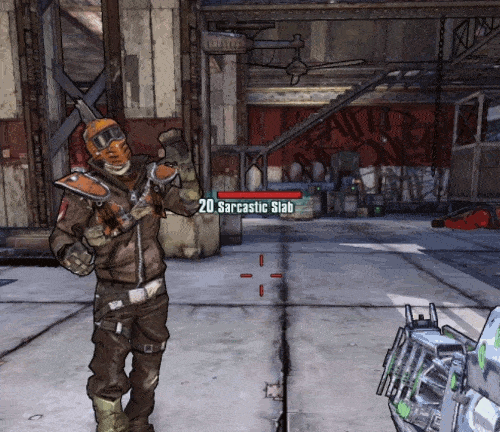 [divider type="space_thin"]
The good: the dude playing Scooter had the mannerisms and accent down, and his hoop work was dope (oh, there was a suspended hoop thing for the show, and he killed it). There were also two tiny children (or regular-sized children, depending on your perspective) playing midget psychos, which was super cute; the dudes playing Rowland and Axton were decent eye candy.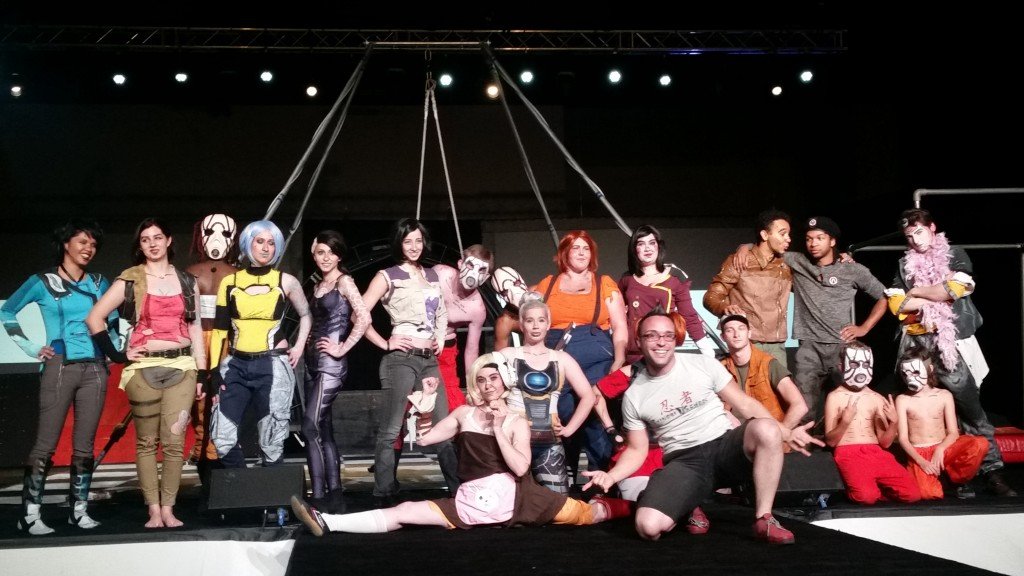 Now for the bad: The stunts were really not great. Silk dancing in general is pretty cool, but the tricks performed here were pretty bland until The Siren, Angel, and Gaige all got on the silk rope together, but only because I didn't think that many people could dance on such a small pair of ropes at the same time. The rest of the stunts were just jumping over stuff. I'm no parkour athlete but I, too, can jump over stuff.
The really bad: They used a couple characters from the Pre-Sequel, which sucks because it was not a great gameplay-wise, but also because it was titled "The Pre-Sequel."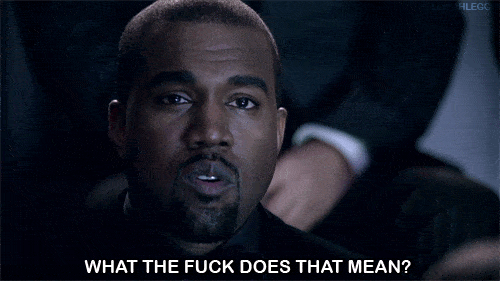 I would have been okay with the inclusion of the Pre-Sequel's most annoying playable character, The Baroness, if the actress playing her had included her ridiculous accent and mannerisms, but the flat portrayal of the character paired with the mediocre silk dancing made me kind of sad. And also whoever played Claptrap was just a walking container of cringe. And also the dialogue…Jesus.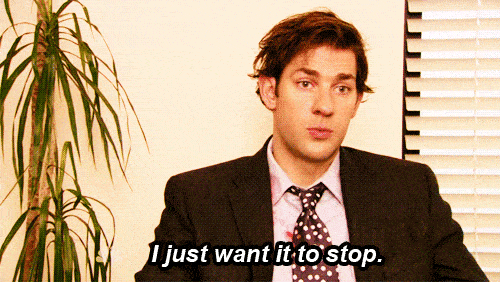 After all of that I needed a palate cleanser, so I thought to myself, "well, none of the other shows were winners, why not see another show? Third time's the charm, right?" For the aptly named Superhero Comedy & Stunt Show, the third time was indeed the charm: the script was pretty solid, the stunts and fight choreography weren't bad, and the costumes were pretty great.


[divider type="space_thin"]
After one pretty good panel by Surreal Makeup's creator (the company makes dope makeup that is cruelty- and chemical-free, if y'all are interested), there wasn't much else to do so I dipped.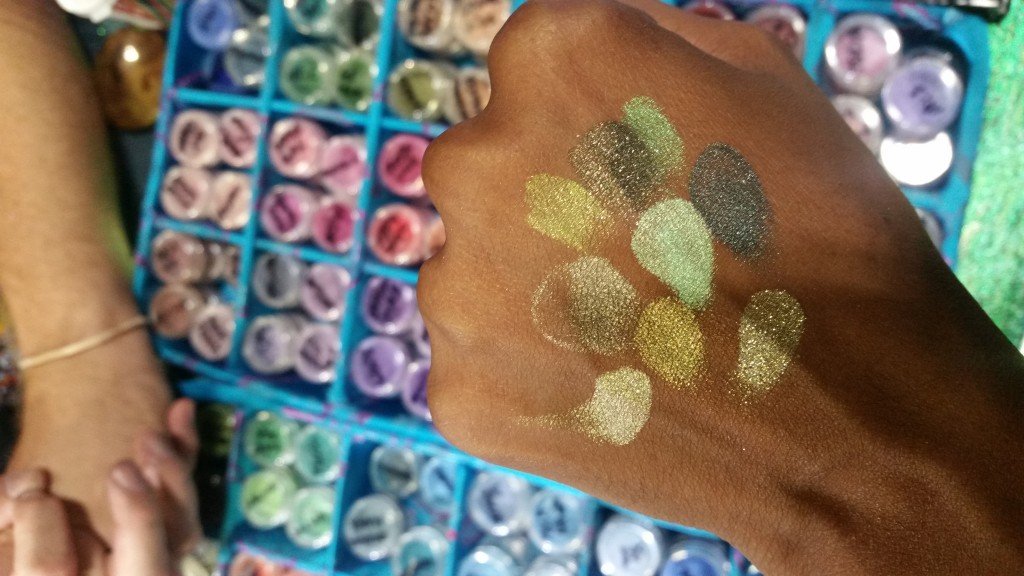 [divider type="space_thin"]
FRIDAY
I began my con at 7:45 PM, and yet I still didn't miss much according to the schedule. Friday wasn't much more interesting, so I gave lots of things a try before I got to the star of the weekend, the Metrocon Fire Show. Here is a highlight reel:
Funniest Video Game Moments Panel
I was there for the tail end of it, but I did get to witness this epic fucking ridiculousness, along with this classic gold from Red Dead Redemption.
Silicone Mold Making Panel
I walked in on this super late; everybody was already making their molds. I didn't care enough to stay, so I just dipped in order to make it on time for…
Is Your Merch Fake?
I actually learned a lot so I might have to write a whole thing on this so I can share the knowledge of how not to get conned at a con. I did find out that the absence of Crunchyroll at the con is because Florida is bootleg central…and that there was a ton of fake shit in the Vendors Room, allegedly.
Artists Alley
So I thought that the Vendors Room was about as big as the ones I've seen at Ota or Katsu. I was wrong; I realized that part of the Vendors Room was actually Artists Alley, each almost indistinguishable from the other. Both the AA and VR became a lot more disappointing after this realization and I didn't end up spending too much time there since I didn't notice as much stuff that appealed to my taste.
Video Game Room
A lot smaller than the rooms I'm used to, but had a great variety of single-and multi-player games. There were a ton of people sleeping in this room though, so I don't really know what that says about the room or the con as a whole…
Wig Basics 101
In this panel I learned to "just Google it," which was lame, but one panelist was wearing an ill-fitting wig and the other wasn't wearing a wig at all… so.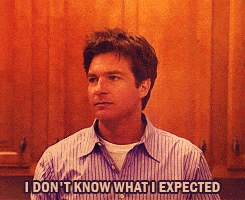 Metro Fire Show
A Skyrim-themed Fire stunt show?!? This made the entire fucking weekend brighter. It. Was. So. Dope. I wish I had a better camera so that I could have captured some of it, but it was for the best since I got to spend the time enjoying the show in the moment. Here are the important bits:
[divider type="space_thin"]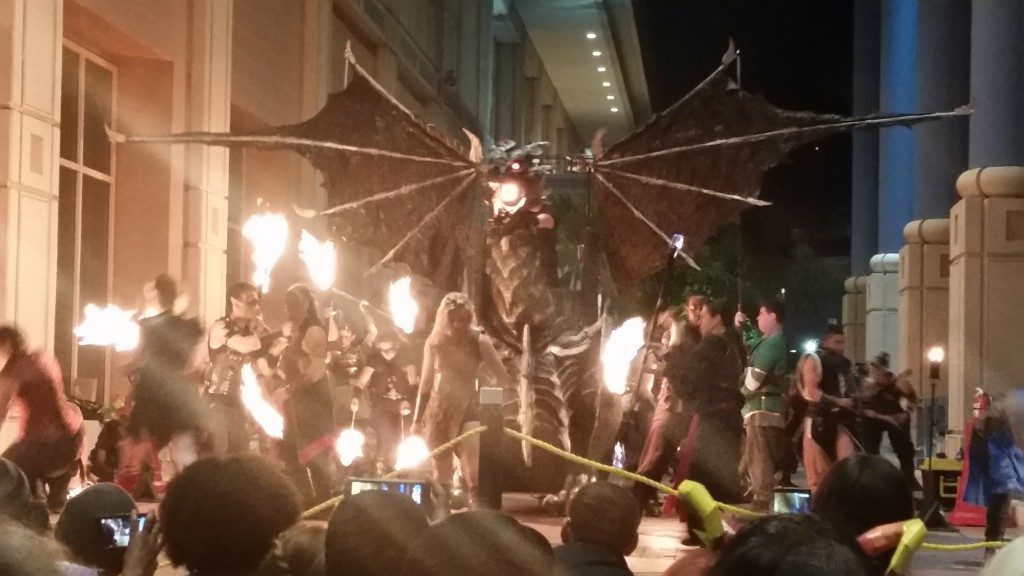 [divider type="space_thin"]
The cosplays were on point, the mechanical dragon at the end was beautifully crafted, the stunts synced beautifully with music straight from the game. It was all incredible. Seriously incredible. I'd go again just to see a show like that.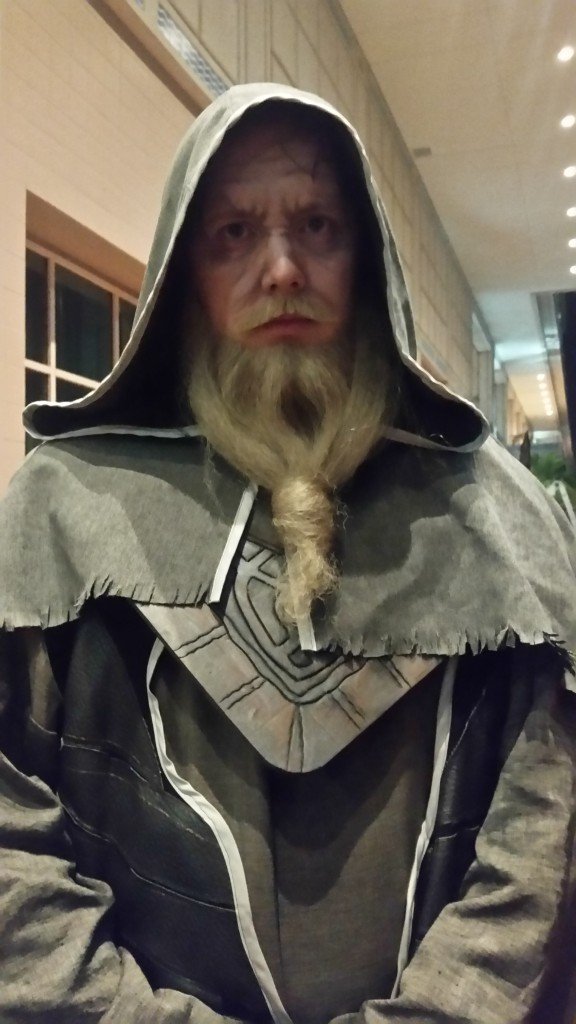 SATURDAY/SUNDAY
According to a coworker who ended up going, Saturday was the big day for the con; the busiest day with the largest crowd of cosplaying maniacs. Sunday was allegedly dead. I wouldn't know personally since those were the two days I couldn't get off work on time to make it.
Overall, there were some good things about the con, and some really, really bad things.
THE GOOD
• The bathrooms all had free pads and tampons! I've been to very few bathrooms with amenities like this for ladies. Every con bathroom should follow suit.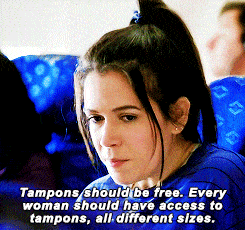 • The two phone charging stations, both of which saved my ass.
• There was a space to donate blood! I have never seen that at a con before, so I really loved that.
• Pokémon Go Lure modules for daaaayz. I couldn't tell if that was a gift or a curse; I didn't catch anything that I didn't already have a million of, but it did provide a bonding experience since plenty of con-goers, myself included, sat with and talked to strangers about the different Pokémon we'd caught and what teams we'd joined.
• They had Dippin' Dots!
THE BAD
• I have never been to a convention with such utterly useless volunteers. I didn't see a point to any of them being there, honestly, since absolutely none of the ones I talked to knew where anything was, and I talked to more than I can count on my fingers and toes due to the way I'm constantly getting lost and am incapable of correctly using maps…which is my own fault, but still.
• The lack of nearby cheap food was disappointing and kind of a hassle.
• There were no 18+ panels! I think if there's going to be an 18+ rave at a con, there should at least be some decent 18+ panels.
• This was the least diverse crowd I've seen at a con. There weren't a lot of people with my melanin count, and there weren't as many intricate cosplays as I would have liked to see.
THE VERDICT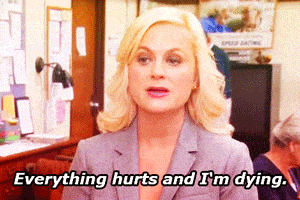 [divider type="space_thin"]
If I end up staying in Florida long enough to go to another con here, it'll probably be Anime Expo or something. Maybe 2016 was a fluke year, but for something that calls itself "Florida's Best Anime Convention," it didn't live up to the hype. So Metrocon…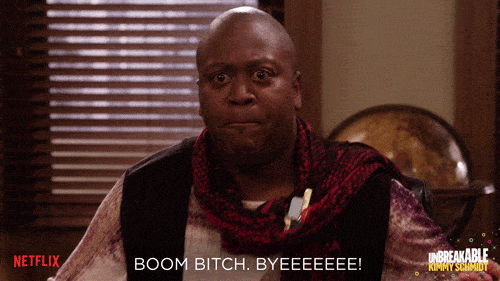 Are you following Black Nerd Problems on Twitter, Facebook, Tumblr or Google+?