Writer: Tom King / Artist: Mitch Gerads / DC Comics

"No matter where I am, no matter what I do /
I'm always coming back home to you /
They can leave me for dead they can take away my true /
I'm always coming back home to you"-Atmosphere
It's that time of the month for BNP's editors, when a new Mister Miracle drops and I ignore the the word limit for the comic book review. Don't blame me for that, blame Mitch Gerads and Tom King for giving the fandom so much to talk about. Scott Free has a day before having to face the king's Highfather's justice. Scott and Barda are spending their last day together and it's so bittersweet. We see much of the 4th wall of the 4th world being broken. Scott visits Kirby's star on the Hollywood Walk of Fame. Here King and Gerads reintroduce us to Funky Flashman.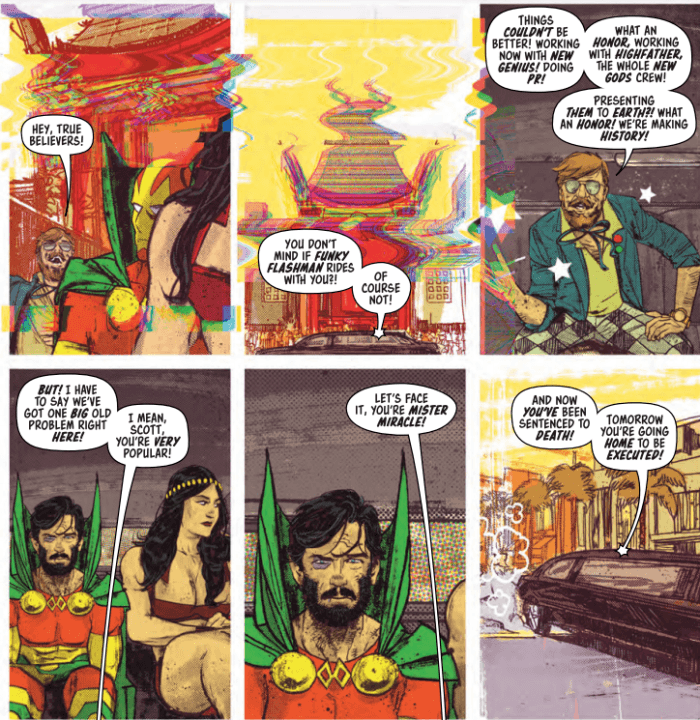 Flashman catches the reader up on what's going to occur to Scott and his best options of "escape." Fam, Flashman is Jack Kirby's caricature of Stan Lee. The deep cuts, man. I had to do some work to catch that reference. When a creative team makes the reader work, how can you not love it? King and Gerads are really exploring all the crevices of Kirby's 4th world and its characters.
"I'm tryna put you to bed, bed, bed."
This issue reminded me of The Spectre #13 (2002) "Eternity in an Hour" from J.M. DeMatteis and Ryan Sook. The Spectre and Eternity had forever in an hour together. Only difference here is our protagonists only have 24 hours. What do you do with 24 hours to live? There isn't any action this issue; instead, we get Barda and Scott doing casual things to us, but to them they're more significant.
Through dialogue we get glimpses into their inside jokes and promises to one another. What I love this issue is how Barda is cut and dry about Scott making a choice. She won't allow for herself to be the reason he tries to escape the predicament. He has to make the choice. That's why I fucks with Barda, man. That statement is what takes us through the day. The realest shit is Barda and Scott getting it in early.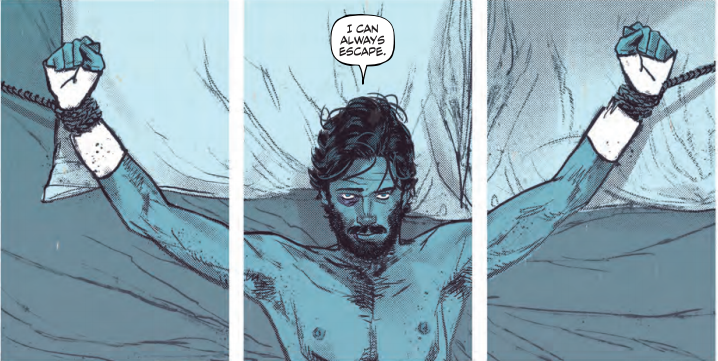 The scene makes sense as he is about to die. So yeah, sex is obvs on the to-do list. Pretty high up there. Gerads come through with the visuals here 'cause this is an extremely tasteful expression of love between two characters, while also giving us a quick glimpse into the Adina Howard-levels that Scott and Barda are on in the bed room.
I love the way Gerads draws Barda. We see Barda as the unfuckwitable warrior that'll embarrass your favorite fighter. Barda is hard when need be, but here we see her softness that Scott knows in and out. Gerads draws her with strong and defined features of her body type that make her stand out. There's nothing cookie cutter about Barda's physique, which is a great step for body positivity. Different representations of beauty being put forth is what we need in comics. Gerads is giving us that with Barda.
"What else can I say?"
I'm could dive way deeper into the issue but those are the true jewels that you gotta discover. King is so fucking good at character dialogue, monologues, and soliloquies. Especially when discussing stories or ideologies. I won't get into what comes this issue but just know it's very heady and well thoughtout.
Again, no action this issue but you wouldn't even notice it. King gives us a haymaker with the dialogue. Gerads's art and colors are the sucker punch you love getting caught off guard by. Mister Miracle is proof that with the right creative team, *Kevin Garnet voice* anything is possible!
9.5 Wonder Woman Plushies out of 10
Reading Mister Miracle? Find BNP's other reviews of the series here.
Are you following Black Nerd Problems on Twitter, Facebook, Tumblr or Google+?