Writer: Marjorie Liu / Artist: Sana Takeda / Image Comics
First things, first…this is perhaps my favorite cover for this comic so far. Kippa and Ren outchea looking like a mixtape cover that we didn't know we needed. Or deserved.
As more and more revelations come to light and more characters are introduced, I can't help but read and just sit here stunned into silence. You thought your family was dysfunctional? With everything that's come post Elections this year, you thought Thanksgiving and Christmas with the fam bam would be awkward? Try again. Try imaging Maika's family.
It's clear that not just one of her relatives is also one of her pursuers but someone whom she once called friend is now allied to hunt her down. In the grand scheme of things this issue explores more of the relationship of our favorite Halfwolf and her mother, Moriko that is not so much in a good light. Not at all.
The great pains that Maika is putting herself through to remember who she is: her mother's daughter is alarming yet instrumental to this new side of who her mother was. Not just an intellectual. Or explorer. Or seeker of knowledge or a woman with a thirst for something groundbreaking that would lead to her betrayal and death…the more pages are turned, the more we see a woman hell bent on perhaps using her daughter as a tool. Maybe even a weapon and it's a frightening experience to behold.
I've been reading this comic all this time with a thought that while I didn't think Moriko to be a saint (she was mixed up in a LOT of sketchy stuff, y'all. Seriously) her daughter has always been trying to find her, a dead woman. Find her unfinished work, find her allies, find her aspirations, find her approval…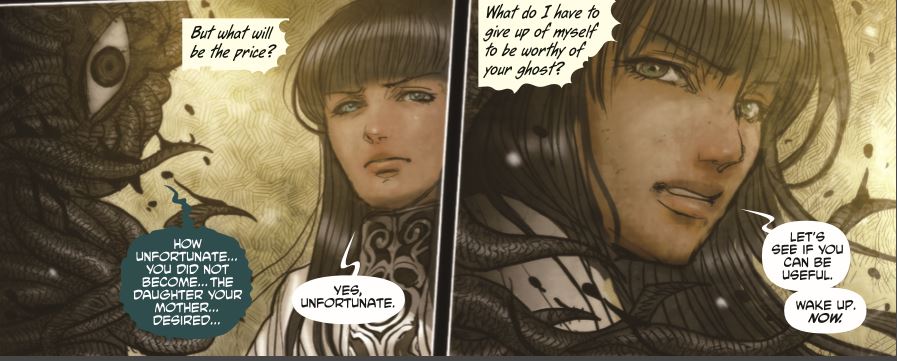 What really works here in this issue? The backstory on Maika and Moriko of course, which is more illuminating now that our girl heads to the Isle of Bones, a doomed place where enemies await her and her company. And Tanaka's art which is always lovely and commands attention but this time is especially fantastic in the pages of someone, or should I say something that only Monstrum and Ren recognize whose interactions seem to almost leap off the page. AND the enchanting creature acquainted with the Blood Queen is another highlight of this book. Maika's jump into action in the first panels we see with her this book after how last issue ended for her may be a bit jarring but the different parallels of actions catch up pretty quickly bringing things back into focus.

8.9 Masters of Woes out of 10

Are you a Monstress fan? Want to catch up? Read previous reviews here.
Are you following Black Nerd Problems on Twitter, Facebook, Tumblr or Google+?