Writers: Ed Brisson / Artist: Flaviano Armentaro / Marvel Comics
I gravitate toward the New Mutants for a number of reasons, but I always come back to the fact that they're impulsive, headstrong and ethically questionable but always have their hearts in the right place. Issue #11 does a great job of highlighting all of these characteristics while wrapping up this psychedelic, diplomatic mission to Eastern Europe. Ed Brisson has been putting in work on this entire book and continues to deliver the goods. Don't get me started on the artistic vision of Flaviano Armentaro, who invokes his inner Jack Kerouac all throughout the last three issues.
Into The Void
Armor, Magma, Karma and Chamber have been sucked into the black hole like manifestation of a brand new mutant's powers. The team has to call in backup to help quell the situation, and strategically selected Cypher, Mondo and Wildside because their set of abilities are particularly perfect for this job. Easier said than done, as they soon find out.
Mirage, Wolfsbane and my new X-fave Boom Boom are left outside to deal with the escalating tensions between them and the Carnelian po-po on the scene, sparked by their President's aversion to mutant help and delusions of ill intent.
New Mutants Have A Wildside
The shots that get fired at Wildside could fill up a comedian's Netflix special. One thing is for sure; when "Clowny McWolverine Lite" is needed, the veteran steps up to the plate and puts those jokes to bed! His mental, reality-warping powers were the key to this rescue, but it was Magik who pulled up on the scene right out of nowhere, that had my jaw on floor! I Stan a woman who steps out of swirling flames spittin straight BARZ and whisks away her team. A downright inspirational Queen!!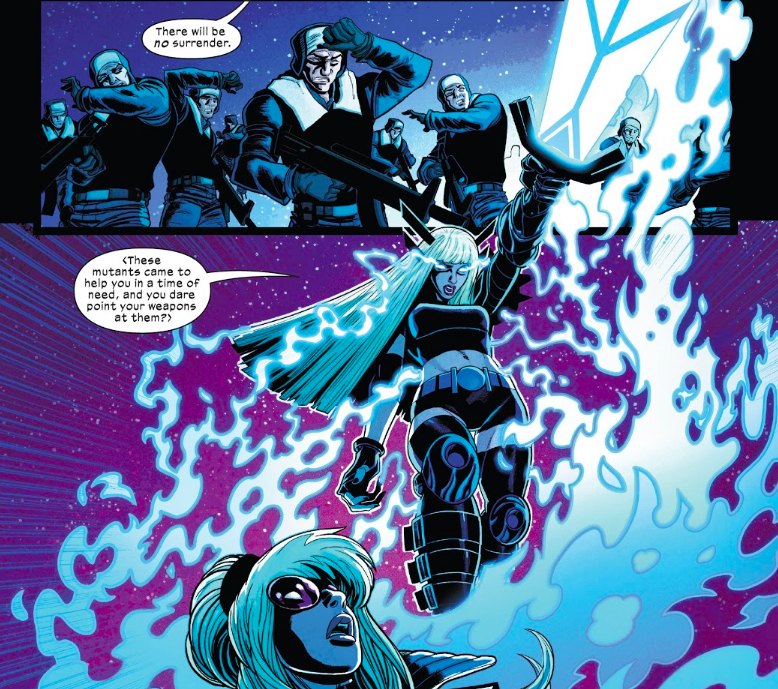 Sidebar: This moment comes soon after Magik's conversation with Captain Commander Cyclops aka Triple Cs, about the sloppy nature and casualties sustained in the Pilger, Nebraska incident. Part of me was expecting Magik to turn that whole slew of Carnelians to a bowl of bloody borscht, but I'm glad she'll be able to show her OG how well she can rectify a problem approaching it's boiling point.
After the wild adventures and mostly unfortunate outcomes of this New Mutants comic run, I think it's a smart move to reel the crew in a bit and shift focuses to something a little less explosive. Going after those behind the DOX, mutant-hating website, aka the media, couldn't possibly have any ramifications! As a standalone, this book was a nice cap on this little Carnelian Carnage tale. Carlos Lopez worked color wonders with the panels that Flaviano Armentaro produced. Issue #11 of New Mutants reminds us of the troublesome nature of the young mutants, while inspiring the inner hero in us all to always do the right thing.
8 Sad Sack, Baby X-Men out of 10
Want to get Black Nerd Problems updates sent directly to you? Sign up here!
Follow us on Twitter, Facebook and Instagram!