This new coming of age Netflix drama/comedy is a look into adolescent life for POC in East LA. On My Block follows 5 young children as they transition out of middle school and into their first year of high school. It is a story of friendship and sticking together through thick and thin. But these teenagers aren't dealing with just the regular crushes, parties, and chem quizzes. They are also fulfilling generational expectations to play football, join gangs and somewhat chaotic home lives while navigating the awkward emotions and social constructs on top of that.
Our main character, in my opinion, is Monse Finnie played by Sierra Capri. She is the only girl in her crew (at the beginning) whom the show has ascribed a "tomboy" characteristic too. She is the young girl who blossoms over one summer into a woman but has the tough edge that will never fade. She lives with her father who is a trucker and on the road often. Her mother is not in the picture, which we learn more about throughout the episodes.
The next member of the friend group is our bad boy, Cesar Diaz played by Diego Tinoco whose family is thick as thieves in gang relations. He is in a long line of gang members and feels a sense of responsibility to join and be a part of that culture. His personality and effect is not one that you feel would even be influenced by that lifestyle. Cesar actually engaging in this lifestyle adds a certain element to the show as well. Cesar and Monse are our star-crossed lovers, hooking up and feeling the need to keep it a secret within the friend group. You can see how the drama would spiral from there.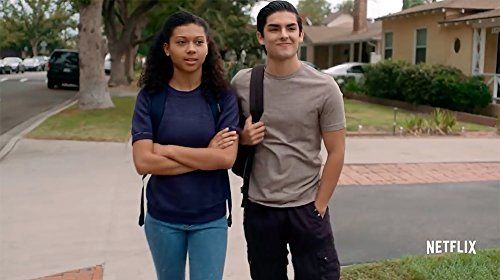 Our smart guy, intelligent, passionate Chicano is Rubin Martinez "Ruby" played by Jason Genao. He quickly is seen as the man with a plan to slay in high school: get the girl, be the cool kid, and also get the good grades. This character may be your favorite as he is a voice of reason and irrationality at the same time.
The final friend is our goofy misunderstood character, Jamal Turner. This character, the only black male in the group, is a new age re-incarnation of "Urkel", physical comedy and all. His father, a former football player is enthusiastic about his son playing, yet Jamal has no desire and almost a hypochondriatic fear of the sport. Throughout the show, Jamal's character embarks on a sort of Goonies inspired search for some hidden money that may or may not exist from a crime mob unsolved mystery. What rubs me the wrong way is how much this character is pushed aside at times or left to his own devices while the rest of the group ventures off in their love quadrangles and what not. He seems very much sidekick and I hope as time goes on he gets more of an integral role in the group storylines.
As the episodes progress, we are introduced to the character, Olivia, who moves in with Rubin's family after her parents are deported and Rubin's family become her guardians. Olivia's character completes the love quadrangle and drama ensues.
We also meet quirky outspoken characters that are used for comedic relief and others that bring in the severity of gang presence in their community.
The show truly is an East LA
Skins
meets American
Degrassi
. I applaud their inclusion of serious issues such as immigration laws, gang activity, racism in LA, and discrimination with a young audience. There are moments where the writing attempts to bring in women's issues or make slight hints at sexual preference that may be missed opportunities for teachable moments. I am hoping over time some of these things can be addressed in a way that pushes the envelope for youth.
That said, the writing is geared toward young audiences which sometimes may not translate to older viewers. Not that older watchers wouldn't understand, but the conflict and trials are focused on the actual high school experience and, at the same time, working to be very adult. They play on the adult circumstances youths deal with growing up in East LA, but in combination with the youth lens sometimes water situations down. In reality, I know there are some youth and a number of adults who can definitely relate to the storylines despite what the storyline may leave to be desired.
The best part is, the youth truly take charge in this show. They run full steam ahead with their very quirky awkward characters and do a great job with the framework they are given. You get invested in the characters just a few episodes in and do want to see where they go together and how they fate throughout their love triangles and trust issues.
On My Block is ambitious and working to take risks in youth sitcom and drama. It is an accurate depiction of the emotionality in friendships and how it affects our decisions, sense of urgency and direction. I applaud the unique casting and charismatic abilities of the friend group. It is a pilot season with a lot of room to grow, has great bones with a friend dynamic you can love for seasons to come.
Are you following Black Nerd Problems on Twitter, Facebook, Tumblr or Google+?