Writer: Jason Latour / Artist: Robbi Rodriguez / Marvel Comics
Going back and forth between Earth-65 and Earth-616 could have been aggravating, but Radioactive Spider-Gwen #3 does well keeping it rather simple: the story exposition happens in Spider-Gwen's world while she rendezvous with Jessica Drew – Spider-Woman – over on Earth-616 for some introspection and character building. The downside of issue #3 is that means no action, no web-slinging, and not very fun, which is a bummer when it comes to a title like this one.

Gwen's band, The Mary Janes – still in desperate need of character development – go on an annual cabin trip while Gwen herself is missing in action because she's secretly in another Earth dimension seeking guidance from Jessica Drew. But the bulk of the issue is actually dedicated to Gwen's father, Detective Stacy, as the police try to connect the dots between the good guys and the bad. And all plots point back to Peter Parker, who became the Lizard in Earth-65 and ended up getting killed, including a surprise return at the end telling us what familiar adventure to expect next.
The constant references to Peter Parker are just on the cusp of being annoying at this point. On one hand it's quite fair, as his death is obviously a significant and molding event in Gwen Stacy's life, but it almost feels like it's stealing away from the protagonist at the same time, having the most high-profile Marvel character referred to so often in a comic that belongs to someone else. Some readers, myself included, might have heard enough from Peter at this point and would rather his shadow cast a little more lightly on the series than having his impact consistently and blatantly shown. But alas, this is a re-launch of Spider-Gwen's solo series, so it does make sense to go through the basics again.
As an issue setting up for a twist on an iconic battle, we can accept this issue for the plot-builder it is. It does highlight a few weaknesses for the title though, particularly in the narrow number of characters you really know and feel for… which is basically limited to Gwen herself; maybe Detective Stacy too, if you're generous. She needs a consistent supporting character in the form of Glory, Mary Jane, or someone else, especially in issues like this one. I don't begrudge Jessica Drew's cameo, but her role in the narrative was due distinctly to Gwen not having a ride-or-die right here in Earth-65.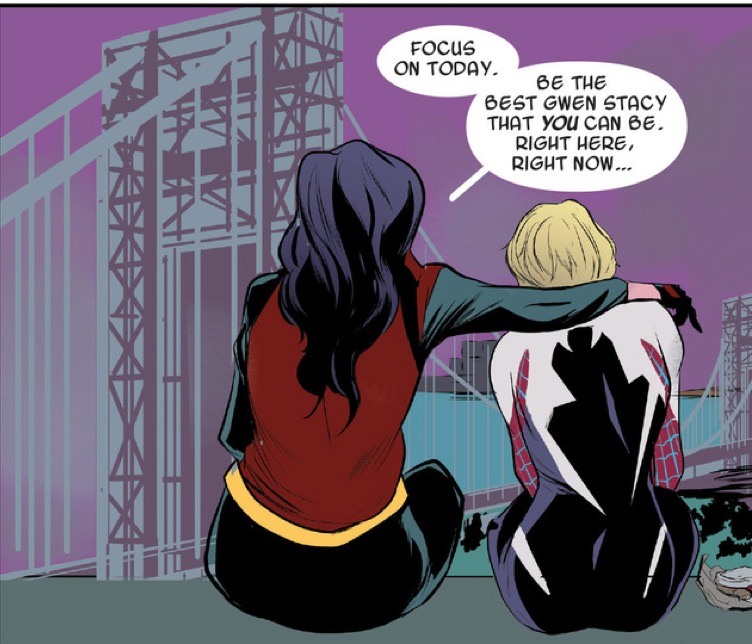 The next issue will be back to its web-slinging ways so we'll be gladly distracted from the narrow cast, and hopefully we can see other characters strengthened in the future. Maybe make space by weaning us away from Peter Parker? If we're lucky it'll be Glory who gets her time to shine as a supporting character. And if we're really lucky, we'll get best-case scenario thus far… and her name's Samantha Wilson.
7.2 out of 10
Reading Radioactive Spider-Gwen? Catch up on previous reviews right here.
Are you following Black Nerd Problems on Twitter, Facebook, Tumblr or Google+?