NEW MANGA ALERT, Y'ALL.
I was rereading the fantastic memoir on the life of mangaka Akiko Higashimura (Princess Jellyfish), titled Blank Canvas, My So-Called Artist's Journey which told the tale of her unorthodox art school upbringing that she underwent as a high school student. It included being trained as a painter and eventually majoring in college with a fine art degree. It was certainly enlightening to read about the many tools used and the hardship experienced by the author in getting down those fundamental skills. And then you know what happened? I stumbled upon news about a new manga being released this October from Kodansha titled, Blue Period about a high school kid who stumbles upon a new passion: painting. I was not prepared for the amazing story I would lose myself in.
STILL LIFE
Yatora is a high school student in his second year with superb grades. He's moderately popular even with his pierced ears and circle of friends that often get labeled as delinquents. Sure, he stays out to all hours of the night and morning, but he manages to pull off some of the best grades and keep his parents off his back. Putting in the time to study, knowing the correct answers to the teachers when asked questions in his classes, and saying all the right things to his friends when they're out and about is easy. Effortless, really. He even likens it to grinding to level up in a video game. This is his life. It is all…dull. predictable. But, it is his life.
Wandering into the art club's room to retrieve his forgotten cigarettes allows him to stumble upon a painting that stops him dead in his tracks, awakening him and setting him on a path that starts off with more upsets than triumphs. Yatora realizes that he wants to try being authentic to himself as he's just been using all the cheat codes to make everyone else happy and keep up the status quo. Painting IS quickly become a passion to the boy who did not have one before and sets out to pursue it.
Even the name of the manga is a bit on the nose but when considering that it is a reference to Pablo Picasso's Blue Period. It was a time from 1901 to 1904, where the famed artist " painted essentially monochromatic paintings in shades of blue and blue-green, only occasionally warmed by other colors." A mostly somber set of paintings, with several themes with one being "the desolation of social outsiders, whether they be prisoners, beggars, circus people or poor or despairing people in general.", as the website dedicated to his life work details here.
The opening pages have our protagonist pondering about Picasso and just why he's so important to the art world. My best interpretation after reading the first volume is that our boy gets only just a taste of the yearning, of the drive to want to recreate what he sees and feels onto a piece of paper, on a canvas. There's a sort of agony that is present in each chapter with his self-reflection on talent and art and ability. There are no life hacks for this. There is no easy out. Empty praise that he's heard all his life means nothing when he feels that the other students in the art club are miles away in front of him in regards to ability and what they want to do in the future. There's a sort of immediacy that is woven into the narrative.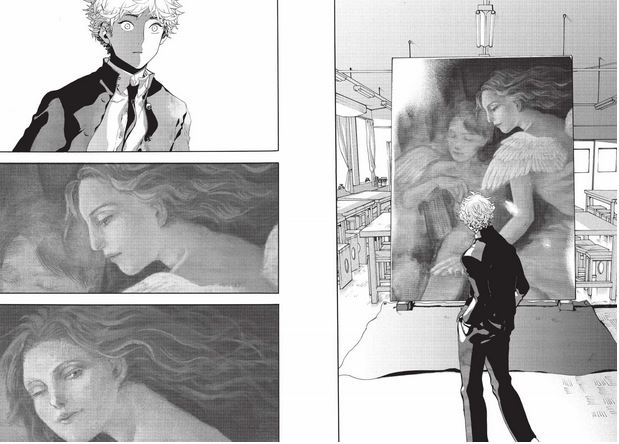 IN COLOR
On the artwork side, there are scenes that stand out and make the world stop–the best illustrative example is when Yatora walks into the art club's room. He's frozen in place and the painting seems to wink at him. The pages of Yatora attempting to express that special blue of the early morning light of the city when he's returning home in the wee hours after goofing around with friends is another favorite scene. The more I read, the more I realized that there's more depth to him. The combination of the overall manga artwork that includes the recreation of so many different pieces like drawn still life pieces and brochures with art is stunning and beautiful, collaborative pieces of work by so many different people as noted in the special thanks sections. (You can see who inked the backgrounds, who worked on Yatora's early art pieces, etc.)
I already am starting to fall in love with the supporting cast, starting with the previously though weird, "hippie" art-loving students who Yatora starts to slowly become comrades with. I found myself invested in their lives. There appears to be a possible gender fluid character who previously butts heads with our protagonist who may end up being a good friend…or rival. Or both. Warning, there is a tiny bit of fan service that I was able to tolerate.
Tsubasa Yamaguchi's 2020 Manga Taisho Grand Prize Winning manga is a work about youth and wanting to challenge yourself. This manga is about defining and redefining who you are when you're finally starting to figure out what drives you and what your true passion may be. I was instantly thrown back to my later high school days of wondering if my parents could afford art school and if I could make it as a creative with the career paths I originally chose for myself way back when as a teenager.
Navigating what ambition, honesty, and passion look like, this first volume of Blue Period will immerse you, delight you, and cut your heartstrings every time you want to cheer for our Yatora. It's a thrilling ride for him to start to uncover what stirs his soul as it is also one that constantly reminds him of where he's at…the bottom of the totem pole, he's still new. Fresh. Wet behind the ears. He has some level of discipline and dedication–but he still has to work on the fundamentals, he still has to buy his own art supplies. He still has to work at it. He still has to exhaust himself and hold up in his room wondering if he can do it.
Blue Period is a fascinating story about a young man exploring a new world and wanting more and not being satisfied with the level he's at. I'd gather that this manga sits in the shounen or seinen genre. And while it is very educational, it can be a bit of information overload, especially towards the end. This manga is heavily detailed and pokes holes in expectations–the characters and the readers on what true talent is and what it takes. It is a narrative that is thought-provoking and realistic with high and lows. This is a really strong first issue and I can't wait to read more!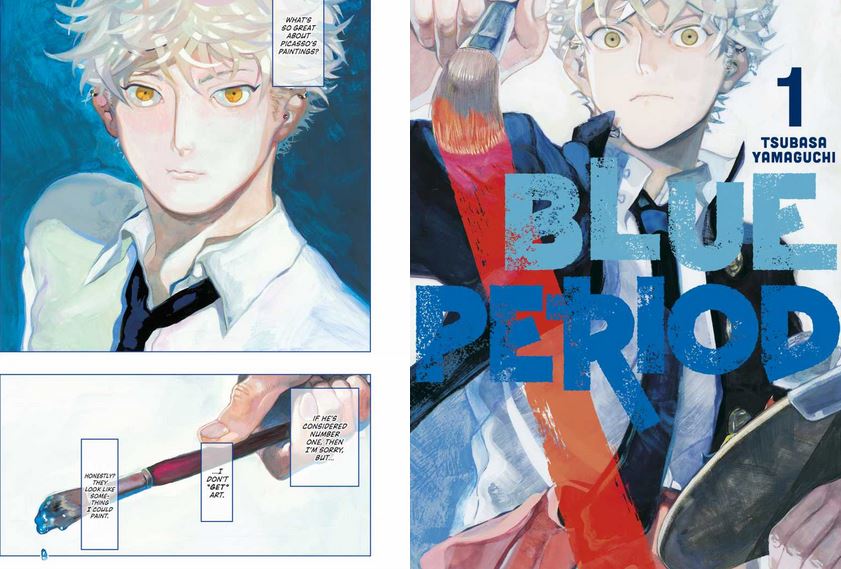 9.3 Illuminating Train Rides Back Home In The Snow Out of 10
Read more about the new series and read the first chapter here.
Read our other manga and anime reviews and coverage!
Want to get Black Nerd Problems updates sent directly to you? Sign up here!
Follow us on Twitter, Facebook and Instagram!