Writer: Pearl Low / Artst: Pearl Low / Gumroad
A year ago I stumbled across the Kick starter campaign for a autobiographical comic by Pearl Low, an Afro-Asian Storyboard Artist currently working in Vancouver, BC. The KS campaign would be the third printing of this comic, and Low wanted to make it available to an international audience. She wrote of the book "Through the lens of an Afro-Asian woman, Tension explores societal 'norms' & learning to accept and love one's own natural curly hair." While obviously a fan of Black women , all manner of Black women exploring narratives that include wash days and collection of stories about Black hair that could be considered coming of age. I was intrigued by this comic on hair, on a woman embracing her roots and set out to read Pearl Low's Tension.
"Through the lens of an Afro-Asian woman, TENSION explores societal 'norms' & learning to accept and love one's own natural curly hair."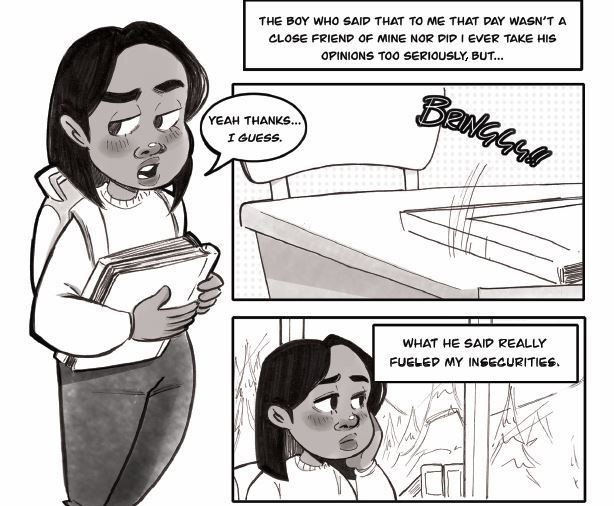 What I love most about Tension is the immersion into the narrative I had in my reading experience: the story is presented with ease, a slice of life type feel. The comic starts with an older Pearl rising out of bed bemoaning that she will have to do something to her hair, that she will have to put it up. Then in the next pages, we see the younger versions of herself happy and slowly starting to understand that her hair sets her apart from others, that folks have opinions about hair that has a different texture and also how much of that reaction doesn't make her feel good about it. She says, "I never used to mind my hair, until other people started to." We see this manifest in the seemingly more innocent verbal comparisons of how preferred her straighter hair is when she's younger to seeing the mocking of other women who have a head of more obviously looser curls which get nicknames.
Ten·sion
/ˈtenSHən/
1.noun
The state of being stretched tight; mental or emotional strain.
In this comic, Pearl is gauging the reaction to hair, to Black hair, to her hair. In turn, her hair is fighting back for a chance to be loved, to be granted permission to just be, and to shine. The title, Tension, has an explicit meaning: it does come from the artist constantly choosing to straighten her hair to putting it up in up-dos and buns to making excuses to not explore how to style and wear her natural curls. There's so much work in putting the hair up and away and not letting her hair breathe and have a life of its own. The title, Tension, has an implicit meaning as well. She does this to avoid what she hates to see in the world: the mocking and disrespect that accomplices anyone whose looks and features (and HAIR!) doesn't adhere to European beauty standards.
It is, of course, a very pressing struggle and a valid concern for Black women anywhere and everywhere and this does include biracial women in places outside the United States. What I love about this comic is that Low doesn't focus on the bad: the experiences with her hair growing up with others that were less than glowing. No, this visual offering is a journey where she presses on and her ode to self-care and loving every facet of herself starts with baby steps, a little each day. Another grand point that I must wax on about is the positive reinforcement of the women in her life, both women of color. From day one Low's Chinese-Canadian mother met her with a smile and seemingly did her best to style her air and never let her believe that there was anything wrong with the texture or the state of it. Even when Low grew older in the comic, she would mention her more natural hair and remind her to let it down from time to time.
It is later in the comic where Low has a true turning point, a chance encounter with yet another woman of color, her sister in law who tends to her hair and blessings upon blessings gives her a 'personal hair-care prescription in which Low takes home. She goes to confront what's been working away at her nerves and releasing the tension. Low starts working on not putting some much stock in what others say about her hair, and thus giving her hair and giving it permission to be and thus the journey to loving her curls gains footing. I'm a fan of Low's art which is a style that is all things cute, paneling that works and expressive faces and moments. It is easy to differentiate Low from others like her mother and her classmates. I adore the attention to detail in regards to the hair itself, especially the panels in her early childhood styles that her mother lovingly attempted. Tension is every much a coming of age tale as it is a commencement of falling in love with yourself, your curls, and embracing your roots in a world that is anti-black and cruel to those with darker skin and other features that don't adhere to Euro-centric beauty standards.
Upon reading and flipping back to the front cover, it is a god-send to note that the image on front is of Low, eyes closed, calm and carefree with her hair unbound. One bobby pin loosed from her hair and finding its way to the title for a new place to be. Tension is a comic to read about a Blasaian woman finding her steps and thus finding her way to love and appreciate her hair, breaking free of the tension that tried to tap her so early on in her life.

9 'Running-Late-To-School-With-Toast-Anime-And-Manga-Tropes" Out of 10
TENSION (the completed ver.) is now available as a PDF, on my Gumroad! ?https://t.co/PjzndYN8Iy

"Through the lens of an Afro-Asian woman, TENSION takes the reader through experiences of dealing w/ societal 'norms' while learning to accept & love one's own natural curly hair." pic.twitter.com/APtENQqnN8

— Pearl Low | 盧寶珠 (@Fumi_chun) May 27, 2018
Want to get Black Nerd Problems updates sent directly to you? Sign up here!
Follow us on Twitter, Facebook and Instagram!