Earlier this year in March, Random House Graphic gave us all a sneak peek of the second wave of graphic novels for younger readers. That was the month of March, which in hindsight, feels like a lifetime ago. I read up on several titles that looked like such GREAT books to read and mentioned a few of them here. Tea parties with a touch of the supernatural, the sweet misadventures of two crafty squirrels, a new witch figuring out found family–the works! As a big fan of both Trungles aka Trung Le Nguyen and fairytales, I knew I wanted to read this one!
---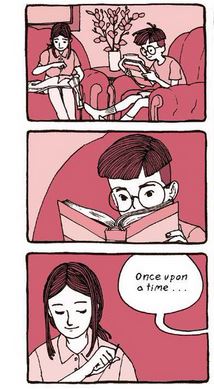 Reading is my favorite pastime. My mom and I are the readers of our family. My earliest memories are being rocked in a rocking chair by her at a young age and being read to. Through her, I discovered my love for reading and my love of fairy tales and folklore. Soon I grew up and was able to read on my own, go to the library on my own, and more; but I never forgot the magical times my mom would read to me as a very young child. It was our time, it was a magical time that will live on preserved in my memories that I'll keep with me when I'm old and gray. I figure these precious moments with my mom helped form my love of storytelling and how we always look for ourselves in the stories we read and the stories that are passed down to us.
In The Magic Fish, our protagonist is young Tiến, a thirteen-year-old kid who is well-loved by his best friends Claire and Julian, and also his parents. As a son to Helen and John, first-generation Vietnamese immigrants, he loves to check out books from the library and take turns reading them with his parents aloud. It is a practice that he enjoys the most with his mother, who loves fairytales as much as her son, initially done in practice to improve her English. From the first chapter, it's established that it is an intimate sort of ritual, one that both mom and son enjoy. It is also becoming apparent that through stories like the fairytales, both Tiến and Helen are attempting to process past and current experiences like their identities and expectations of who they think they should be in their family structures.
Real Life Isn't A Fairy Tale…
I have to be clear, this just isn't one story. No. Tiến has a thread in this narrative as does his mother, Hiền. Then are a few fairytales, one famously adapted again and again about a girl from the sea and one much closer to home for Hiền. Through all these stories there are people who matter, people who have a home even if displaced, people who undergo a great conflict, a tragedy. Tiến who lives in these stories as much as his mother doesn't have the words to express how he feels. He's a kid who is figuring out that he's gay and he doesn't have the Vietnamese words for what he's going through, he doesn't words that will translate to his parents. He's at a loss. He's also not sure what people, especially his parents will think. Will they still love him? Will their roles as parents stay consistent–too often the young adults in the stories he reads are without parents or without good ones. Will he end up like them?
With Hiền, her narrative thread is one of a mother who left home young as barely an adult and dreamt of home, of her own mother, and the limbo she finds herself in. Escaping Vietnam as a refugee, she's made a new life for herself in a new land: she has fulfilling work, a family she adores, and a son she sees herself in, a son who loves what she loves fairytales. But when the laughter and chatter at home die down, she thinks of her homeland and her family and loss. She wonders whether she is preserving her culture or her language with her son, who is quickly growing up. She wonders if she's a good daughter so far from home, even if she can't visit or call more often. She, like Tiến, doesn't always have the words to express what she wants to say in either language, her native tongue, and her still growing grasp of English. Through the stories that she and her son, love, she finds herself in them at times, still escaping monsters and wicked men.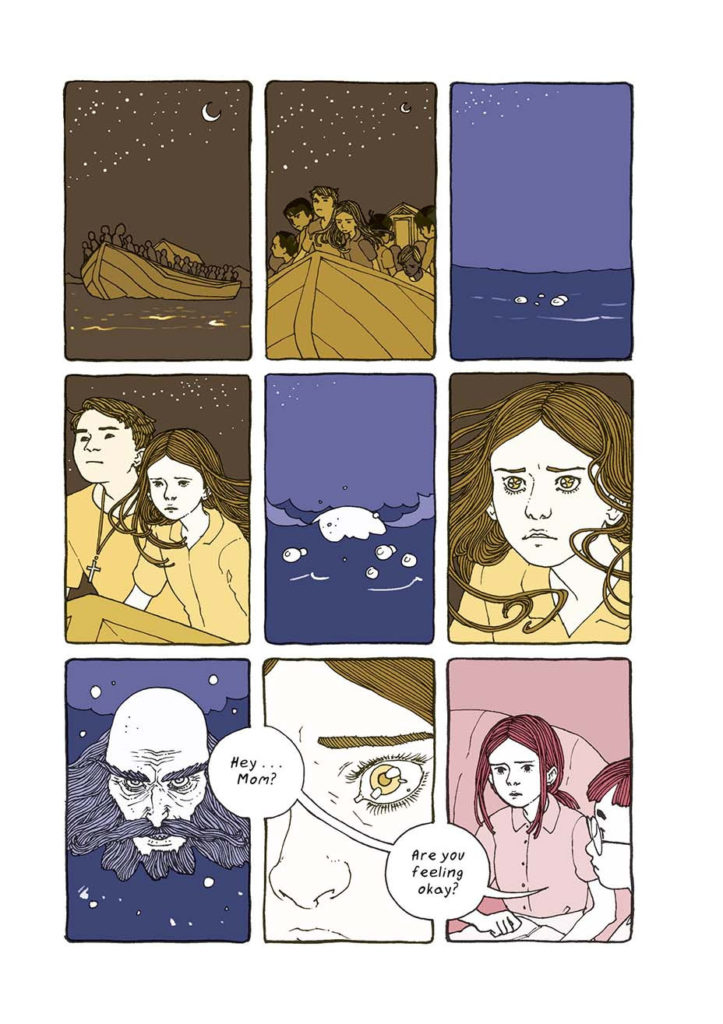 There's Always More To The Story…
Told in three parts—past, present, and fairy tale, Trungles writes a powerful and extremely moving story of connecting to the ones you love through stories of all kinds: fantastical and fictional, heartbreaking and real. And while we may find ourselves on the page as Tiến and Hiền do, we can also use those very same stories to flesh out what happens in the middle and rewrite endings with ourselves included. Presenting what guilt and the burdens of expectations can look like manifested in the lives of this family, these characters are not one dimensional. There are several complex issues wrapped in this narrative including loss, trauma, understanding, and acceptance.
Beyond the lack of words in someone's budding grasp of another language, the lack of words that don't yet have a translatable counterpart and the other pains of growing up the unique circumstances that are not new to immigrants families, The Magic Fish artfully explores a family with struggles are monumental and immediate as the ones of the characters in the fairy tales they love. On paper, this could sound like a disjointed read, but I assure you, all the narrative threads tie together so effectively. The pacing did not slow and I fell out of one story into the next–eventually, I really felt the intent and purpose of adding the fairytales and the versions used as they added to Tiến and Hiền's journey, set in the 90's so well.
This book serves as an important narrative to add to LGBTQ literary genre as well, especially in graphic novel form. Tiến's queerness is not an afterthought or quirky characteristic thrown in there for kicks or giggles. Early on he mentions to a friend that he cannot find a Vietnamese word for his sexuality (even after asking a local librarian for help!) He knows the news is big and feels that it is not the right time for it as other big real-life issues are happening–like his grandmother's illness. There is a quiet and brief scene where Tiến sits after hearing a TV news channel report about Matthew Shepard, the gay college student in Wyoming who was the victim of hate crime in 1998. Even at a young age, he's seeing that the world isn't always kind to those who are different, aren't de facto straight, or whatever is praised as the norm and it sits heavily in his mind.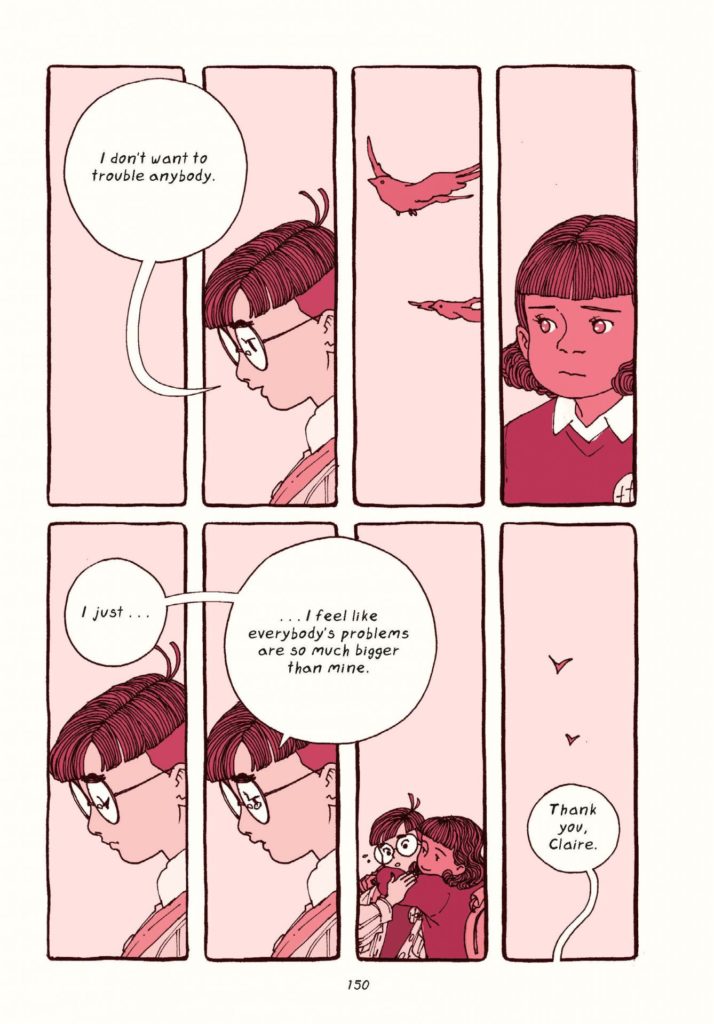 Tales As Old A Time….
Trungles' art is is, by no secret or exaggeration, breath-taking. Gorgeous pages of princesses dancing the night away in the arms of princes, supportive allies coming to the aid of the one in trouble are lovely. Full of magic. That magic bleeds into the pages of Tiến and Hiền's lives, current and past. Pages of confessions, loving embraces, and worried expressions contain multitudes. I appreciate the research that went into the illustrating of the many costumes and clothing throughout the book, from Tiến's iconic jacket with the perfectly placed patch to the lovely Vietnamese áo dài to the many flowy, princess-like dresses that one might find on a stage.
A note opening the book reveals that in regards to the artwork, the first one hundred and sixty-eight pages were drawn traditionally and the remaining pages were drawn using a tablet using software like Adobe Photoshop. It' is an illuminating fact as Trungles' art style is very beautifully detailed. Reminding me of gorgeous storybooks of old but being unique in its own way, it has always caught my eye. Knowing a bit of the process for this work has given me a new appreciation of it and has shed light of the combination of traditional and more digital means in production. I'm sure other readers who are artists and creative souls will appreciate this information as well.
While The Magic Fish is geared for Young Adult audiences, I believe that this is a very accessible story for all ages. With that in mind, I would like to point out that there is a bit of blood and brief written descriptions of violence in the fairy tale portions–which should not come as a surprise as fairy tales of old tend to have a bit of violence in them, some versions more than others. (The Little Mermaid, for example, is my favorite illustrative example, depending on what version you read). There is also the implied violence of what happened in Vietnam in Hiền's memories that caused her to leave home and start anew in a different country–and the trauma she carries because of that.
On Finding Your Own Happy Ending
In the afterword, the author writes about the precious times in his childhood with their family: he grew up learning and reading Vietnamese and English at the same time with his parents who were new immigrants at the time. Their weekly practice was going to the library, taking home books together to read and discuss them. As a child, Trungles came to love fairy tales and it seemed with each book he checked out from the library containing one, his parents had a similar one that they had grown up with. This was so endearing to read after finishing the book as I always believe that as all fairy tales have a grain of truth in them, so do all the stories we create and put out into the world.
When I think back to the narration from the first two pages, I realize that they speak on how there's always more…to the story. There isn't just and beginning and end–what happens in between matters too and for this person, they always feel a little lost. With these pages, this very important and deliberate color scheme is introduced: the bluish tone for the fairy tales portions, the reddish tone for the current days of Tiến's life…and the third color? The yellowish toned color which isn't revealed immediately adds masterfully to this visual form of storytelling.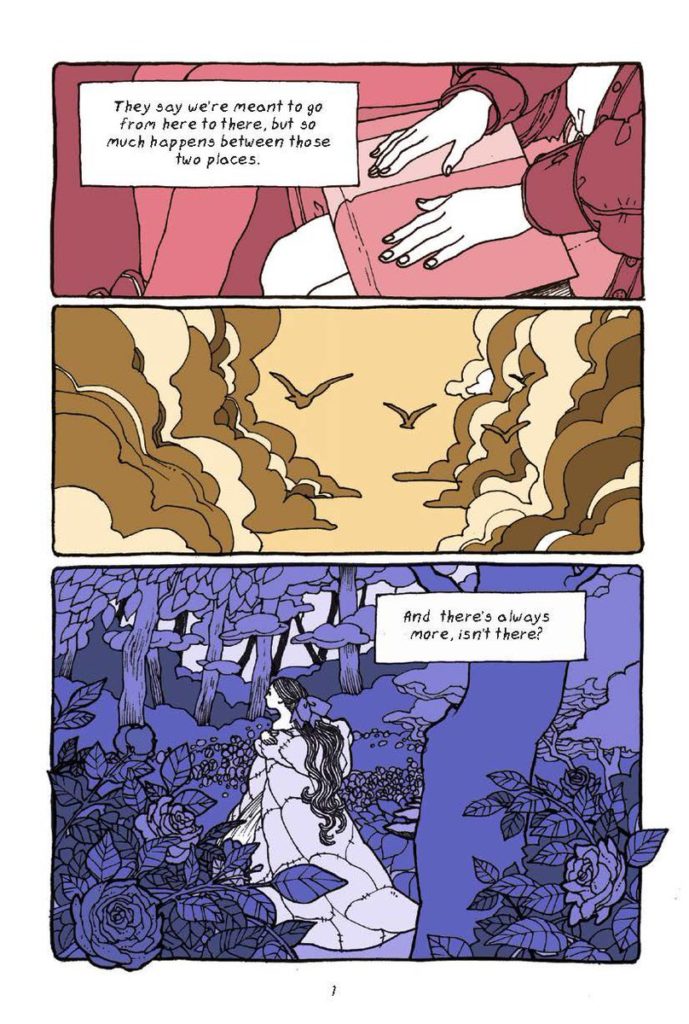 I love that the YA, comics, and graphic novel markets have been exploding with characters, authors, and creatives teams who are queer, who have ethnic names, who come from immigrants families, and who have life experiences sprinkled in their books that are worthy of sharing. With The Magic Fish as his debut, Trungles aka Trung Le Nguyen establishes himself as a newer voice in the YA and graphic novel realms who will go far. This work makes him a great contender to go toe-to-toe with as this book encompasses so many relevant and timely parts to stories of not only the immigrant experience–but the queer experience, and the Vietnamese-American experience. For a reader like myself, that means there are layers to appreciate and dissect with love, curiosity, and care.
The Magic Fish is an endearing story that is authentic, hopeful, and whispers in our ears that stories will save the day. I loved reading this graphic novel and I was gently reminded that it is our stories that will keep our hearts connected to the ones we love. Stories can illuminate our own lives and keep the people in our lives present, even when they are no longer here with us. This book is a brave and beautiful reminder that we can rewrite stories where we get the happy endings and that the people we love can always reach us, even if they don't have the perfect words to do so.
SCORE: 10 Once Upon A Times Out of 10
Read more about the book and see where to purchase a copy here.
Trung Le Nguyen, also known as Trungles, is a comic book artist and illustrator working out of Minnesota. He received his BA from Hamline University in 2012, majoring in Studio Art with a concentration in oil painting and minoring in Art History. He has contributed work for Oni Press, BOOM! Studios, Limerence Press, and Image Comics. He is particularly fond of fairy tales, kids' cartoons, and rom-coms of all stripes. The Magic Fish is his debut graphic novel. See more of him on Twitter, Patreon, and on his website.
---
See our site's other graphic novels reviews here.
Want to get Black Nerd Problems updates sent directly to you? Sign up here.
Follow us on Twitter, Facebook and Instagram.