---
First appearing on the scene in 2020, the Jujutsu Kaisen anime has blazed on to be one of the greats in recent years. After a hotly anticipated first season of the MAPPA-produced anime along with a film released the following year, the hype for sorcery club ain't died down yet! The announcement made at the Jujutsu Kaisen event at Jump Festa 2023 had fans around the world cheer as we learned that Jujutsu Kaisen would be back with a second season coming this Summer. The manga and its anime adaptation follow best boy Yuji Itadori™️ who is just your ordinary high schooler with the strength of an absolute beast. He's sunshine in a bottle, he's lovable to everyone, and he is someone who is striving to live an honorable life.
The ante is upped when he learns of curses that plague the world, the veil that hides him from this world, and the different forces on both sides are revealed. One day, to save a classmate who has been attacked by curses, Yuji eats the finger of Ryomen Sukuna, taking the curse into his own soul. From then on, he shares one body with Ryomen Sukuna, feared by nearly all and not to be trusted or underestimated. Guided by the most powerful of sorcerers, Satoru Gojo, Yuji is admitted to Tokyo Jujutsu High School. He finds not only an organization that fights the curses but a new family that includes Megumi and Nobara, his new friends and comrades. Yuji became a curse to exorcise a curse and moves forward from a life from which he could never turn back.
YUNG YOUNG GOJO AND THE CREW
Before there was Yuji, Megumi, and Nobara there was Gojo Satoru, Geto Suguru, and Shoko Ieiri. From the trailer and promotional material, we get to see these three, whom we were first introduced in Jujutsu Kaisen, as adults here in their second-year Jujutsu High uniforms enjoying their youth. Manga readers know that these episodes will delve into not only the great friendship of Satoru Gojo and Geto Suguru but also the tragic circumstances that tore them apart. Jujutsu Kaisen season 2 will initially start with adapting the Gojo Past arc from the manga. This will especially be interesting because the audience will see just how the contrasting ideals of these two friends begin to show.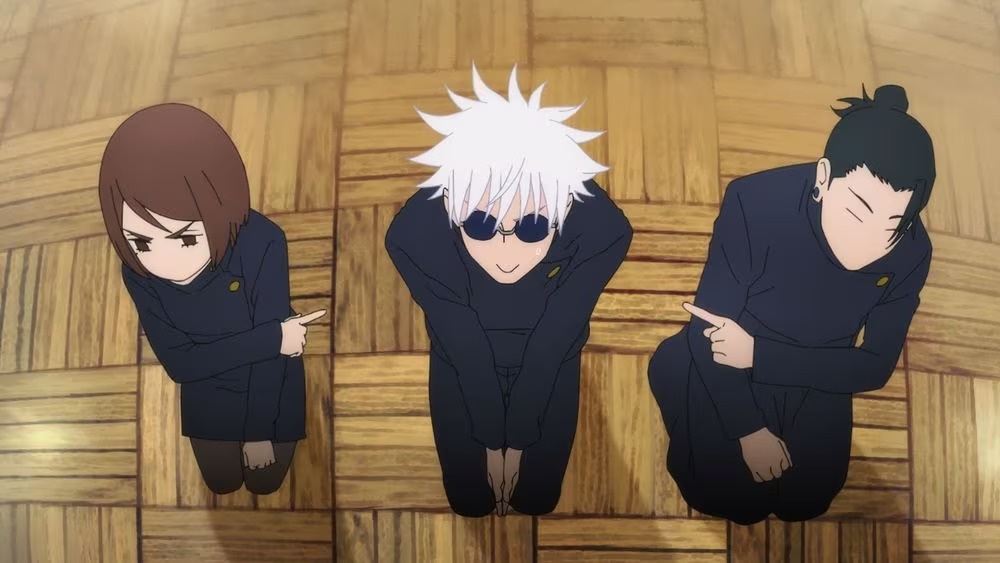 I am especially excited to see how this arc of the manga is adapted and to see how pushed to their limits they get on missions. I am also excited about the revelations regarding curses given the tough nature of their lives due to the world they live in thanks to their training at Jujutsu High. In the first season (and the film) of Jujutsu Kaisen, we know these two men to be polar opposite: Gojo, while goofy, being a hopeful but serious (for his students) figurehead of the school and the cause to keep curses from inflicting too much damage on his students and the world, and Geto, alternatively, manages to co-exist with curses, collaborate, and order them around and sees them as comrades versus enemies. Once upon a time, it was a young Gojo who said it is a pain looking out for the weak when reprimanded on not keeping up a curtain to protect the surrounding area from taking out a curse. Arguing against him as Geto who told him in kind that Jujitsu exists to protect non Jujitsu users.
Seeing glimpses of them as teenagers, always at each others' sides hits differently–especially when we know that they take drastically different paths away from each other, and the bond that they once had would never to be as strong as it once was…ever. There is a single mission that challenges everything that they have believed.
On a lighter note, I want to see other familiar faces from the show – from Jujutsu Kaisen High School in their youth! Along with Shoko, we're expected to also see Mei Mei and Yaga as younger versions of themselves. Before they were more experienced sorcerers in their own rights, they were young adults with dreams and ambitions. Who were they years before Yuji and the crew were old enough to attend the school? I get to see Emo Nanami before you know…he left the school and became a salary man. WHEW.
HE'S HIM: TOJI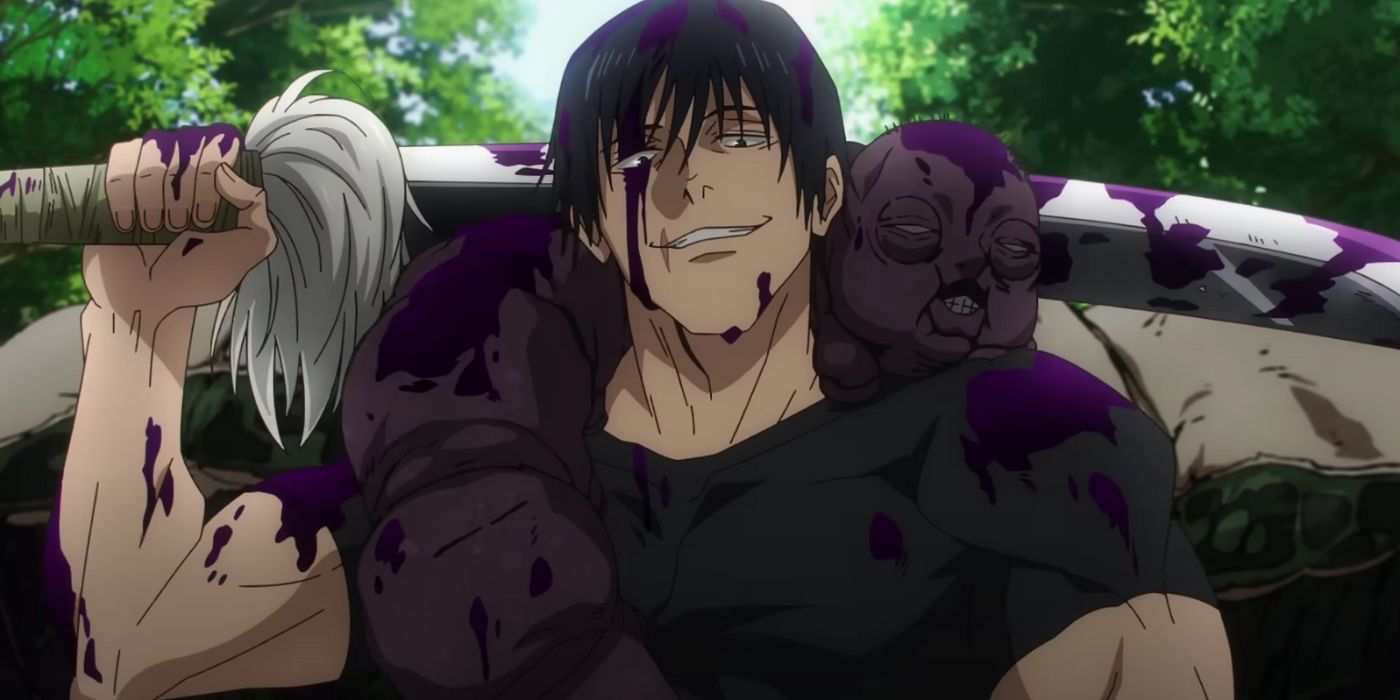 I'll leave the thirst comments and observations with the funniest parts of the fandom, but I know we're all hyped for Toji's introduction on the animated screen. Toji is HIM. He's that dude. He's that guy who would come late to the party and manage to be the life of it. Not quite a mercenary and surely not father of the year, he's doing the most at this point in the story. Formerly of the Zen'in family, he left to make his own path and that includes being a killer for hire and being a hell of an instigator when he's on the chess board of life.
I love that we will see this connection to Megumi on screen and the actions that take place that allow for Gojo's entry into Megumi's life as his teacher/mentor/father figure. Toji is merciless and methodical in a way that chafes up against the younger versions of Gojo and Geto. Whereas the teenagers have yet to be hardened by the world of Jujitsu, make difficult decisions, and come to grips with failures on their end that they have to one day learn to live with, Toji is already jaded and ready to do anything.
With Jujutsu Kaisen, Toji's connection holds weight as manga readers know how important parentage of a few key important characters mean in the overall story. Look, I'm behind on the manga (for good reason, I am a silly goose who wanted to watch part of season two before rereading the Shibuya Arc, go figure). Even I know from spoilers that I can never be free of that–"the sins of the fathers are visited upon the children." Just as the adults at the high school think Gojo is trying to learn from past mistakes in the organization and keep hope alive for future sorcerers like the current enrollment (like Megumi and crew), Megumi, Maki, and Yuji are among the young blood that are struggling to forge their own way from the adults and parents who have right by them or the world. Jujitsu Kaisen is one of the best examples of how Shonen anime will never go out of style, and my hype game is all the way up for this upcoming new season of all our faves and more.
---
Crunchyroll is streaming both the first season of the MAPPA-produced anime alongside the film Jujutsu Kaisen 0.
The JUJUTSU KAISEN anime returns on July 6 after the series' prequel film JUJUTSU KAISEN 0 brought in over 24.25 billion yen (around US$180 million) around the world.
Check out this list of other anime to stream/watch this summer.
Want to get Black Nerd Problems updates sent directly to you? Sign up here! Follow us on Twitter, Facebook, YouTube, and Instagram!