On Christmas Eve, three homeless people living on the streets of Tokyo discover a newborn baby among the trash and set out to find its parents. Tokyo Godfathers is the acclaimed holiday classic from master director Satoshi Kon (Paprika, Perfect Blue), with script co-written by the legendary Keiko Nobumoto. For those unfamiliar, Kon was "a kind of the Stanley Kubrick of animation" as noted by a commenter on one of my favorite video essays about his work here.
I've always been enamored with the way Nobumoto wrote humanity and personalities into the animated projects she worked on. Some of my favorites include Cowboy Bebop and Wolf's Rain. Off jump, Tokyo Godfathers is a classic. It's a critically acclaimed film, it's a tour de force in the world of animation by way of Japan, and it has sincerely one of the best narratives about family in a film.
Tokyo Godfathers (2003) also has one of the high honors of being one of my favorite Christmas movies. What makes a film a Christmas movie? Depending on how you might define it in your own understanding: The Christmas Story (1983), The Nativity Story (2006) and How the Grinch Stole Christmas (2000) are a few films that may make the cut. In the same breath, Die Hard (1988), Mean Girls (2004) and Gundam Wing: Endless Waltz (2001) may also make the cut.
In my heart of hearts, this tragicomedy has always been a Christmas classic from the first time I watched it years ago, and I will tell you why. Tokyo Godfathers is one of the best Christmas films because it has a narrative focusing on family, on the audacity of hope, and features characters chasing redemption and working to put others first.
Note: This editorial will explore some plot points of Tokyo Godfathers. Please know that while I do not spoil the entirety of the film, certain details are revealed and elaborated on. To avoid any spoilers, please consider watching this amazing film and returning to read if this caught your eye!
---
Family, Matters
Tokyo Godfathers employs a trope that so many of us adore: the (found) family trope. According to the incredible online database TV Tropes, it is also alternatively referred to as Family of Choice. The website states that "Members of a Chosen Family mourn the lack of family in their lives and decide to build one of their own out of people they care for and who care for them in turn." This is true for our little family present in the film: a homeless bunch consisting of Gin, Hanna, and Miyuki. All three have circumstances that are hinted at why they aren't with their families by blood.
It is revealed that Gin once was married and even had a child, but his own vices destroyed his family life. He surprises the other two when he demonstrates how to change a diaper and how to fix a bottle of baby formula for the little one to drink. Hana, is a trans woman (voiced by Shakina Nayfack in the newer English dub restoration) who actually never knew her actual parents. She's the one out of the bunch who feels the most sympathy for "Kiyoko," the baby they find that she also names. The youngest of the three that found our mystery baby is Miyuki: our teenage runaway who actually still has a home to go back to but won't. It is revealed later that her home life was tense and an incident she's involved in caused her to leave home and stay far away from it.

The TV Tropes site also mentions: "To fill the vacant roles in their lives, some characters build their own families with people they choose to care about." This rings true in the sense that as homeless people, the three are forgotten members of society. They mostly do their best to protect themselves, find food together, and avoid who would do them harm. Sadly, through each viewing I am reminded how their being homeless makes them less than in the eyes of many: their ordeal to find a happy ending for the little one means the three are constantly dismissed, belittled, harassed, ignored, and even physically beaten for the audacity of existing.
The Audacity of Having Hope
Christmas, while celebrated widely around the world, means something different to everyone, but the original Christmas story is most often the celebration of the Christ child. A baby born into the world to bring hope and salvation to a dark world. Children bring newness to the world, don't they? In happier situations, babies are happily expected and celebrated. Their births bring happiness, light, and joy to those who receive them. Baby Kiyoko is the same with her pseudo family. There's a line from the original subtitled version of the film where Gin (voiced by Tōru Emori in Japanese) says out loud "A child's the only thing you hold dearer than life itself." It is a poetically beautiful line that illustrates the start of the bond that our little crew gains with this lost child.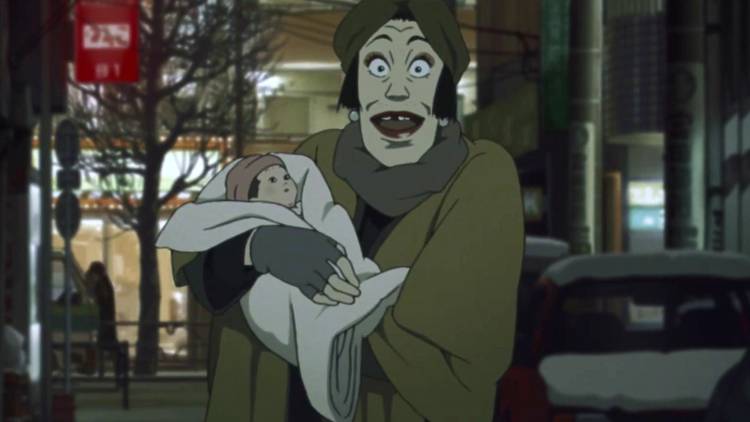 The baby brings hope to the little family that finds her along with a bevy of mixed emotions. Gin, who was once a father, feels out of place whenever pressed too hard about his daughter and his life back then. Hanna, later thinks back on a life she had with a now deceased lover and the family she never was able to have. Miyuki, when comforted by a good Samaritan who breastfeeds baby Kiyiko, reveals how her own actions–an act of violence injured someone she loved. Having this baby in their presence eventually leads all three of them to come face to face with their pasts and their mistakes that have brought them to the now.
Redemption Comes in the Morning
Christmas, December twenty-fifth, is one the last major holiday before the year ends. To me the period of December twenty-fifth to January first has always felt like a magical, ethereal time period. For me, it has been a time to ponder about the person I wanted to be and start moving towards her. Whatever I failed at, I could try again next year. Whatever hurts I carried on my heart, I could work to drop them and focus on happier things in the new year. There's a great line of poetry, a haiku actually, that Hanna drops in the film about the new year and wrapping up business and dealings. In Tokyo Godfathers, baby Kiyoko's adventures with Gin, Hanna, and Miyuki take place during this time between the holiday and the rising of the new year's day.
Perhaps one could look at this journey to personally reunite the baby with her parents as a selfish or even illogical course of action, especially when most would agree that dropping the baby off at a police station would do. But that won't work, not according to Hanna. She's of the mind that this little one will need a better memory for the future. She doesn't relish the idea that Kiyoko will be told that her first Christmas will be spent at a police station where eventually she'll be told that she was abandoned and found on the day. Caring Hanna is determined, hell bent, really to hear from the mother of the child, herself why this little bundle of love was abandoned.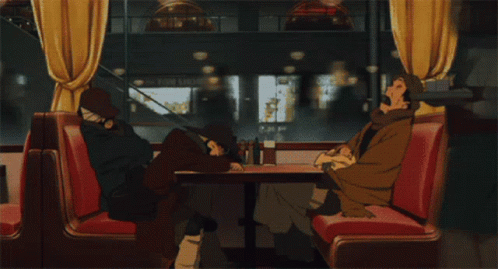 Doing the right thing isn't always the easiest task as Gin, Hanna, and Miyuki find out throughout the film. A trip to a hospital for one member of their family leads to a surprise family connection and reunion for Gin. Hanna in a calculated act of love purposely pushes Gin to be closer to this family member that they meet at the hospital. She gently tells young Miyuki that it's the best course of action because people need to be with their families with the understanding that she'll be left alone. It is a selfless gesture that startles Miyuki as she struggles to understand Hanna's reasoning.
It is also a noble and heartbreaking moment that takes me by surprise with every viewing as it comes later in the film after I've emotionally bonded with this group and their mission. And yet upon relaxing a critical error when returning baby Kiyoko to her mother, the three regroup to right the wrong they have unwittingly done in the last act of the film. In the rising light of the new day of the new year, several souls are redeemed as everyone rushes to save not just one person but in a proverbial way themselves, as well.
Home is (Where your heart is)
What I love for our motley crew at the end of Tokyo Godfathers is that they learn that home is more so the people we love more than actual places. Back when our little family with Kiyoko in tow finally find the house in the photo of the baby's parents, they are shell shocked to learn that it's not only deserted but in the process of being torn down. Their last big lead is gone, and they sit about nearby listless and depressed until an incident sends them to the hospital.
What a happy accident it is because it is where Gin reunites with the person from his past, she tells him that the house they once lived in is gone but offers up her contact info so they can stay in touch. Even Miyuki discovers over the course of the film that her family home is certainly a place but not a whole one if she's not there, according to the ones who loved her first.
At the end of the film, the audience is reminded that family is the people we choose. Yet family is also the people who chose us. That means the new families we make and the members of the ones that are left behind. One last twist reunites two families: two that were broken and also introduces to them the makeshift family that saved the day two times over. This hilarious and touching last moment ties together a film that continues to serve cinema by way of the Christmas spirit, in the best way.
Tokyo Godfathers works its magic with a story focusing on the importance of family and the audacity of having hope in dark periods of life. It is a brilliant film that features characters chasing redemption and working through selfishness to make it to the light of a new day for the sake of others. For these reasons, this is why Tokyo Godfathers stands the test of time, in my canon of favorite Christmas movies. I will turn to this film when I want evidence that miracles do happen and happy endings are not in short supply, waiting for those who least expect them.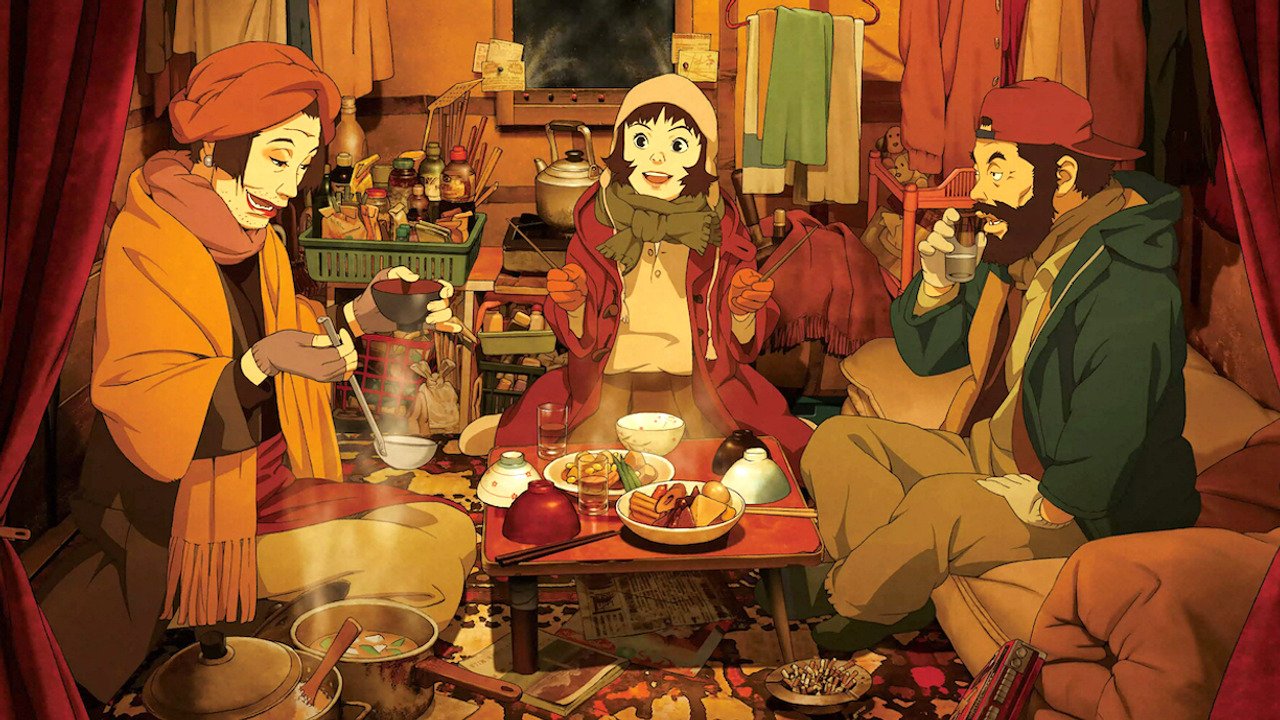 ---
You can watch the original subtitled version of Tokyo Godfathers on Youtube and on the Tubi app
Cover image via Rotten Tomatoes
Want to get Black Nerd Problems updates sent directly to you? Sign up here! Follow us on Twitter, Facebook, Youtube, and Instagram!