Let's be honest, it's no secret that anime and manga aren't exactly known for their darker-skinned characters. So while Black nerds occasionally see ourselves in Japanese cartoons (you can check out a list of our favorites here or see why Black boys need anime ), it's been creators of Original English Language (OEL) manga that have finally come to our rescue by starring Black characters from all walks of life. I mean, hallelujah! You want an action and adventure manga that looks like it came straight from the pages of Shonen Jump? We gotchu. You want a manga that brings that Black girl death-defying (literally) fly? Yo, we gotchu. That being said, I hope you got your melanin on fleek because this sampler of manga-style comics stars some of the Blackest characters this side of the Internet.
Clock Striker 
Writer: Frederick L. Jones / Artist: Rekse / Saturday AM 
Y'all. Let me start off by telling you that this comic had me so grateful that Omar Holmon introduced me to the Ric Flair woo! so I could communicate exactly how hype I was just a few pages in. For those not familiar, Saturday AM is an online publication that publishes shonen-style manga similar to Shonen Jump (best known for global favorites like Naruto and One Piece). So imagine taking one of these shonen classics, but instead of a young boy the main character is a preteen Black girl with a physical disability who can kick your ass and is a brilliant engineer-in-training to boot. Sound amazing? This is Cast, and although she's determined to achieve the skills necessary to become a coveted Forgemaster, a culture of nasty prejudice means she may have to fight harder than ever to protect her dreams— and her life.
You can catch up on all the incredible action with Saturday AM issues #32-#34 here.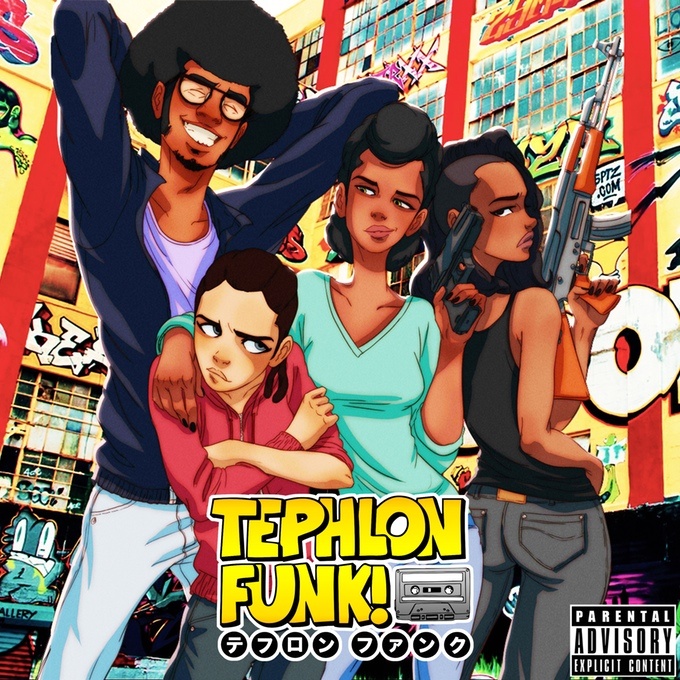 Tephlon Funk! 
Writer: Stephane Metayer / Artists: David Tako and Nicolas Safe / Metayer Ink LLC 
While it's already hard to find anime-inspired work with adult content that's not just –ahem!– "adult content," finding Black-centric manga with mature themes seems impossible. Tephlon Funk! fills that gap with a gritty story of life in New York, aka a "love letter to the 5 Boroughs" filled with hope, revenge, and all the tough choices that systemic poverty and racism have forced many people to make. In an unstable neighborhood caught between the power of gang violence and the police, this comic forces us to look inside ourselves and ask: What would you be willing to do if it meant a chance at freedom? If that amazing synopsis doesn't make you lose your mind, then peep the artwork based off famous hip-hop album covers and you'll be clamoring for more instantly.
Start reading the first issue here or check out more information on the full project from their Kickstarter page.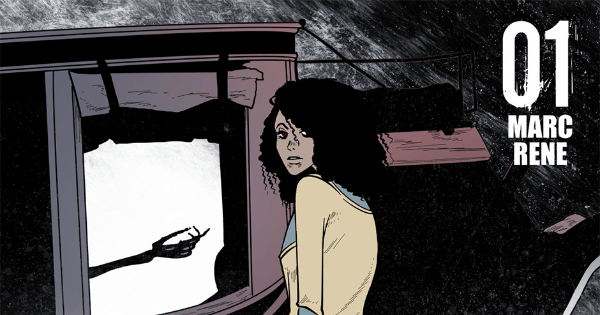 Husks 
Writer/Artist: Marc Rene / Tapastic 
As a former Black goth (shout out to teenagers finding themselves), I gotta say Black people who are fans of the macabre and the occult don't get enough love. This comic is for you. Husks tells the tale of a soul named Norie who comes back to life to find she has no memories. Enlisted by Death to confront the monstrosity that's been feeding on humans and upsetting the balance of the living world, Norie finds herself in the presence of unfathomable beings who seem to know more about her mission than they let on. What's worse, Norie may have worse darkness on her hands to contend with: herself. Real talk, Nadia Greene is gonna have to make some room on the Immortal Black Girl throne because Norie did not come to play games.
Get your battle against darkness here on the Tapastic website.
Rescue Me 
Writer/Artist: Sharean Morishita / Tapastic
From the creator who continues to move us to the depths of emotion with Love! Love! Fighting! comes a story about what happens when the strong Black woman stereotype becomes too much to bear. Everyone in the office calls Sandra an iceberg because of her bad attitude, even though she's the most perceptive one there. What they don't know is that Sandra has been holding on to a terrible secret that could change their whole idea of who she really is. If you've been searching for a heart-wrenching drama that hinges on a fateful encounter, I highly suggest adding this one to your list.
Grab the tissues before you click on the Tapastic website for the full run.
Princess Love♥Pon
Writer/Artist: Shauna Grant / Princess Love♥Pon website 
Of course, this list just wouldn't be complete without that sweet, sweet Black Girl Magic (not that I don't love me some Black Woman Magic, too). All my mahou shoujo lovers will know the drill: Lia Sagamore is just your average high school student when one day she discovers a magical creature who informs her of her destiny. With her open heart and a little cute magic, Lia transforms to become the warrior of justice — Princess Love♥Pon! Unfortunately, Lia may have a lot of love to give, but she's got a long way to go before she's ready to take on the forces of evil once and for all. For every Black and nerdy girl who wanted the chance to be a magical girl, dive right into this comic as soon as possible.Bonus: this is possibly the first time in history a magical girl has been depicted sleeping with her hair wrapped in a bonnet and I could cry.
Don't forget to yell out "Lovely magic!" before checking out the series on the Princess Love♥Pon site.
What's series are you most looking forward to reading?  Is there a comic you think should be on this list? Let us know in the comments!
Are you following Black Nerd Problems on Twitter, Facebook, Tumblr or Google+?