It's your BNP resident lover of all things folklore and fairytale, here with my excitement over a new trailer. *wink* I'm not too familiar with CBC Television yet I do know that their Anne With an E (now available on Netflix) is a more recent offering on the beloved Anne of Green Gables books. I love to see book adaptations on the big(ger) screen as they can bring new life into their base material and introduce new audiences to new worlds.
Personally, I love a good television or web series versus a film adaptation, especially for books geared to young adults. I always felt less could be sacrificed for the narrative's sake, which is what happens so often in two hour-long marathons at the theatre (It worked better for Shadowhunters, don't @ me!).
From Page to The Big(ger) Screen
I stumbled upon the trailer for TRICKSTER which I'm told is based on the best-selling novel Son of a Trickster by Eden Robinson. Seen as a "darkly humorous coming-of-age story" told from the perspective of Jared, a teenager who drinks and smokes too much, sells weed cookies to get by and has a tumultuous relationship with his mother. It delves into a supernatural drama that we're being told is "Unlike anything you've ever seen before" with one Indigenous teen at the heart of it all. Written with her cousins in mind, this internationally acclaimed Haisla and Heiltsuk novelist and short story writer actually created a trilogy for this series.
The first book in the series Son of a Trickster has been making waves since its debut as a Writers' Trust of Canada 2017 Summer Reading pick, it was Shortlisted for the 2017 Scotiabank Giller Prize, a finalist for the 2018 BC Book Prize's Ethel Wilson Fiction Prize and longlisted for the 2019 International Dublin Literary Award. Currently, the book is a finalist for 2020 Canada Reads.
To The Heart of The Matter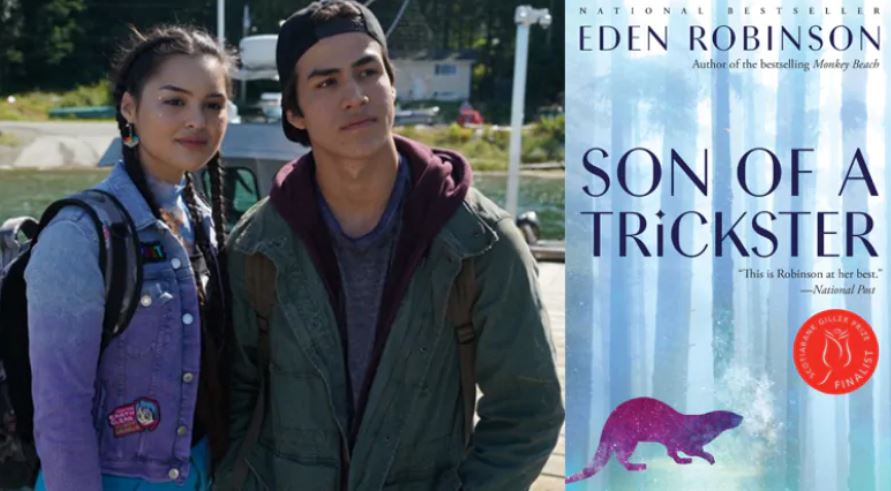 Starring newcomer Joel Oulette, this unique series is created by Algonquin-Métis award-winning filmmaker Michelle Latimer, who won a Canadian Screen Award in 2018 for the documentary Rise and Orphan Black writer Tony Elliott. Latimer also directed all six episodes.
"What's magnificent and unique about The Trickster is that our characters defy the stereotypes of Indigenous people so often seen in the media — the romanticized, safe abstractions of 'dead Indians' invented by settlers," said co-creator Latimer in a press release.
"We are striving to reimagine these images by creating a more nuanced and authentic portrait of Indigeneity. Our sovereignty as a people is tied to story because through our stories we can write our future."
Joel Oulette plays Jared, an Indigenous teen struggling to keep his head above water. On his shoulders are a dysfunctional family and holding down an after-school job while selling ecstasy to support his partying mom Maggie (Crystle Lightning) who self-medicates an undiagnosed mental illness and his unemployable dad Phil (Craig Lauzon) and his new girlfriend. When he starts seeing strange things — talking ravens, doppelgängers, skin monsters— his already chaotic life is turned upside down. Additionally, the cast includes Kalani Queypo (Jamestown), Anna Lambe (The Grizzlies), Joel Thomas Hynes (Little Dog), Gail Maurice (Cardinal) and Georgina Lightning (Blackstone).
Actor Kalani Queypo (Jamestown) has mentioned on his website: "My latest TV Project, TRiCKSTER, is SO EXCITING. The Showrunner, Director, and the LEAD cast are all Indigenous…AND, it is based on a trilogy of books written by an Indigenous writer (the ridiculously talented Eden Robinson). And, may I mention that every single department in this groundbreaking production had Indigenous team members?! This is monumental."
More Indigenous Stories on Screen
My best guess is at the heart of this award-winning supernatural novel is an engaging narrative that takes the stories of the author's people, passed down and makes it new for a new audience with a protagonist for now. Which was enough meat and potatoes to make an impact in the literary world for this book to be adapted for another medium, television.
I'm always trying to make space and make room for more Indigenous creatives which include writers and those involved in the film industry. Here at BNP, we're big fans of Rebecca Roanhorse and love the books that come out of Portage & Main Press like Surviving the City, which focuses on many Indigenous creatives from the First Nations.
I'm happy to look to see if my local library has an ebook copy of Son of a Trickster. I'm also happy to see more stories by Black and brown Indigenous folks, outside the United States. Their stories matter too.
As the author took note of in an interview: " "I assumed that everyone knew everything that I knew. There are about 60 different First Nations in British Columbia. I was used to a multitude of nations. When I started writing, I assumed everyone knew most of the cultures I know, or knew what a potlatch was. I went into writing and assuming people have a lot of knowledge about it. " I'm the target audience here. I want to know more. I want more of these stories.
Further reading reveals that Trickster is now currently in post-production and will be able for streaming this fall, for free, on CBC Gem. After further investigation: "The full Gem experience is not available outside of Canada."
WELP. I'll keep you all tuned in as we get closer to the Fall and if this series will be available via another streaming app, the way Anne With an E is. I'll keep following along with whatever updates CBC puts out in the meanwhile.
Want to get Black Nerd Problems updates sent directly to you? Sign up here!
Follow us on Twitter, Facebook and Instagram!