Writer: Kurtis J. Weibe / Artist: Tess Fowler / Image Comics
I'm going to level with you fellow Queens, I have the sense that I had missed something between the end of issue 13 and the beginning of 14. The plot isn't hanging together for me. Hannah's backstory has been unfolding for a few issues now, but I don't actually feel like I know any more than I did before. So we've got a mystery, but not one with any clues, just more word — decent, but wordy — exposition.

Hannah walks through the mirror and into her mom. Okay. That makes sense, but the story her mom tells would be more touching if it went somewhere. Didn't we already know her stepdad was a great guy? Wasn't that obvious? And does her stepdad need to be a great guy in order for Hannah to want to save him? Isn't saving him what she's there to do? Next, how did Dee and her brother get into this weird spot?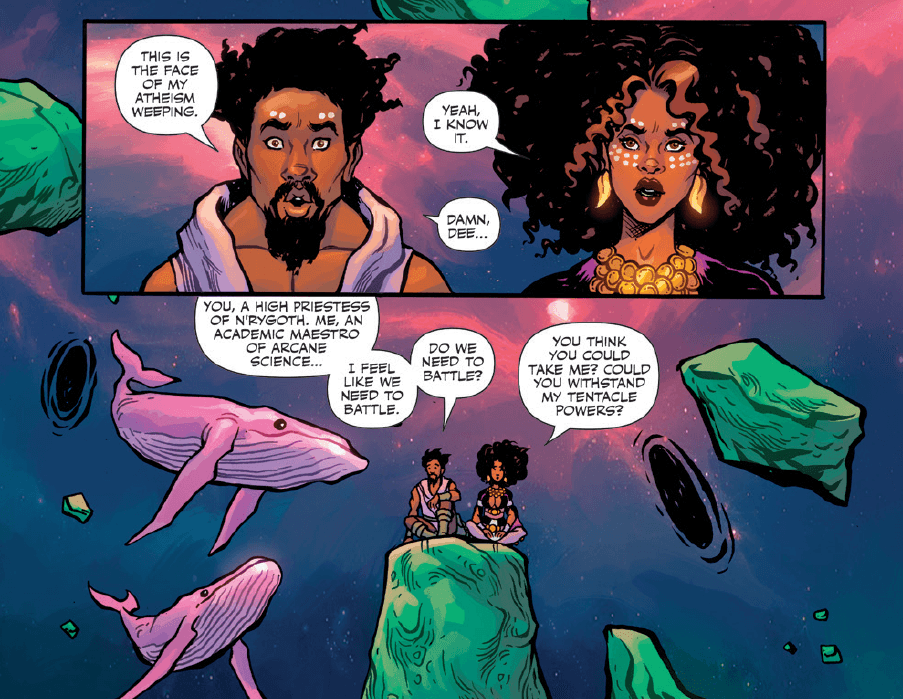 Sure, it is a great visual, and their conversation advances Dee's plot, but that doesn't mean it shouldn't have followed more clearly from the previous scenes.
The story has moments of insight and humor, like this picture below, but they're lost this issue among all the talking. We get one shot of Vi having a realization… and it is the only shot without any text so the meaning isn't clear! The irony!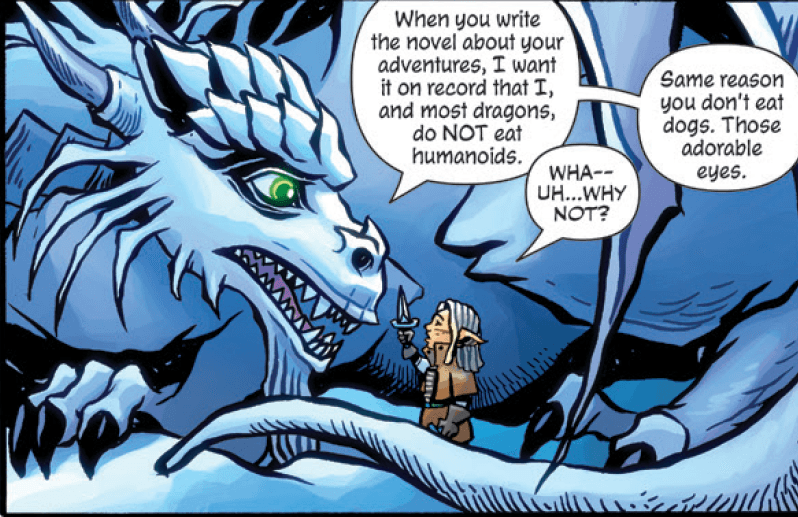 Dee has an atheist brother who knows how to work a library. Betty knows how to work a dragon. Vi is still Vi. Hannah knows how to curse like her mom. Meh. Not to be dismissive, but where's the action? When are the Rat Queens going to burn this motherfucker down?
If I'm keeping it a-hundred, the plots haven't been as tight since Roc Upchurch had his run in with the law and left (was booted from) the series. I've given it a fair chance and the comic hasn't been the same. The art and story don't inform each other in the same way. I'm trying to be patient for Weibe and Fowler to develop that same rapport but it doesn't seem to be happening, leaving the plot wandering from character to character. I know the resolution is coming, and I'm hopeful that it will be as big as the last climax. But I picked up this comic because of the combination of the female characters and their aggressive, Gods-be-Damned, fantasy RPG hero ways. One without the other is just leaving me as limp as, well as limp as any Gary.
5 Tarnishing Crowns out of 10
Reading Rat Queens? You can catch up on our other reviews here!
Are you following Black Nerd Problems on Twitter, Facebook, Tumblr or Google+?