Sorry The Pull's late, but…
Here's what we reviewed in comics this week that you might want to check out:
Aquaman #60
After losing his daughter last issue, Arthur is able to use his sealife communications to search 70 percent of the entire world to find her. It's pretty easy to forget how significant that is and how large of a domain he oversees. He also gets to join his peers—Clark and Bruce—as men who probably shouldn't be fathers, but are, and make the best with what they have.
Batman: The Smile Killer #1
There's a commonly-held belief that Bruce Wayne's heroics could be viewed as the actions of someone who's deeply disturbed with a couple of minor perspective changes. This is made clear time and time again when he's compared to his own greatest villains. The Smile Killer takes that notion and turns the dial up to 10.
Bleed Them Dry #1
Bleed Them Dry feels energetic. It fully embraces the inanity that comes with the tagline: "A Ninja Vampire Tale." It's almost perpetuating the suspension of disbelief simply by moving gracefully to the point where you're just not concerned about the falling. It's a beautiful comic that evokes all of the elements of all of my genres, and even if I have a hundred questions about the world, I also have confidence that the creative team has all the answers.
Die #11
After a short reunion last arc, the party once again finds themselves fractured and on two opposing sides. Ash and Isabelle have managed to secure positions of power within Angria, largely to keep watch over the prisoner, Sol. Chuck, Matt, and Angela find themselves in the wilds wondering exactly what they're going to do now that their friends don't want to return to the real world. Gillen continues to masterfully craft dialog between characters that highlight various tensions and interactions and Hans continues to knock the art right out of the park with spread after beautiful spread.
Empyre #0: Avengers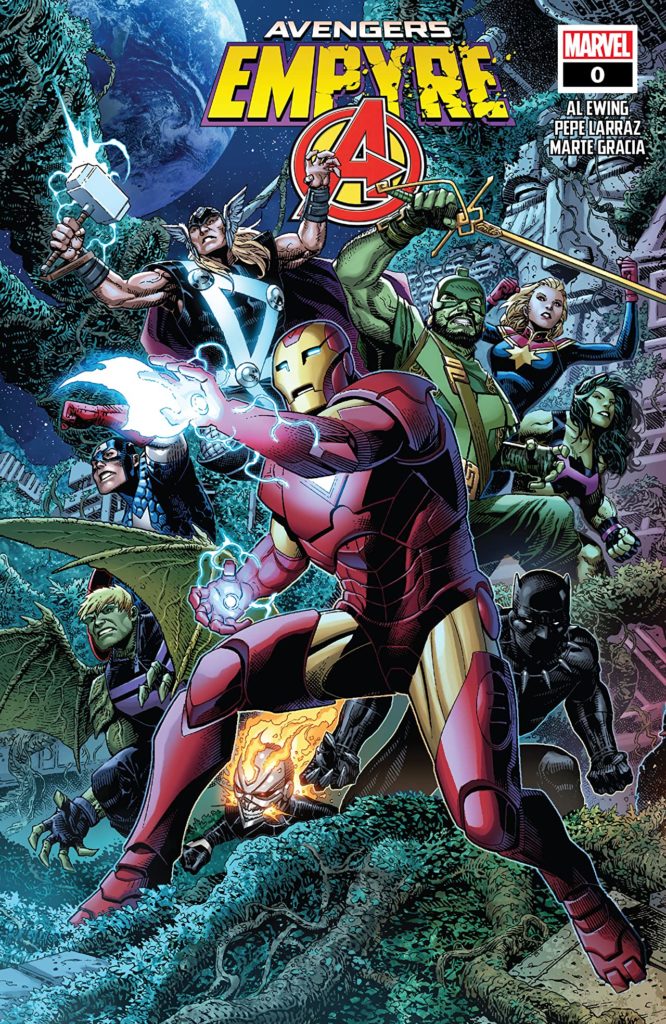 Meanwhile, Earth's Mightiest Heroes investigate a signal coming from the mysterious blue area on the Moon. What they find ends up being much needed insight into a coming threat they never thought they'd face. Though this is mostly primer, it's still an effective script that doesn't sacrifice the voices of the characters for the sake of info dumping. And although Ewing delivers a strong script, Pepe Larraz's artwork is the star of the show here.
John Constantine: Hellblazer #7
The main conflict of the issue isn't made clear until it's revealed that the fisherman in question has somehow gotten everything he wanted and then some after a chance encounter one evening. With the use of a presumably magical shell, the fisherman was able to gain the attention of a mermaid who quickly fell victim to his spell. From there, he was able to gain companionship, riches from the fish she helped him catch and sell and the respect of his peers for all of his success. Only, as you might expect, his success went to his head and took a very dark turn.
That Texas Blood #1
The first issue of That Texas Blood is very atmospheric and has all the trappings of what feels like a compelling Western. But, due to the nature of the story, I'm left wondering about the overall arc from this issue. It feels like a one-shot rather than the start of something and, at this particular juncture, it's gonna take something extraordinary for me to follow yet another older Sheriff than just the merits of some thematic resonating.
Thor #5
Nic Klein's artwork isn't quite as epic as that of some of the titans that have come before but still adequately conveys the scale of Cates' script. There's definitely some wild concepts that are done justice visually in this book like one scene where Thor is fighting what looks like a room full of penrose stairs, I kid you not.
What comics did you check out this week that we didn't cover? Hit us in the comments or on our social media!

Want to see what else we've reviewed? Check out our previous Pulls.
Want to get Black Nerd Problems updates sent directly to you? Sign up here!
Follow us on Twitter, Facebook and Instagram!