In Thor #15, the god of thunder gave up his trusted weapon. For months this storyline has been brewing like Folgers in the morning, and it finally came to a head. Thor and company beat Donald Blake to a pulp and let Loki deliver his sentence – imprisoned in a cell on the god of lies throne as a snake drips venom into his eyes. With his latest adversary vanquished, Thor celebrates the good deed with good mead until it comes time to face the one challenge he can't just smack with a hammer.
He fails miserably at lifting Mjolnir and has his pride trampled when Loki casually picks it up off his beer-soaked King's chest. Thor decides he must visit the only man who could shoulder the burdens of a god, Steve Rogers. Mjolnir's unruly nature was on full display after it tried to desecrate Captain America's face. When they finally get down to the nitty gritty, Thor explains that Mjolnir was forged to be given to a warrior and Thor was no longer the tip of Asgard's spear. So, he drops the hammer on Roger's like your kids being dropped off at the pool and chucks up the deuces without ever looking back!
Now my question is…who got next?
The Usual Suspects
Beta Ray Bill: The most likely successor is the Korbonite turned hero for so many reasons. First off, Thor was a dick way back in issue #3 when he shattered Stormbreaker and beat Beta Ray Bill like he stole money out his purse. Second, Bill was already made Asgards Master of War, so it would make perfect sense. Also, can we let Beta Ray Bill live? Dude is just tryna get his swerve on with Lady Sif and now he's stuck in his…undesirable form forever. Unless a certain hammer becomes his own, that is.
Valkyrie: Jane Foster is now Valkyrie, and her being the new wielder of Mjolnir would be super dope, but shorty already reppin Undrjarn, one hell of a weapon itself. Also, she's off doing Valkyrie things that don't need to be messed with, so we're gonna keep it moving.
Captain America: Ever since Endgame, comic book fans, as well as avid film lovers want to see Steve Rogers holding Mjolnir once again. While there may be those who are more powerful or fit into a dope hammer lifting narrative, none come close to being the person who most perfectly fulfills the requirements of owning Mjolnir. One thing is for sure, the Avengers would look wildly different.
Some Badass Possibilities
Storm: How could I brainstorm possible successors to Mjolnir without mentioning the weather goddess, the voice of the solar system, that omega level mutant and hero more synonymous with thunder and lightning than Thor himself?! How incredible would it be to see Ororo with even more static for her enemies?! I know, I know, she already had Stormcaster once upon a time, but we're talking real deal Mjolnir! Maybe she would instantly transform into Mohawk Storm. We can certainly dream.
Loki: Look, we've already seen him do it. The problem is Loki would never take on the responsibilities that come with such a prestigious Asgardian honor. To defend the weak and young? To be on the front lines of constant war? Sound like the slippery, manipulative, and lovable little jerk? I didn't think so. What a character arc that would be if he stepped up to be the next wielder of Mjolnir…
Doctor Doom: Think about it. Who has been more of a warrior for their country and people? Nobody rides for their species more than the man who constantly gets embarrassed and defeated by those who have been naturally or randomly enhanced! If Doom were to possess the capabilities that come with lifting Mjolnir, it would be a wild day in Marvel history.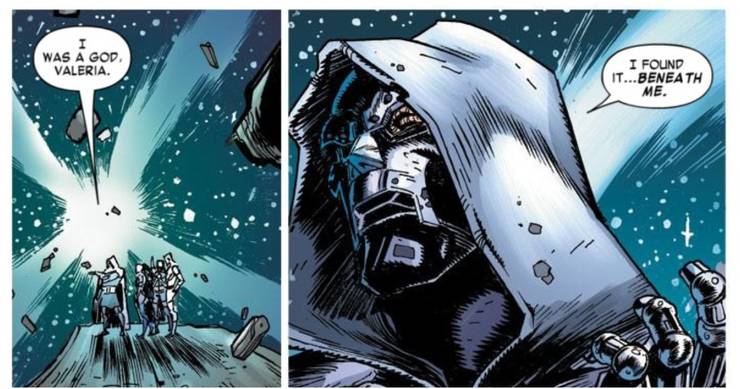 Captain Marvel: I mean, if there was anyone with the power and skill set to pull it off, it would be Carol Danvers. She has the power of the cosmos flowing through her, so it wouldn't be too far-fetched to think she could give the ol' hammer whirl.
Hit us up and let us know who you think has what it takes to slang the hammer.
Want to get Black Nerd Problems updates sent directly to you? Sign up here! Follow us on Twitter, Facebook, Youtube, and Instagram!