Let's be honest. Nobody was checkin' for WandaVision when it was about to premiere mid-January. Keep it real. You was all strung out on them Disney Investor Day announcements and fatigued from Wonder Woman 1984 mediocrity. You was sippin the Inauguration hype kool aid. Then WandaVision hit the scene with the I Love Lucy x Bewitched x Dick Van Dyke x I Dream of Jeannie old school sitcom vibes and it was simply marvelous. I mean, we knew that was gonna be the case from the trailers, but you also knew they would eventually turn this into a "Marvel" show.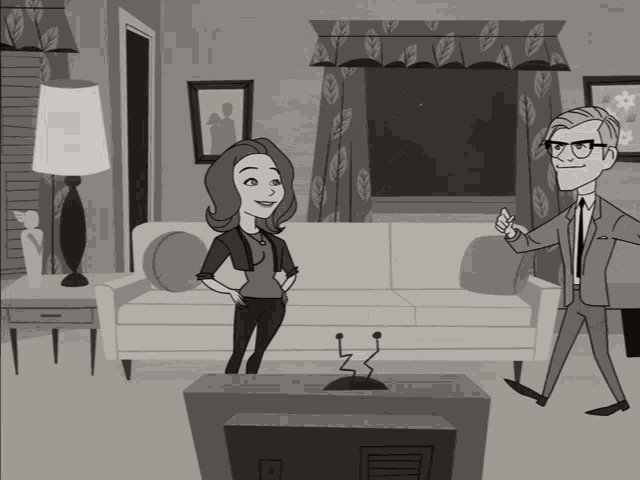 The question became, how invested would we, the viewer be early on? Would we be rolling our eyes at the antics in black and white, and eager to get to the Avengers-type shit? There's a reason they released episodes 1 and 2 at the same time.
Set The Tone
It's easy to tell how much effort went into providing that genuine 50s and 60s husband and wife show feel with a hint of powers. There were brief moments of Marvel magic during the dinner with Vision's boss and Kitty from That 70s Show, and obviously, during the malfunctioning magician scenes. But for the most part, this was as palatable as it gets for the fair weather fan. People were intrigued. Real fans were delighted at the easter eggs, references and breadcrumbs being dropped as we started to get a look behind the veil of Westview.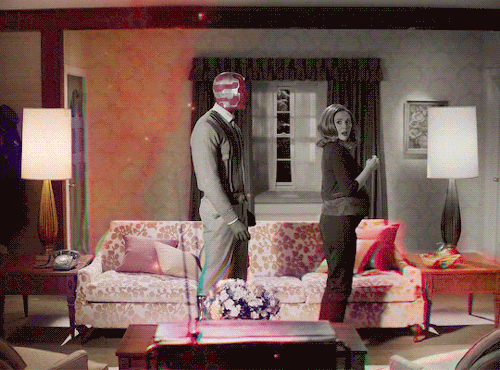 Then the 3rd episode hit and Vision began gaining Westview sentience and Paul Bettany started acting his ass off. You started to understand things and make your own theories as a viewer. Wanda is clearly the one in control, but we didn't have much of a reference for how much free will others had. It became clear Vision was the only one capable of questioning Wanda, which made Geraldine's Monica Rambeau's intro scenes that much more incredible.
The birth of the twins opened the window for so many possibilities. Will Mephisto come into play? Are they diggin through the comic book crates, and going ultra deep with The Elder god Chthon?! Personally, I didn't believe they were going to be born, let alone stay around, but now we have a full blown Wiccan and Speed problem on our hands! Or at least we did until a certain someone got her hands on them…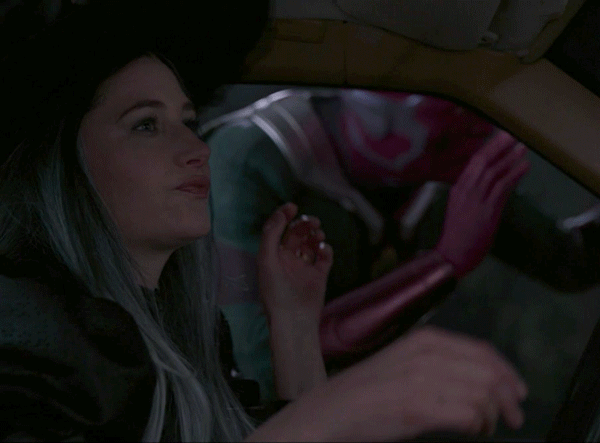 Master the Cliffhanger
The way episode 3 ends with the expansion of the black bars tv aspect ratio, only to have Monica come yeeting out of the Hex and into the real world was yoga flames! WandaVision really knew how to maximize the cliffhanger effect and it made twitter go nuts from Friday morning to Friday night about a show few people openly talked about until that moment. The viewers who were on the fence started fuckin with it heavy and folks like the BNP crew started going wild for the hype!
THEN THEY DOUBLED DOWN, and the beginning of episode 4 changed everything for this show. We get a small screen portrayal of the return from Thanos' snap!!
It's been 5 years later and the world has been struggling to hold it together. But there is a plus side! That gap allowed the MCU to bless us with Teyonah Parris as the tall, dark and powerful, Major Monica Rambeau! You don't hear me tho! Her mom built S.W.O.R.D. from the ground up and now she's here to hold it down as an agent of S.W.O.R.D….all the way down..on Earth. Terrestrial missions only, courtesy of mom dukes. Monica was mad, but it made for the perfect segue into Westview and WandaVision.
Kill the Casting Game
We get all of that context and connection to the MCU in the first 5 minutes and it was phenomenal. FBI Agent Jimmy Woo came through to send the buddy cop stans through a loop. His immediate, "I got your back" chemistry with Monica is dope and I'm all for the Woo and Rambeau show petition!
To round out the fire casting, Kat Dennings returns as Darcy Lewis. She really embodies a combination of the audience stand in, fellow fan, sarcastic feminist and bonifide braniac that is not to be fucked with.
Episodes 5 and 6 really solidify WandaVision as must watch material after things go full Marvel Cinematic Universe. The twins age themselves up from infants to 5 to 10 years old, then gain their comic book appropriate powers, Wanda pulls that S.W.O.R.D. camp and the surrounding 8 miles into her Jujutsu Kaisen domain expansion, and we couldn't fail to mention the jaw dropping assumed mutant/multiverse bomb that ignited a thousand theories! Pietro backkkkkk!! But not the Jason Aaron Paul version we know from the Avengers movies, it's Fox's X-Men franchise Pietro, giving Marvel fans their first potential taste of a big multiverse reveal!
Outside the NBA bubble Hex, Monica finds out that her second trip through the barrier has re-written her cells on a molecular level. WandaVision being the platform that introduces us to the superhero Spectrum is set up lovelier than blockers downfield.
Hit Em With the Shakespeare
The tragedy of Vision is a big reason why people are giving this show such high praise. When I look back, I vividly remember the tension filled scene where both heroes go airborne, ready to toss hands. The era-appropriate poor flying effects in that scene made it more memorable, but it didn't take away from that being Vision's "no turning back moment" for me. Seeing that heartbreaking woman stuck in her halloween decoration loop on the front lawn and running into Agnes at the edge of town sealed the deal. His wife is doing something wild and terrible to thousands of Westview residents.
Pietro's supremely straightforward and borderline meta awareness of this false reality Wanda created had him at the top of my favorite characters list in a heartbeat. He pokes swiss cheese holes through Wanda's perfectly crafted Stepford Wives town while teetering on the edge of still being the warm brother she once loved. It helps to ease us into the big reveal in episode 7, and soften our hatred for Wanda's recklessness and selfish actions.

These touching moments where Wanda admits to Pietro that she doesn't really recall how the creation of Westview went down, give us a glimpse of the truth. Wanda was grief stricken and beside herself when she created this "through the decades" Pleasantville world. The scenes are well written and draw us in by building intrigue around who's truly pulling the strings.
Lay Your Cards on the Table
Finally, we have our latest episodes which unravel the mystery of WandaVision. Wanda's hex magic is going haywire, she has no answers for the boys who ask about the things uncle Pietro said. Vision and Darcy team up. The stork makes a surprise return and I'm convinced the stork is the real villain. Monica officially gets her proper superpower introduction and looks like an absolute badass while doing it! Agnes leads Wanda to her basement and reveals the worst kept secret in history, that she's Agatha Harkness and has been playing puppet master all along!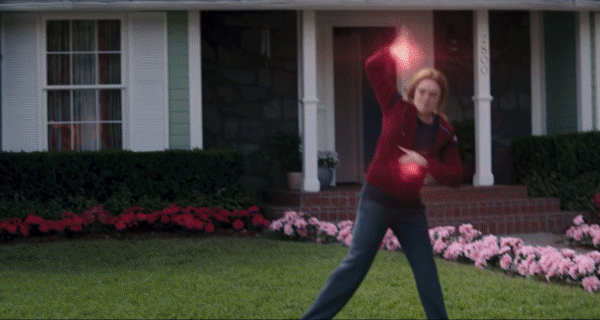 Monica officially gets her proper superpower introduction and looks like an absolute badass while doing it! Agnes leads Wanda to her basement and makes the worst kept secret reveal that she's Agatha Harkness and has been playing puppet master all along. Hold up, we got some questions Ms. Harkeness! What have you done with the twins? Did you pull Pietro from the multiverse or just guide him to Westview after Wanda pulled him through? Who's Ralph? Who's the mailman/delivery guy? Why were Hayward and his goons dissecting Vision?
Episode 8 takes that unraveled thread of events we've seen and puts them all together by going back to the past. Agatha Harkness and her backstory were up first! Wild seeing her as such a powerful witch, and capable of fading her own mother into the crypt keeper without a second thought. For a bit, it seemed like it would be a full Agatha origin story that led to an even deeper dive into her manipulations of Wanda and Westview.
Full Circle
But na, that's not big enough for a must watch Marvel show. We gettin hit with Maximoff backstory! We witnessin infinity stone enhancement encounters!! We relivin murdered parents, sibling and husband grief!!! We goin full descent into chaos magic!!!! Yesssssss, chaos magic is finally mentioned, officially canon in the MCU, and the source of Wanda's incredible powers.
Speaking of magic, WandaVision is doing a great job of expanding the magical world of this fictional universe. Sure, magical elements have been around for a minute (the Thor movies, Dr. Strange, etc) but to see Agatha use transmutation (shout out to FMA: Brotherhood for the knowledge) and call Wanda out for not knowing the basics of a simple protection spell because of the magical runes on the walls, was very dope to see play out.
I genuinely believe Harkness was drawn to such powerful magic and is trying to piece together how Wanda created this fantasy world. Like, sure she probably has ulterior motives and is holding Wanda's children hostage to do it, but it's for the good of exposing Wanda for what she truly is!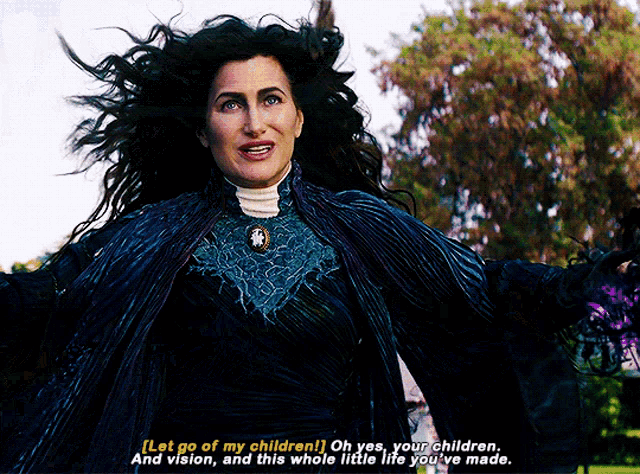 I know, I know, the mutant theories are being deflated left and right, but there's still hope. So many things have come to light, yet there are still questions that need answers. Exactly who is this "Fietro" that Harkness made? Where is Monica? Was Ralph a red herring or are we going to find out who Agnes was referring to this whole time? Is my guy Vision ok? This season finale is about to get real crazy isn't it?
WandaVision seemingly became must watch television out of nowhere but when you take a look at the episode-by-episode progression, it all makes sense.
A Few Deep Cut Details:
When that Helicopter lands all red and bright, you might not have noticed the S.W.O.R.D. logo and a number 57 on it. 57 for Avengers #57, the first time Vision is introduced.
The wine they pour at dinner translates to House of Misery (or House of M)
The credits give special thanks to a lot of people, but there are certain writers worthy of note. Namely the writers of House of M, Avengers: Disassembled, Astonishing X-Men and Vision.
My personal favorite deep cut was the Bova milk sign in that commercial in ep 1. It references the humanoid cow that helped raise Wanda and Pietro. Give me Bova and I'll die happy!
Want to get Black Nerd Problems updates sent directly to you? Sign up here!
Follow us on Twitter, Facebook and Instagram!