Writer: Rodney Barnes / Artist: Selia Espiritu / Lion Forge Comics
Love Jones and Headphones
We here at Black Nerd Problems have waxed poetic about Lion Forge's Catalyst Prime universe time and time again, because Lion Forge is providing a necessary service to making superheroes comics centered on providing a diverse suite of heroes for all demographics. The latest addition to their already outstanding lineup is Quincredible, a story that takes a lot of cues from other Black Superheroes and melds them together to create a unique and personal narrative that is uplifting and necessary.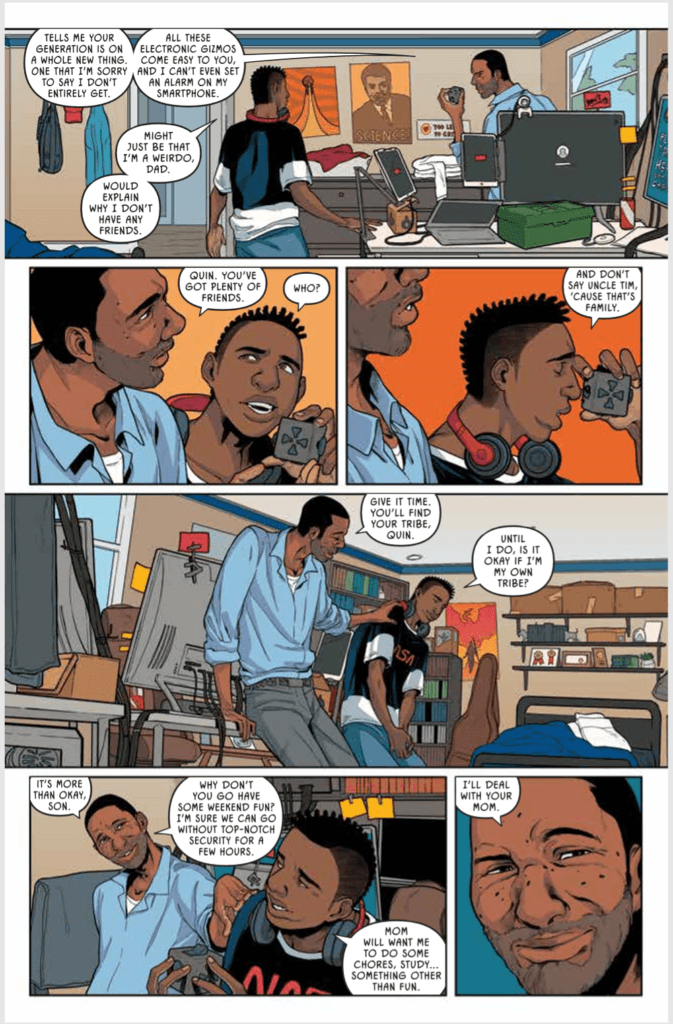 Quincredible takes places in New Orleans, Louisiana in the aftermath of both Hurricane Katrina and a meteor shower. Much like the other protagonists in the world, Quin's powers were a byproduct of aforementioned meteor shower. His power is notably less flashy. He is just invulnerable. Now, the word "just" definitely seems out of place right? But Quin's conundrum is that he lacks any other powers to complement this gamebreaker. He's 120lbs with no super strength, no super speed, and a slightly above average agility stat. He views himself as a glorified punching bag, and at first, maybe he has the right idea.
Quin is a familiar portrait of a black American teenager. A room full of electronics and gizmos that his parents don't understand. An incredible awkwardness in trying to figure out how to navigate some school social dynamics. A neighborhood characterized by systemic power structures that actively try to perpetuate racism and the patriarchy. And here is Quin, who can't feel pain, who can't be cut/shot/injured wondering what he is supposed to do. This is further compounded by the existence of other superheroes in the world and he is so confined by the system that his only train of thought is that his incredible power's only use to endure the horrible situation.
The creative team has clearly poured their heart and soul into the title. Espiritu's artwork with Fitzpatrick's colors craft a vibrant world that shows off the grandeur and splendor of New Orleans and the lives of its citizens. Barnes's dialog is perfect for the aspiring teenager comic book reader. If you, or a younger reader in your life, love Luke Cage, Cloak of Cloak and Dagger, Static Shock, Mile Morales, may I introduce you to Quincredible? This comic is a necessary work in this days and age and continues to prove that Lion Forge is doing the work.
9 "Tribes to Find" out of 10
Be sure to pick up Quincredible #1 when it drops on NCBD later this month on November 28th!
Want to get Black Nerd Problems updates sent directly to you? Sign up here!
Are you following Black Nerd Problems on Twitter, Facebook, Tumblr or Google+?