Another year is in the books folks, and what a ride it's been! The Nerd-verse has blessed with so many great noteworthy moments this year — so many, in fact, that the BNP Avengers have assembled to discuss the significant events that fell on their radar.
Lordy, Lordy, Lord. We're back at this again already? Felt like we just did a end of the year wrap up just a bit ago. Maaaaaaaan, we are moving time-wise. 2015 was pretty alright, I feel like we blindsided the indie market with hits like Nadia Greene and then John Boyega attacking The Empire's block since being casted in Star Wars. We're even being blessed with a Black Panther appearance for the trailer of Captain America: Civil War. *Clay Davis voice into Rick Flair voice* "Sheeeeeeeeeeeeeeeeeeeeeeeeeeeeeeeit! Woooooooooooooooooooo!" It's an exciting time to be alive and invested in seeing more representation in media… but it's still a trying time for us, too.
The state of things for black folk is still under duress with police shootings that mainstream media has made a culture of having its audience Kanye-shrug off because "that's just the way it is." The beautiful thing about this site? About Black Nerd Problems? On the regular, this staff finds ways to talk about the sadness, struggle, or anger of whats happening now towards black folks, Muslims, refugees (the list goes on and on and on) through the lens of cartoons, manga, web-comics, comics, and movies. That's such a fine skill that this staff is able to utilize with ease.
[divider type="space_thin"]
It's not something acquire easily either, if you look at us from the beginning you can see the growth in each writer from the time they started to the present day. That's the thing I am most proud of seeing from 2015. That growth, maturity, and openness that the staff brings to the site day in and day out. We're all here to make this shit work and it's been tough at times, but we got a nice-sized Gundam on our hands. Forgive me if I am being a bit off topic and not focused on the nerdy aspect but this is truly my favorite part of 2015. –Omar
Another one, Khaled?! Man, it's crazy how fast a year goes by. The older you get, and the busier you are, the faster the Earth seems to whip (and nae nae) around the sun. And so here we are, another year into Black Nerd Problems, this community of yours where we nerd out in a way that is uniquely ours: our perspective, our expression, our debates, just… ours. Every new article – every time you click a link, laugh, cry, and share it with your friends – every time is a celebration of someone who's a little more thoughtful about this nerd game than most, and they're people I'm so thankful to be writing alongside. And it makes me so grateful to you, the reader, who trusts us enough to join everyone else on this crazy ride. So if I had to choose a favorite nerd moment from this great year of 2015, it would have to be this email received from a reader who, out of the kindness of her heart, wanted to share that BNP meant something to her:
"This is probably the wrong forum for this but… as a geek of color, I've never really been able to find an appropriate community, one that enjoys without ignoring the social context. It's hard being both black and a nerd, especially when both communities want to ignore you due to you belonging to the other one. I've grown up thinking that I just won't ever fit, because I'm black, because I'm into superheroes, because I'm upset at the lack of diversity in the media today and the way that leads to the turbulent relationships between races today. But finding BNP let me know that I'm not alone. And I really appreciate it. So thanks."
And aside celebrating black cosplayers, or reimagining Game of Thrones if there were black people, or 2 Dope Boys reliving Barry Allen getting the smackdown of the year by Zoom, or declarations of Top 5 Deador Alive, or all of our hundreds of comic reviews where we embrace peak nerddom… that message summarizes why we do this. And why we'll keep doing this. And why we'll continue to love, diversify, and improve it. Our family is larger and our reach is further than ever before, so what's coming after such an awesome year for our community?
Another one. –Jordan
My most memorable Nerd Experience from 2015 can be summed up with two words: Star Wars. Like millions of other human beings on this planet, I fell in love with this galaxy a long time ago. The Force Awakens reignited that love. Finn, Poe Dameron, Rey, and Kylo Ren have become names synonymous with the word "Legendary." These characters, their stories, and their universe has inspired me to be more than just the best of who I am, but to help others in any way I can. I never thought I could gush over Star Wars any more than I already did, but I was proven wrong. God Bless Star Wars, and May the Force Be With All of You. Always. –Monica
There were a lot of happenings in the Nerdosphere that were spotlight worthy this year. From Imperator Furiosa  and Rey; two AWESOME leads in some of the biggest action adventure sci-fi franchises around to The Flash , Daredevil, Jessica Jones, and the criminally underrated Community season 6, there was a lot of entertainment this year that managed to keep my interest. As much as I would love to touch upon the wonders of the big and small screens, I think the highlight of my year took place every Wednesday at my local comic book shop.
Wow, what a wonderful year for comics! I know this seems like the "traditional nerdy writer" thing to say, but I swear I mean it with every fiber of my being. This year, after some serious nudging, I finally took the leap and expanded my comic book horizons past offerings from "The Big Two" — a decision that I haven't regretted. There were so many great offerings this year from so many talented and gifted creative teams that kept me fully engaged in their respective tales week after week, from the new status quo changes in the Superman and Batman titles, to the revitalization of Star Wars comics. I enjoyed the huge spectacles that were Geoff John's Darkseid War and Jonathan Hickman's Secret Wars that in fact kickstarted the new Marvel Universe. The silly and fun Gotham Academy never ceased to put a smile on my face, as did Saga and the Archie reboot, surprisingly. A few of my favorite single issues had to have been Grayson #12 and #15 from Tom King, and my favorite event of this year was unquestionably Dan Slott's Spider-Verse. In 2015, heroes both new and old rose to the occasion to combat the forces of evil in a way that kept many including myself anticipating what's to come for next year.
I said it once and I'll say it again. Wow! What a wonderful year for comics. –Taj
I've had some good discussions recently concerning religion and spirituality, and it's sad to me how quickly people go from hearing I'm not religious to assuming I don't believe in "God." Because of what people have done with that word in quotes I often hesitate using it, not knowing what it will conjure in the mind of my audience. Do they picture some white savior with flowing hair and a six pack? Perhaps a blue-skinned boy playing the flute. Whatever the case, for me, not having a religion is not equal to not believing in God. And it might sound corny but my spiritual beliefs have a lot of relation to the description of the Force in the Star Wars films.
In 'A New Hope' Obi Wan Kenobi first tells Luke of this power: "It's an energy field created by all living things. It surrounds us and penetrates us; it binds the galaxy together." Not to be glib but, yup! All life gives off energy, energy that's measurable and transferable, but so far as our science can determine this energy can neither be created nor destroyed. Good evidence that the energy we create (that creates us?) moves into other forms or planes of existence when our material forms cease to be. Hence, "If you strike me down I shall become more powerful that you can possibly imagine."
Yoda's "Sermon in the Swamp" from The Empire Strikes Back is the best example of how this idea of he Force relates to my own philosophy. He tells Luke: "For my ally is the Force, and a powerful ally it is. Life creates it, makes it grow. Its energy surrounds us and binds us. Luminous beings are we, not this crude matter." I feel that's so true.
There's much more to us than what we can see on the surface, more than flesh and bone. Inside we're spirit and consciousness, and that invisible part of us is connected to all other life on our planet. "You must feel the Force around you; here, between you, me, the tree, the rock, everywhere, yes." The phrase "God is love" is the most basic and understandable concept to me. Love connects me to my friends and family in an intangible way, and even those that have left this world for the next.
Love has never been something for me to worship, but something to recognize. And so I don't worship love, or a god. Instead I make daily acknowledgements that love is responsible for my life and my happiness. In my way, I recognize God daily. Perhaps in the future, if I'm asked the question, "What religion are you?" I'll just reply, "I'm a Jedi."-Alva
Twenty-fifteen gave me plenty to sink my nerdy teeth into, but one thing in particular stuck out to take the cake for my moment of the year: Matt Damon and Ridley Scott's ability to come together and crank out a perfectly adapted movie in The Martian. The visuals that were literally out of this world; the story of survival that seizes you with an iron grip and refuses to let go. Did you see that cast, b? Jessica Chastain, Jeff Daniels, Chiwetel Ejiofor, Kristen Wiig, Michael Peña… SHALL I CONTINUE?!
Yo I was hyped for this joint to drop for 6 months straight and it paid off oh so beautifully. Mark Watney being stranded on Mars and having to science the shit out of every disastrous situation he found himself in? Phenomenal. A fictitious mission crew that makes you feel like you left behind a friend for dead? How does that even happen? Ridley Scott directed his ass off with this one. The sweeping shots of the Red Planet were stellar. Humor was littered all throughout the movie and never felt forced. Matt Damon became Mark Watney and I can't thank him enough for hopping all over this project and ensuring it was done correctly.
The rise in space-centric movies wind up in the trash or the win column and The Martian took a Louisville slugger to a speeding fastball down the pipe. It has already surpassed Interstellar at the box office and could take Gravity with a late game push brought on by ill shoutouts such as this one. Being able to read this tale without any knowledge of the plans for it to become a movie helped to make this my nerd moment of the year. I got to read the story, devour every scientific explanation, laugh at Mark's relentless pain as my imagination ran wild with speculation and illustration. Then they made this movie. Then they blew my mind with this finely-crafted creation that sits atop the sci-fi world for all of Earth and Mars to see. –Ja-Quan
Twenty-fifteen was full of great moments. Whether it was in comic books, movies, comic book TV shows, anime, or manga, this year was generally an all around good year. One moment stood out for me though, and it was at the movie theater. Not for one of the main movies of the year — although a few of them were close to making the cut — I'm talking about when my friend and I saw Boruto: Naruto the Movie in theaters. That was the best outing of the year, experiencing one of the greatest things the Naruto franchise has produced together with a best bud and all the other fans in the theater (which was surprisingly full considering it was raining).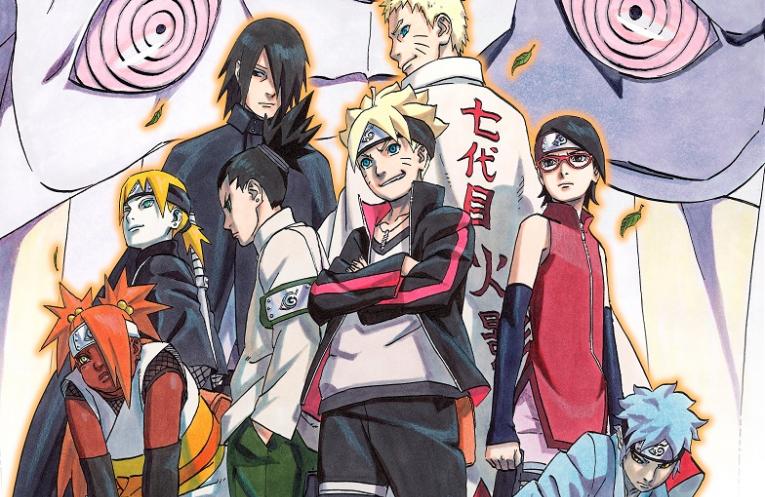 A stormy night was just right for this movie since the rain added to the drama of driving in traffic trying to get there felt like we had our own little anime plot. We bought our tickets and watched as others bought them with us. The guy ripping tickets were hype for us because he was a Naruto fan himself. Some others dressed up as characters and one girl had a super swanky Hinata jacket. The movie made us all remember why we fell in love with Naruto in the first place. A perfect callback to days of old — we clapped, yelled and shed a few tears for the characters just like we used to and it was my favorite moment of 2015.
Tied for my most favorite moment is playing Undertale. That game is the greatest and I can't describe my best moments without mentioning it. There's so much to it and it goes so deep with its lore it's astounding. To get the full story you have to play it more than one time and it's never the same as the first time you play. Easily one of the best games of the year — just everything about Undertale ties for my favorite moment. Also, all the fan-made stuff that came out of this game just made it even better. Go out and buy it if you haven't already, and you won't regret it. Undertale and Boruto… woo-wee, what a great year. –William Y
The best word to describe my nerd experience this year would be community (as in the concept, not the show). First, I had the pleasure and privilege of meeting and spending time in person with so many of our staff members from across the nation (Will Evans, Jordan Calhoun, Omar Holmon, Leslie Light, Taj Williams, and Nicole Homer as well as guest writers Danez Smith, Britteney Black Rose Kapri, and Hanif Willis-Abdurraqib). When you generate as much content as this site does it's easy to forget that the authors are also people with entire lives outside of fandom, so whether it was a quick meal, a tour of a city, or helping to put on an event, I loved getting to see a different side of some of your favorite columnists. I also developed a real bond with a lot of the members I haven't physically met yet, especially my sisters Whitney Syphax-Walker, Carrie McClain, and Izetta Nicole; I can't state enough how important having the support of our Black nerd women was for me in some of the rougher patches of 2015.
In addition this was the first year I hosted, organized, and/or served on the panel for four different nerd-themed inter/national events in Richmond, VA, Little Rock, AR, Oakland, CA, and Washington, DC, and I enjoyed getting to meet so many of our faithful readers! It's amazing to see all of the heartfelt reactions since I made my transition from monthly Cosplay Corner to regular reviews and editorials, most specifically from all the women who have thanked me for helping to carve out a niche on the site for them. For many people the words "nerd" and "Black" can mean feeling alone, rejected, and erased (nevermind when used to describe the same person), but I hope one year later you also feel that we've created a place for you. I look forward to putting more names to faces and hearts to friendships in 2016! –Lauren
I was a latecomer to Twitter and even when I got there I was – and still am – largely silent. But. But. #BlackTwitter. Thank you, universe, for the bounty that is #BlackTwitter. For me, moreso than #BlackLivesMatter, which in some circles has become  #respectableblacklivesmatterbutnottranspeopleorqueersorpeoplenotwearingsuitsoreducatedoutsidetheacademy, #BlackTwitter has been the equivalent of me looking for a friend at a funeral: I need someone as I sit here and heckle with while the body is on display. And #BlackTwitter has been that friend. And white supremacy is that body. And sometimes, the end of the day, when the weight of being black and a woman and a mother is heavy AF, #BlackTwitter sees me, and offers to drag these motherfuckers for me. And sometimes the benevolent #BlackTwitter offers me a laugh that has been evading me all day. –Nicole
For me, 2015 has been the year of reclaiming and strengthening nerd sisterhood. I've had the privilege of becoming friends and networking with all types of nerdy women, online and off. At my local comic book store I finally started to feel, dare I say, welcome once I started seeing more women working behind the counter. I didn't feel a need to leave immediately, I've actually wanted to stick around and chat with Jen who has the best fashion sense with such items like her Spider-Gwen hoodie and her flawless cat-eye makeup. Or Sam, who makes some of the best buttons from recycled comic books. This was such an important step for me to actively see women folk in my comic book store where I've previously been talked over and shot down in comic book discussions or asked by male customers again and again: "When did you start comic books?"(Come on guys, this is NOT a question that you'd ask another guy.)
On Twitter, I've engaged other ladies in everything from fanfiction, tropes about women that bore us, feminism, video games of yesteryear, and our love of Finn. Yes, that Finn. I've followed several #noncompliant gals on Instagram alone and vice versa because of our shared love of Bitch Planet and selfies. This is also the same year where in regards to the representation of women, more and more folks are aware of the Bechdel test is and more recently to my knowledge, The Sexy Lamp Test. (Thanks, Kelly Sue!) On Kickstarter, I've backed many comic projects and it looks like a majority include women or were created by female teams. I've been discovering and sharing all kinds of wonderful female artists like Deni Dimochka, Tristan J. Tarwater and Dania Frink.
It's been a great year for me to find other women like myself: nerdy, passionate women. It's been a great year to nurture those relationships. Lastly, 2015 has been a year of sharing my love of comics with younger women like my god sisters, daughters of my friends, and a slew of other girls from Elementary school age to teenagers whose hands itch for comics and a world where they see more of books with women, especially women who look like them, within the pages. Here's to hoping 2016 brings me even more fantastic women to nerd out with, support and just be awesome with as we navigate nerd spaces as ladyfolk. –Carrie
Two things about 2015: One about me, and one about other authors.
About me: I doubt myself. I'm a writer — if I didn't have self-doubt I'd be absolutely insufferable. But writing here, waking up after saying something totally off the chain (but still true) and seeing those likes and shares and follows ring up… it answers that doubt with numbers. I see you all out there reading and fist bumping me on Twitter and Facebook and Google+ and it just floors me. I never thought I'd find a Black nerd community, and y'all have come out in spades (yes, SPADES) to support me and everyone else here at Black Nerd Problems. Thank you.
About other authors: Other authors are people, too. Even famous ones. This year I've had the privilege of interacting with some of the best in the game: I met Jeremy Whitley (writer for Princeless and My Little Pony), I interviewed Grek Pak (writer for Storm and The Princess Who Saved Herself), and I've tweeted with Gail Da GAWD Simone. Hell, G. Willow Wilson sent me a Twitter heart! That may sound minor, but if you're a fan, you know how for-real that is. And in all these interactions I'm reminded that they are writers like I am. They have self-doubt. They want to know they got it right. And they did. So, if you've got a favorite author/writer out there, let them know they got it right. Support your local writer today, make them insufferable tomorrow. –Leslie
Twenty-fifteen has been the year of the willful distraction for me. To be clear, I hate seeing Facebook posts that declare pop culture and tabloid news are "distracting" us from the real perils of the world, and a close second to that, I hate the longwinded posts that feel the need to push back against that narrative and give it any life. There's the implication that we are easily-led sheep in a three-card molly game intended to turn our eyes away from the very thing killing us. This year, I found solace in entertainment and media that were not actively trying to kill me, and I refuse to feel guilty about it. I spent my 2014 reliving every death of another Black woman or man at the hands of authority figures, listening to grand juries tell us that it was reasonable for an officer to use the final solution on an innocent, unarmed person of color because they feared them based on propaganda and stereotypes intended to suppress us.
For the sake of my own mental health, I needed to step back. Step back from arguments about race and privilege. Step back from trying to convince people of a founding principle they will never care enough about because it will never affect them such as oppression and institutionalized racism. I took a year off. Statistically, I only have 50-60 of them left if I don't become a version of the very stories that have kept me up at night.
Instead, I dove into long-form stories. I began reading long comic book arcs that had eluded me from years past. As Omar Holmon finally began The Wire, I began Naruto (against Lauren's warnings). I enjoyed one of the best gaming years in recent memory with a bunch of worthy Game of the Year candidates with Fallout 4, Metal Gear Phantom Pain, The Witcher 3: Wild Hunt, Halo 5: Guardians and Rise of the Tomb Raider. I played ridiculous amounts of Destiny: The Taken King with fellow BNP gamers Anissa and Taj. I would stop for the protests in Baltimore and Chicago. The protests in Minnesota and California. I stopped for the tragic lynching of Sandra Bland and the lack of punishment that followed.
And while I mourned, I led myself to outright and awesome Blackness that is new Ultimates comic book or the unapologetic enthusiasm that is John Boyega. I allowed myself to be wowed by the AAPI representation on a major cable show like Into the Badlands or an incredible performance on SNL by Chance the Rapper. I gave myself permission to enjoy what is out there to enjoy, even while there are so many obstacles towards that. I allowed myself to not feel guilty for enjoying myself in the storm. At least for one year.  –William E
Are you following Black Nerd Problems on Twitter, Facebook, Tumblr or Google+?